13 Surprising Signs Your Partner Is Possessive
These habits may seem sweet at first.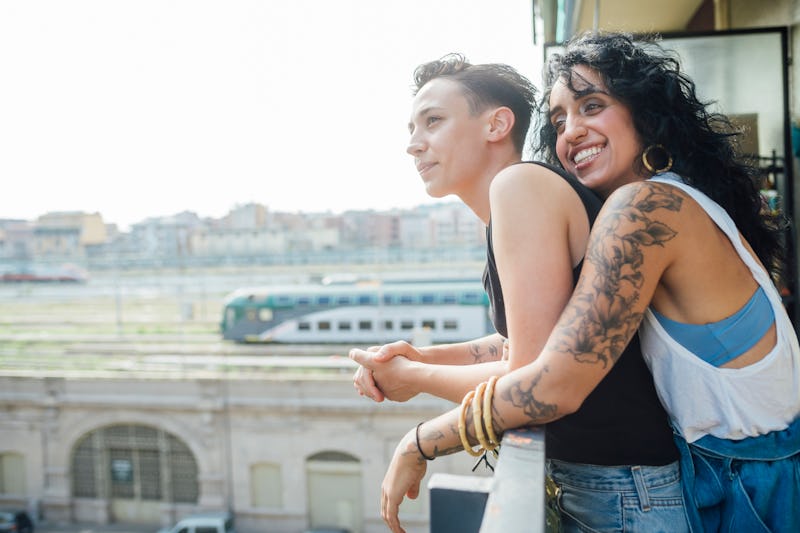 Getty Images/ Westend61
Good partners check in with each other, show concern, and often spend a lot of time together. This is part of being in a functional, loving relationship. But if your partner is possessive, you might notice that they do these things excessively, sometimes to the point where it starts to feel toxic.
The trouble is, it can be tough to tell whether you're in a possessive relationship, especially since a desire for control is often disguised as care for your wellbeing. Their habits might even seem cute at first — "Omg, they're just worried about where I am!" — when in reality their actions are annoying at best and super damaging at worst.
"Being possessive is problematic because it's a sign that the possessive partner is insecure, controlling, and untrusting," Dr. Carla Marie Manly, Ph.D., a clinical psychologist and author of Date Smart, tells Bustle. Over time, she says, this unhealthy approach to the relationship can progress to emotional abuse.
While you can't change your partner or single-handedly help them overcome old issues, you can bring your concerns to their attention. And, of course, set down a few ground rules. "The best thing for you to do is be clear about your boundaries," Dr. Kathy Nickerson, Ph.D., a licensed clinical psychologist, tells Bustle. Some possessive people — particularly the insecure ones — may be able to change their ways if they invest a lot of time and energy into gaining personal insight. "You can support your partner by communicating how their possessiveness makes you feel and identifying specific behaviors that seem unhealthy to you," says Grace Olivia Dickman, LCSW, a licensed clinical social worker.
See if you're S.O. is able to respect your boundaries, improve their communication, and strike a healthy balance. That said, "it's important to refrain from taking the role of your partner's therapist," Dickman says. "A possessive partner should work through these issues independently with a trained therapist outside of the relationship."
Here are 13 signs of possessiveness that may indicate your partner is crossing the line — as well as what to do about it.
This article was originally published on