Am I Giving Too Much In My Relationship?
Plus, experts reveal exactly how to pull back.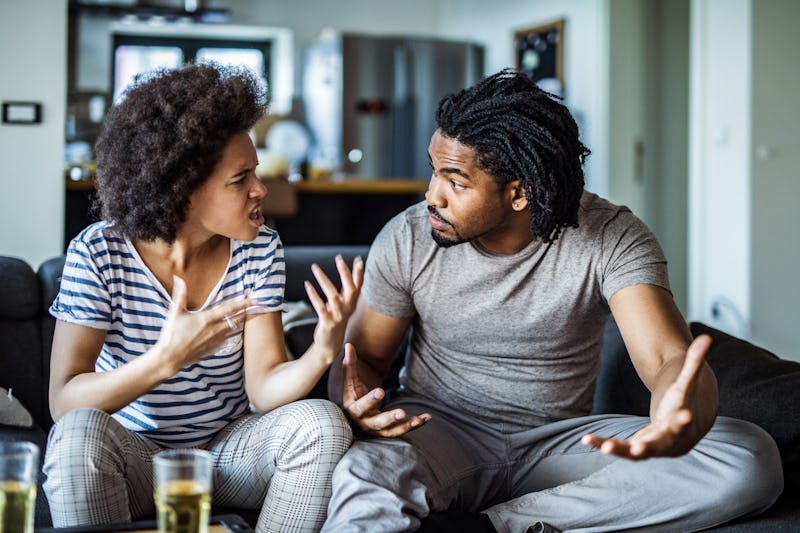 skynesher/E+/Getty Images
When you're naturally an affectionate person, you may not think twice about being thoughtful and accommodating to your partner. But being too giving in a relationship can backfire on you when you make the realization that your partner isn't doing as much for you and that it's time to pull back.
If you don't know whether you're giving too much, Dr. Carla Marie Manly, clinical psychologist and author, tells Bustle there are two key signs to look out for. One, you feel like you're constantly "chasing" your partner to mutually invest in the relationship. If you have to constantly push your partner to give you the emotional connection you crave, spend more time with you, or put more energy into your physical intimacy, this can potentially lead to resentment.
Another key sign to look out for is an ongoing feeling of exhaustion from relationship issues. You're either tired of fighting with your partner over their lack of effort, or tired over being the one who carries the burden of making plans or resolving issues. "When partners invest in a relationship mutually, the overall balance offers incredible bonding power and resilience in the relationship," Manly says.
So what can you do when your relationship is out of balance? According to experts, it's first important to acknowledge that a "balanced relationship" doesn't always mean 50-50. As love and relationship coach, Emyrald Sinclaire, tells Bustle, "Often times one partner will give more than they receive. But on the flip side, you'll receive more than you give when you need it."
Instead of trying to achieve a perfectly balanced partnership, you should aim for having a well-balanced life that includes your relationship. In doing so, Jane Reardon, LA-based licensed therapist and founder of RxBreakup app, tells Bustle that your relationship will be happy and healthier. "A healthy relationship doesn't require your attention 24/7," Reardon says. There's no score-keeping or manipulating your partner to do their fair share of work. "A truly balanced partnership deals with a great deal of compromise as well as showing the willingness to do whatever it takes to make the relationship work."
If you feel like you've been giving too much, here are some expert-backed ways to back off in a relationship.
How To Address Pulling Back In Your Relationship With Your Partner
Before you start consciously backing off, it's not a bad idea to talk to your partner about it so you're on the same page. When you have this conversation, be sure that you're talking about how you feel and the root of why you're feeling it. You don't want to accidentally project your feelings onto your partner, clinical psychologist Dr. Sabrina Romanoff, tells Bustle.
"This is important because there is a transactional nature among the minds of some gift-givers, where the provision of the 'gift' (i.e. being of service, providing emotional support, etc.) means that the other person must provide something in return," Romanoff says. "When the other partner does not agree to this tacit arrangement set up by the gift giver, it can lead to resentment and bitterness."
When you talk to your partner about making the relationship more balanced, explain about why having a more equal relationship is important to you. For instance, if you want your partner to put more effort into texting, say that hearing from them throughout the day makes you feel happy or more secure in the relationship. According to Romanoff, take this time to explain what certain behaviors symbolizes to you.
While you can't change a partner's behavior, especially if they're not taking the relationship seriously, you can do your part — through repeating mantras, communicating your needs, or setting boundaries — to foster a more balanced relationship.
Sources
Emyrald Sinclaire, love and relationship coach
Jane Reardon, LA-based licensed therapist and founder of RxBreakup app
Lisa Hutchison LMHC, licensed psychotherapist
Caroline Madden, relationship therapist
Heidi McBain, MA, licensed marriage and family therapist
Joyce Marter, LCPC, licensed psychotherapist and author
Dr. Gail Saltz, associate professor of psychiatry at the Weill-Cornell School of medicine and host of the How Can I Help? podcast
Dr. Carla Marie Manly, clinical psychologist and author of upcoming book, Date Smart
Dr. Sabrina Romanoff, clinical psychologist at Lenox Hill in New York City
Angela Ficken, psychotherapist
This article was originally published on