How To Use Bumble BFF To Make New Pals, According To A Pro
Ready to get swiping and meet your soul people?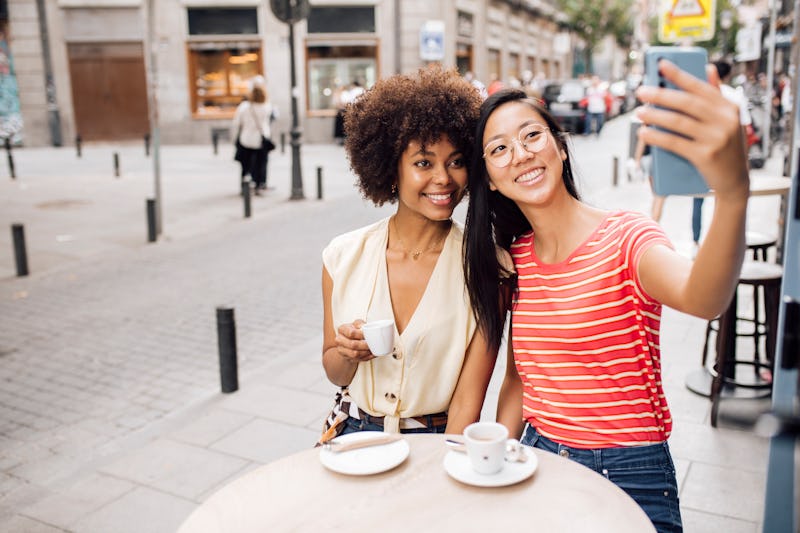 RgStudio/E+/Getty Images
It's no secret that making new friends as an adult can be hard. Of course, social media makes it easier than ever to stay in regular communication with your BFFs — but socializing IRL has suffered slightly in the digital age.
While joining local clubs, taking classes, or hanging out at your favorite local bars bring the potential for meeting your next bestie, not everyone has the time or social battery for that. This is where learning how to use Bumble BFF, a digital platform for meeting new pals, comes in. Established in 2016 as a component of the Bumble dating app, Bumble BFF is a way to "date" new friends — you treat it similarly to how you would the Bumble date feature, but swipe through and message with potential platonic pals instead.
Just like in the dating version of the app, you have 24 hours to send a message to your BFF matches — and they do, too. This leaves a little less pressure on one person to make the first move, especially if one of you is more introverted than the other. Another perk? According to Danielle Bayard Jackson, Bumble BFF's friendship expert, using the app is also a great way to meet new people that you might have not had the chance to meet otherwise. "We've heard plenty of stories from those who went to the same school or constantly visited the same coffee shop as another person, but they didn't officially meet until they saw one another on the app," she tells Bustle. "Whether new to a city or looking to expand your social circle, Bumble BFF is a simplified and empowering way to create meaningful friendships."
Ready to get swiping and meet your soul people? Read on for Jackson's 12 tips for making the most out of Bumble BFF.
Expert:
Danielle Bayard Jackson, Bumble BFF's friendship expert