29 Opening Lines For Bumble That Dating Experts Swear By
"There's something wrong with my phone. It doesn't have your number in it."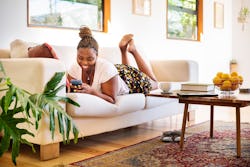 NickyLloyd/E+/Getty Images
Swiping on Bumble is all fun and games, right up until you realize it's up to you to send the first message. Instead of waiting for clever opening lines to roll in — or feeling as if the pressure is equally placed on both parties to say something more creative than "hey" — Bumble puts the ball entirely in your court. So, what's the best way to get a conversation started on Bumble?
Read more: 50 Example Sexting Ideas You Can Use Right Now
Cheesy opening lines are always a decent option when you're completely at a loss for what to say. But if you really want to have a zesty back-and-forth, have a scroll through their bio, see what you have in common, and ask a question that'll make them come up with a robust answer. "Ask open-ended questions that hint at who you are, demonstrate curiosity [in their life], and elicit a discussion," dating coach Lori Ann Kret, LCSW, BCC tells Bustle.
It's also a good idea to keep authenticity in mind. While it can be so tempting to try to "say the right thing" or be impressive when sending messages on Bumble, it's much better to stay true to yourself and ask Qs that feel like they're coming from a genuine place. "You may not get as many matches this way, but those who do engage will be higher quality connections for you," Kret says.
If you don't hear back after reaching out, move on! According to dating coach Veronica Grant, you won't want to waste your time with someone who isn't responding or matching your energy. The dating pond is vast and there will always be someone else to talk to on Tinder or Bumble — and beyond. With that in mind, read on for 31 ways to get people talking on dating apps.
Dating experts:
Veronica Grant, love and life coach
Sameera Sullivan, relationship expert
Katie Grimes, dating coach
Susan Trombetti, matchmaker
Nancy Ruth Deen, relationship coach
Sandra Myers, matchmaker and relationship expert
Mindie Barnett, dating expert
Melissa Braverman, dating expert
Erika Kaplan, matchmaker and VP of membership at Three Day Rule
This article was originally published on