Lenny Henry & More Sign Open Letter Encouraging Black People To Get Vaccinated
"We love you – we want you to be safe. We don't want you to be left out or left behind."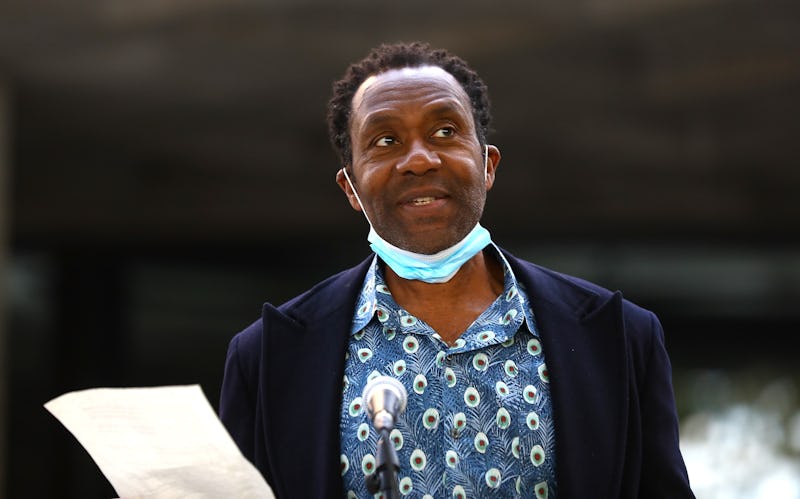 Tim P. Whitby/Getty Images Entertainment/Getty Images
Comedian and TV personality Lenny Henry is urging Black people to get vaccinated in a new open letter. The letter – which has also been signed by author Malorie Blackman, actor Chiwetel Ejiofor, Youtuber KSI, spoken word artist George the Poet, and DJ Trevor Nelson – encourages Black people to trust the facts from doctors, scientists and professionals, and to make informed decisions on taking the vaccine in order not to be left out or left behind.
The letter has also been turned into a short film for the NHS by Amma Asante, titled "A Letter To Loved Ones", featuring prominent Black figures explaining why it's so important for Black people to take the vaccination. The video includes actors David Harewood, Adrian Lester, Naomi Ackie, Adjoa Andoh as well as Bishop Rose Hudson-Wilkin.
"We're asking you to trust the facts about the vaccine from our own professors, scientists and doctors involved in the vaccine's development. GPs, not just from here in the UK, but from all over the world, including Africa and the Caribbean," the letter urges. "Many of whom are our relatives, many of whom have made the ultimate sacrifice to protect the people of this country from this pandemic."
In 2020, it became clear that COVID-19 was affecting people from marginalised ethnicities more, specifically Black people, who are four times more likely to die from Covid-19. Despite this, a recent ONS study found that Black Africans followed by Black Caribbeans had the lowest rate of taking up the vaccine. Overall, the study showed that Black people aged over 70 are "7.4 times more likely not to have received a first dose of the coronavirus vaccine than people of white British ethnicity."
Speaking on BBC Breakfast, Lenny Henry said: "We don't want anyone else to die. And there's a disproportionate amount of Black people dying of coronavirus. If there's a way out, and the vaccine is our way out, then we want our loved ones and friends and family to take it up, and do what everybody else is doing."
Meanwhile, actor Adjoa Andoh told BBC Radio 4's Today programme: "The most important thing for us was to put across a message that for all the divisions that exist, we deserve to be protected, and our loved ones deserve to be protected. We don't want to widen divisions and equalities that exist."
Vaccine scepticism seems higher in the Black community for a number of reasons, one being mistrust in the medical industry, where Black people have historically had negative experiences. This scepticism is something that Henry touches on. "You have legitimate worries and concerns and we hear that," he says. But ultimately the message is one of care and love. "We love you – we want you to be safe. We don't want you to be left out or left behind."