11 Lines To Use On Dating Apps To Move The Conversation Offline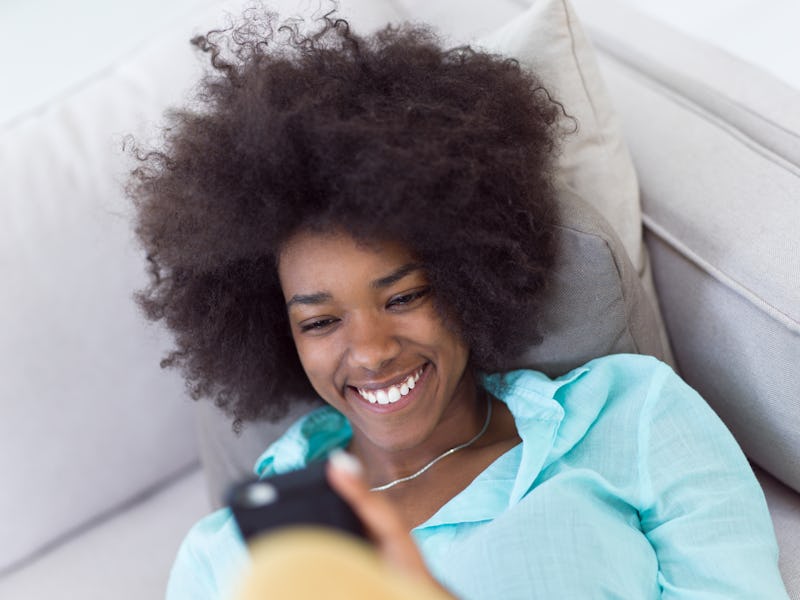 Shutterstock
If you're heading into day five of talking to someone on a dating app to no avail, I feel for you. There's only so much you can chat about with a person you've never met in real life before things start to fizzle. But the good news is you can totally keep it going strong, if you know what to say on a dating app to move the conversation offline.
There's always, "Would you like to grab a drink?" — a classic opener that'll never go out of style, even in a time when outdoor seating at restaurants is a little hard to come by. But there are plenty of other ways to plan a meetup, or otherwise steer a fun back-and-forth into a real-life date. And the sooner you can do it, the better.
You don't, after all, "want to end up in a textationship," Canwen Xu, a content strategist and blogger at the dating app iris, tells Bustle. "Having extensive conversations over text can make it awkward when you meet up in person for the first time because you two technically know so much about each other already, but at the same time are not yet familiar with each other's vibe and charisma in-person."
Instead, establish the basics — where they're from, what they do for a living, how they spend their weekends, etc. — then make plans to meet up and see if you have actual chemistry. Here are 11 lines to use on dating apps to move the conversation offline.
Experts:
Canwen Xu, blogger and dating app expert
Elisa Robyn, PhD, psychologist and relationship expert
Jonathan Bennett, relationship and dating expert
Susan Trombetti, matchmaker