25 Opening Lines To Use On Dating Apps That Won't Put You To Sleep
As a basic rule, start by asking a question.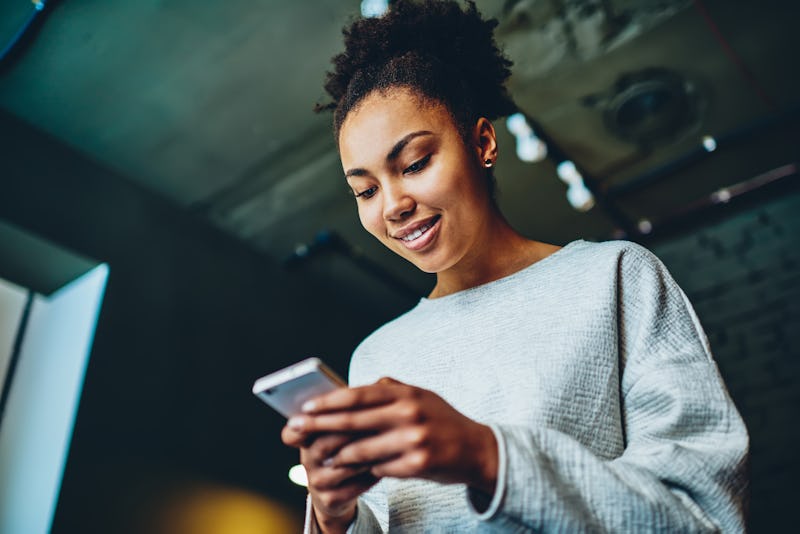 Shutterstock
It can feel really awkward to start a conversation on a dating app. Everything feels cheesier and forced when you're trying to get the conversation going, but it's like ripping off a Band-Aid — soon, the hard part will be over and you'll feel so much better. So if you find it difficult to send the first message, it can help to have some go-to opening lines.
"Whether you choose to initiate the conversation on a dating app or face-to-face with someone you're interested in, it's always important to have a great conversation starter in your back pocket," Kate MacLean, a resident dating expert at PlentyOfFish, tells Bustle. "A thoughtful question or reference to your date's hobbies and interests will likely result in an exchange of information that can tell you a lot about someone and, more importantly, whether you're compatible or not."
As a basic rule, asking a question or something that suggests they send a reply is much better than just a statement — which can be easy to ignore. And, of course, a little humor never hurts. So if you're not sure how to get started, think about things you can ask them based on their bio — or try one of these opening lines, which are all so much better than "hey."
There's no perfect opening line, but having a few funny ones or good questions in your pocket can make a big difference. If you want to get a response, notice things in their bio or stick with questions. Dating is, after all, about getting to know each other.
Expert:
Kate MacLean, resident dating expert at PlentyOfFish