35 Ways To Initiate An Actually Good Conversation On A Dating App
Because saying "hey" probably won't get you very far.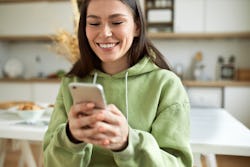 Shutterstock
It can feel really awkward to start chatting with someone on a dating app. Everything feels cheesier and forced when you're trying to get the conversation going, but it's like ripping off a Band-Aid — soon, the hard part will be over and you'll feel so much better. So if you find it difficult to send the first message, it can help to have some good opening lines on hand.
"Whether you choose to initiate the conversation on a dating app or face-to-face with someone you're interested in, it's always important to have a great conversation starter in your back pocket," Kate MacLean, a resident dating expert at PlentyOfFish, tells Bustle. "A thoughtful question or reference to your date's hobbies and interests will likely result in an exchange of information that can tell you a lot about someone and, more importantly, whether you're compatible or not."
Read more: 50 Example Sexting Ideas You Can Use Right Now
As a basic rule, asking a question or something that suggests they send a reply is much better than just a statement — which can be easy to ignore. And, of course, the best opening lines use a little humor. So if you're not sure how to get started, think about things you can ask them based on their bio — or try one of these opening lines, which are all so much better than "hey."
There's no perfect opening line for dating apps, but having a few funny ones or good questions in your pocket can make a big difference. If you want to get a response, notice things in their bio or stick with questions. Dating is, after all, about getting to know each other.
Expert:
Kate MacLean, resident dating expert at PlentyOfFish
Allison Marie, dating coach
This article was originally published on