Kourtney Kardashian's Wellness Guru Shares Her #1 Tip For Better Health
She does it herself every morning — and it's free.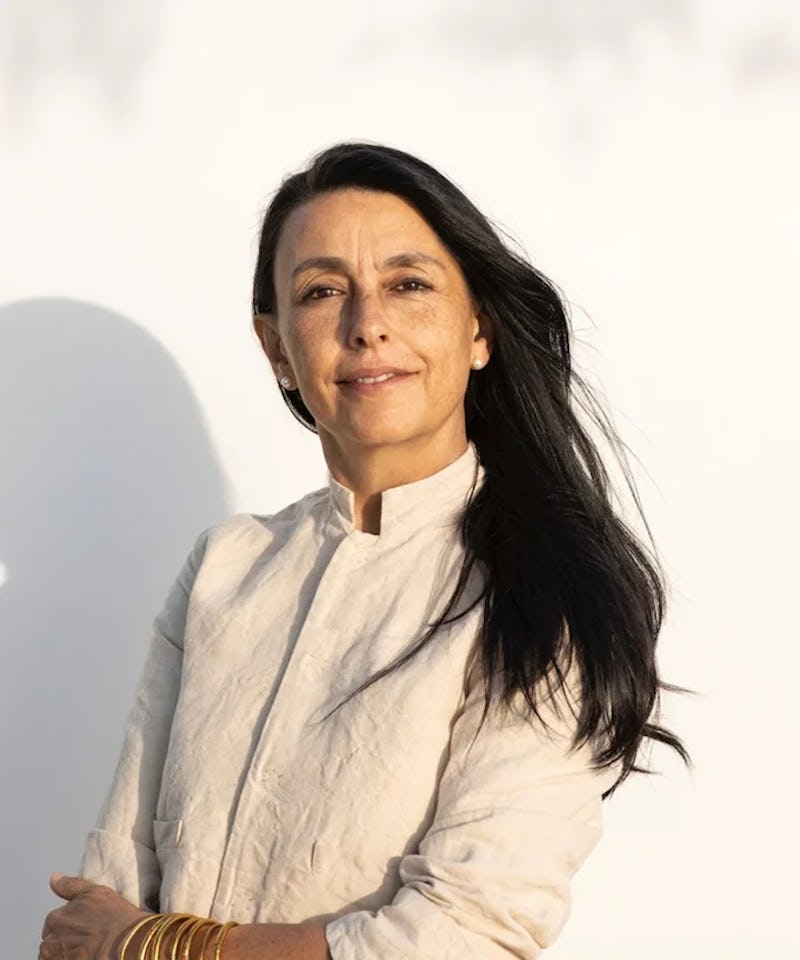 If you regularly watch The Kardashians you may have seen Travis Barker and Kourtney Kardashian Barker pop into Surya Wellness Center in their pregnancy journey. The airy space, located inside L.A.'s Santa Monica Proper hotel, happens to be one of only a few in the country that specializes specifically in Ayurvedic treatments. If you're unfamiliar, Ayurveda — which literally translates to "the wisdom of life" — is a thousands-year-old healing modality stemming from India that uses herbal remedies to balance your body's unique dosha (more on that later). Surya is also one of the few wellness centers in the US that offers Panchakarma — an intense, individually-tailored healing treatment to restore the mind, body, and spirit over the course of up to seven days (Gwyneth Paltrow is a fan).
Surya's entire spa program — which also offers Ayurvedic-influenced massages and facials — is headed up by wellness visionary Martha Soffer. The Columbian-born healer wears many hats — she's a master Ayurvedic Pulse Diagnostician, master Panchakarma Specialist, Ayurvedic Chef and Herbal Rasayanist — and people oftentimes fly from all over the world to experience her healing touch. "My focus is on treating people physically, and in that context I help with diagnosing imbalances, diet, making herbal remedies, and giving or designing treatments and customized wellness programs," she explains. Clients come to her with issues like infertility, gut issues, skin issues, and more, hoping that her deep knowledge of Ayurveda and Panchakarma will help them find a natural cure — and many times, a few simple changes to diet and lifestyle are all it takes. "Most people have overwhelmed nervous systems that just need a break, some rest, and some balance," she says.
Keep reading to learn more about Soffer's healing approach to wellness — and ways to incorporate Ayurveda into your own life.
You were recently featured on The Kardashians where you had Kourtney and Travis on a no sex, no caffeine, no sugar detox. Can you talk about that and what it does?
This is our home-prep cleanse! Each client who does Panchakarma does this quick pre-cleanse ritual at-home, which prepares their body for their upcoming treatments. For five days, people eat a warm, cooked vegetarian diet and take a little ghee each morning. On the last day, people take a bit of castor oil, flush out all the toxins that the ghee has loosened, and they are ready for Panchakarma.
Can you explain Ayurveda to someone unfamiliar?
Ayurveda sees everyone as made up of a unique combination of three qualities, or doshas: a fire element (pitta), a wind element (vata), and a solid earth/water element (kapha). We're all unique and, at any time, any of those elements can get aggravated or out of balance — and we feel it. If we don't rebalance, that discomfort can lead to disease, so Ayurveda teaches us to rebalance as needed. It's about teaching people how they can apply in their own lives as a form of self care.
Can you give us an example of how this works?
If we feel overheated, even emotionally, we need to cool down. If we feel scattered, or overwhelmed (like it's all too much), we need to calm down. If we feel sluggish and enervated, we need to energize. And all of these things can be done through diet (i.e. no spicy food when we feel overheated) or through temporary lifestyle choices (i.e. no hot yoga during that time, too). You can also indulge in treatments and products that are either cooling, calming, or energizing. Of course there's more to Ayurveda, volumes more, but this simple self-care understanding is a good place to start.
What are your most popular services?
Our most popular treatment at Surya is our 2.5 hour Nourish + Restore. It begins with a tender four-handed abhyanga massage using customized, herbalized oils. They are cooked uniquely for each guest the night before their treatment, all night long and every night. This signature massage is soft and slow. It's a great treatment to move the lymph system, promote circulation, and calm the nervous system. We follow that with a shirodhara: a profoundly relaxing treatment in which warm oil (or sometimes milk!) streams down on the forehead in specific patterns. It puts you in a deep, transcendental state.
Are there any treatments you offer the might surprise people?
Throughout the duration of panchakarma, there are many unusual treatments, but many say that our bastis (a light Ayurvedic enema prepared with herbalized oils, chamomile, chlorophyll, coffee, or even milk and garlic) stands out. For me, our Pinda treatment is amazing. The guest is gently massaged by two therapists with four boluses filled with rice cooked in Ayurvedic herbs and milk. We give this one to people who have lots of heat in their bodies.
What services do you do personally and how often?
Speaking of bastis, I'll give myself one when needed — perhaps while traveling, or if I get constipated, or have a headache. But my heart and body loves the simple abhyanga and shirodhara (mentioned earlier). My days here at Surya are so busy and that's truly the best way to calm my mind and nourish my soul.
What's something free and accessible the modern person can do to improve their health?
Slow down and nourish the relationship you have with your body. Listen to the signs that it gives you! I recommend that all of Surya's guests start each morning with a quick self-abhyanga massage (ideally using custom oils that we cook here at Surya). Spend just five, 10, 30 minutes with your body, and you will deepen your relationship with it and notice all the positive effects almost right away.
Walk us through a typical day for you.
I wake up early, and these days I do a little ceremony at sunrise. It really helps connect me to the planet I live on. After that, I scrape my tongue, dry brush, and do a quick self-abhyanga. And then, most importantly, do 20 minutes of Transcendental Meditation, usually with my husband if he's up as early as me. This is such a great and simple Ayurvedic practice that not only dissolves stress, but fuels me from deep within. I love it. Then I'll do a simple breakfast, head off to Surya, and another day begins: helping everyone in consults, treatments, product making, questions about Panchakarma, everything. That's the whole day and it's a day I love!