Here's How Melatonin Pills Vs. Gummies Affect Your Body
Battle of the supplements.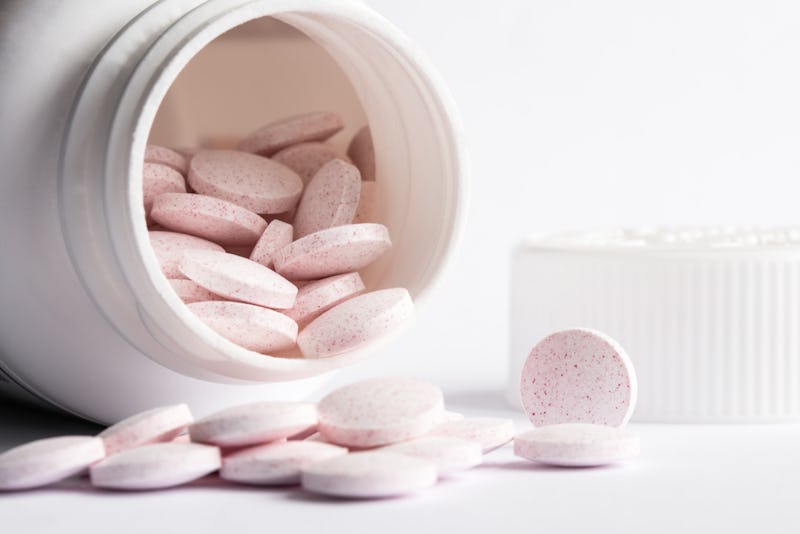 Shutterstock
Anyone whose most familiar sleeping pattern is tossing and turning is familiar with melatonin supplements. Trying to catch some quality ZZZs can sometimes be hard without a sleep aid, so it's no wonder the trusty supplements are a staple for so many people. But, since it's such a popular sleep aid, it helps to understand the differences between melatonin pills versus gummies side effects so you know which one's the best fit for you.
As a refresher, melatonin is something your body already produces. "Melatonin is a hormone that's released naturally by a part of your brain called the pineal gland, and most people produce melatonin naturally," Dr. Naina Limbekar, MD, a sleep neurologist at Boston Medical Center. "It's produced by the trigger of darkness outside, so typically, melatonin production starts to rise about two hours before a person's bedtime, which kind of cues a person about when it's time to go to sleep."
Taking melatonin as a supplement can be helpful in treating circadian rhythm sleep disorders, including jet lag, which are when people's sleep patterns are disrupted, she tells Bustle. If you're looking to incorporate it into your nighttime regimen and are deciding which type of melatonin to get, here's the low-down on pills versus gummies and how side effects may differ.
Melatonin Pills Versus Gummies
Whichever type of melatonin you use, Limbekar recommends looking for brands that have a USP-verified (United States Pharmacopeia) mark on their packaging. She also suggests searching for NSF certification, which provides verification from the National Science Foundation for both pills and gummies.
The recommended dosage of any type of melatonin supplement — gummy or pill — is .3 milligrams to 5 milligrams. You'll typically get an average dosage amount in one pill, or two gummies. And Limbekar says there's no point in taking more than that amount unless it's prescribed by your doctor.
When it comes to digestion of pills versus gummies, Dani Ferguson CNC, certified nutrition consultant and founder of the Acne Wellness Center, says gummies may be faster acting. "Gummies can be a little bit more helpful with getting the melatonin straight into your bloodstream because you are chewing it, and you may be able to absorb some of that melatonin in the gummy directly through your saliva," she says. But, once the melatonin — in either gummy or pill form —is in your digestive system, each type will break down pretty similarly, she explains. So how quickly you feel each isn't all too different, says Ferguson. On average, you start to feel the effects of melatonin pills and gummies within 30 minutes.
Melatonin Pills Versus Gummies Side Effects
Since melatonin is a hormone — not a vitamin that can be excreted more easily through urine — taking too much can lead to side effects for both forms of the supplement. "As you take more doses, you're more likely to have side effects of drowsiness, nausea, and having really vivid, troubling dreams," says Limbekar. "There have also been reports of headaches, confusion, and fragmented sleep as a result of taking melatonin."
It's hard to know what dosage can cause side effects though — Limbekar says it's different for everyone. "Some people experience side effects with a very small dose such as .5 milligrams whereas others do not," she tells Bustle.
Ferguson recommends taking melatonin pills over gummies since they don't have added and sugar (or artificial sugar). "Gummies are typically filled with sugar, colors, flavors, binders, fillers, and stuff that can sometimes muck up our digestive system," she says (think stomach pain and an upset stomach). "Your gut actually produces 95% of its serotonin and serotonin is a precursor to melatonin, so if you don't have a well-functioning gut, those gummies could possibly not get broken down properly and therefore you're not going to be utilizing the melatonin." Limbekar adds that melatonin gummies that contain sugar could "adversely impact those with existing diabetes or who are intolerant to glucose."
Sometimes melatonin pills or tablets can contain additives, too. To avoid these (to fully avoid any stomach woes), Ferguson suggests looking for a vegetable or gelatin capsule without any of binders, fillers or glue, which make it more difficult for your body to break down.
Studies referenced:
Brzezinski A, Vangel MG, Wurtman RJ, Norrie G, Zhdanova I, Ben-Shushan A, Ford I. Effects of exogenous melatonin on sleep: a meta-analysis. Sleep Med Rev. 2005 Feb;9(1):41-50. doi: 10.1016/j.smrv.2004.06.004. PMID: 15649737.
Buscemi N, Vandermeer B, Pandya R, et al. Melatonin for Treatment of Sleep Disorders: Summary. 2004 Nov. In: AHRQ Evidence Report Summaries. Rockville (MD): Agency for Healthcare Research and Quality (US); 1998-2005. 108. Available from: https://www.ncbi.nlm.nih.gov/books/NBK11941/
Costello, R. B., Lentino, C. V., Boyd, C. C., O'Connell, M. L., Crawford, C. C., Sprengel, M. L., & Deuster, P. A. (2014). The effectiveness of melatonin for promoting healthy sleep: a rapid evidence assessment of the literature. Nutrition journal, 13, 106. https://doi.org/10.1186/1475-2891-13-106
Emet, M., Ozcan, H., Ozel, L., Yayla, M., Halici, Z., & Hacimuftuoglu, A. (2016). A Review of Melatonin, Its Receptors and Drugs. The Eurasian journal of medicine, 48(2), 135–141. https://doi.org/10.5152/eurasianjmed.2015.0267
Middleton, B. (1996). Melatonin and fragmented sleep patterns. Lancet. https://pubmed.ncbi.nlm.nih.gov/8757173/
Paredes, S. D., Barriga, C., Reiter, R. J., & Rodríguez, A. B. (2009). Assessment of the Potential Role of Tryptophan as the Precursor of Serotonin and Melatonin for the Aged Sleep-wake Cycle and Immune Function: Streptopelia Risoria as a Model. International journal of tryptophan research : IJTR, 2, 23–36. https://doi.org/10.4137/ijtr.s1129
Shah C, Kablinger A. Ramelteon-induced nightmares: A case report. Asian J Psychiatr. 2015 Dec;18:111-2. doi: 10.1016/j.ajp.2015.09.004. Epub 2015 Sep 21. PMID: 26427581.
Tordjman, S., Chokron, S., Delorme, R., Charrier, A., Bellissant, E., Jaafari, N., & Fougerou, C. (2017). Melatonin: Pharmacology, Functions and Therapeutic Benefits. Current neuropharmacology, 15(3), 434–443. https://doi.org/10.2174/1570159X14666161228122115
Experts:
Dr. Naina Limbekar, M.D., Neurologist at Boston Medical Center and Assistant Professor of Medicine at Boston University School of Medicine
Dani Ferguson C.N.C., founder of the Acne Wellness Center