Why Tai Chi Is So Good For Your Mental Wellbeing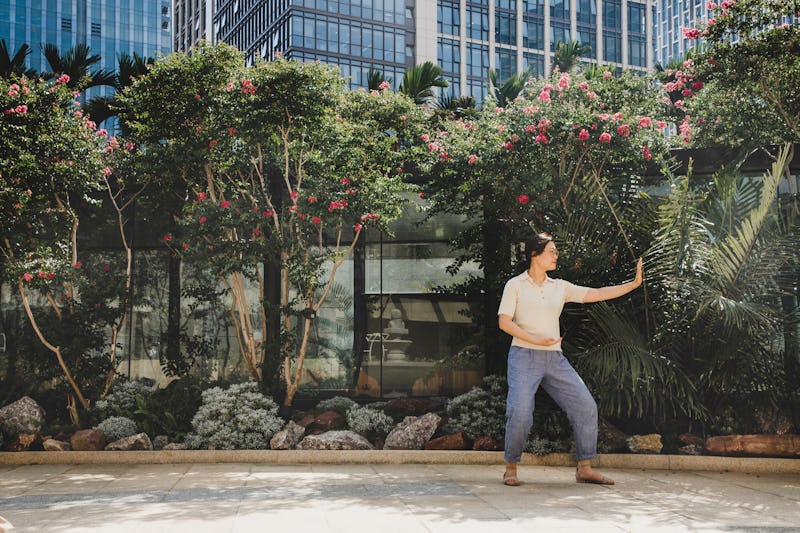 Kilito Chan/Moment/Getty Images
As you're embarking on your fake commute — AKA, your morning coffee walk — you're seeing more and more people practicing Tai Chi in the park. And they all seem so... relaxed. Lately, you can't help but wonder why everyone in class seems so much less stressed than you. The mental health benefits of Tai Chi might seem pretty appealing when you compare your harried morning walk with the relaxation you're seeing around you.
What Is Tai Chi?
Tai Chi is an ancient Chinese practice connected to Taoism, and focuses on balancing physical and spiritual needs and experiences. As it's practiced today, the martial art is often expressed as a sequential flow of movements and postures. You're not just moving aimlessly, though: Tai Chi involves synching deep breaths with a series of physical motions that are meant to keep your muscles relaxed, not tensed.
"Depending on the style of Tai Chi, the speed of movement may vary, but the commonalities between the styles are that the movements are relatively gentle and low impact," explains Prentiss Rhodes, a National Academy of Sports Medicine (NASM) certified personal trainer and corrective exercise specialist. "The Tai Chi practitioner also coordinates these movements with breathing patterns and visualization."
What Are The Mental Health Benefits Of Tai Chi?
"Tai Chi is a combination of both exercise and mindfulness meditation," Rhodes says — two things that are both proven to help your mental wellbeing.
Need to destress after a long work week? That Tai Chi class at your local community center might be just the place to go. "The meditative nature of Tai Chi combined with the deep breathing and visualization involved in its practice may have a calming effect on the 'fight or flight' nervous system," Rhodes explains. According to a 2010 study published in the journal BMC Complementary Medicine and Therapies, practicing Tai Chi consistently doesn't just make you feel calmer in the moment — it can also help you develop better stress management skills.
"Meditation challenges you to achieve states of relaxation and to become fully engaged in your own environment without judgment," Rhodes tells Bustle. "This may alter your perception of things going on in your everyday life, including helping manage some of those challenging stress-related feelings." Because Tai Chi soothes your nervous system and boosts endorphin levels, Rhodes explains that a regular practice can increase energy and happiness while reducing your stress levels.
Getting into a consistent Tai Chi routine can also reduce symptoms of depression, according to a 2012 study published in The American Journal of Physical Medicine and Rehabilitation. Tai Chi can improve people's sleep quality, too. A 2013 review published in the Journal of Sleep Disorders and Therapy found that practicing Tai Chi for 1.5 to three hours each week for at least six weeks helped participants sleep harder and better — which is definitely a recipe for less stress.
How Can You Start Practicing Tai Chi?
Because you don't need a lot of physical space and equipment — and it's comprised of a very low impact set of movements — it's pretty easy to learn Tai Chi at home. As with any form of mental or physical fitness, Rhodes says that it's often most effective to learn with the best, so you might want to consider taking Tai Chi classes online or IRL, where your form and breathing can be adjusted in real time. But you can also queue up some Tai Chi YouTube videos and get going. If you're the type to keep track of your body-mind exercises via your fave device, Apple Watch will start offering Tai Chi as a workout option in the fall.
You'll need a small open space, and preferably quiet one. "You'll start with basic forms that use a small number of basic movements and progress to forms of increasing complexity," Rhodes tells Bustle. "The different styles of Tai Chi have multiple sets using up to 108 movements that one would have to learn to gain mastery. Don't worry though — you aren't doing 100 plus movements every session." Once you get more familiar with the basic ways to move, Rhodes says you'll be able to focus even more on your breathing — which is really the stress-busting key to everything.
Studies Referenced:
Yeung, A. (2012) Tai Chi Treatment for Depression in Chinese Americans. The American Journal of Physical Medicine and Rehabilitation, https://journals.lww.com/ajpmr/Abstract/2012/10000/Tai_Chi_Treatment_for_Depression_in_Chinese.6.aspx.
Wang, C. (2010) Tai Chi on psychological well-being: systematic review and meta-analysis. BMC Complementery Medicine and Therapies, https://www.ncbi.nlm.nih.gov/pmc/articles/PMC2893078/?report=reader.
Raman, G. (2013) Tai Chi Improves Sleep Quality in Healthy Adults and Patients with Chronic Conditions: A Systematic Review and Meta-analysis. Journal of Sleep Disorders and Therapy, https://www.ncbi.nlm.nih.gov/pmc/articles/PMC5570448/.
Abbott, R. (2014) Tai Chi and Qigong for the Treatment and Prevention of Mental Disorders. The Psychiatric Clinics of North America, https://www.ncbi.nlm.nih.gov/pmc/articles/PMC3917559/?report=reader.
Experts:
Prentiss Rhodes, National Academy of Sports Medicine (NASM) certified personal trainer, corrective exercise specialist