How Ramla Ali Is Changing The Face Of Boxing & Creating Safe Spaces
"The ultimate aim is to make sport a fairer place for women."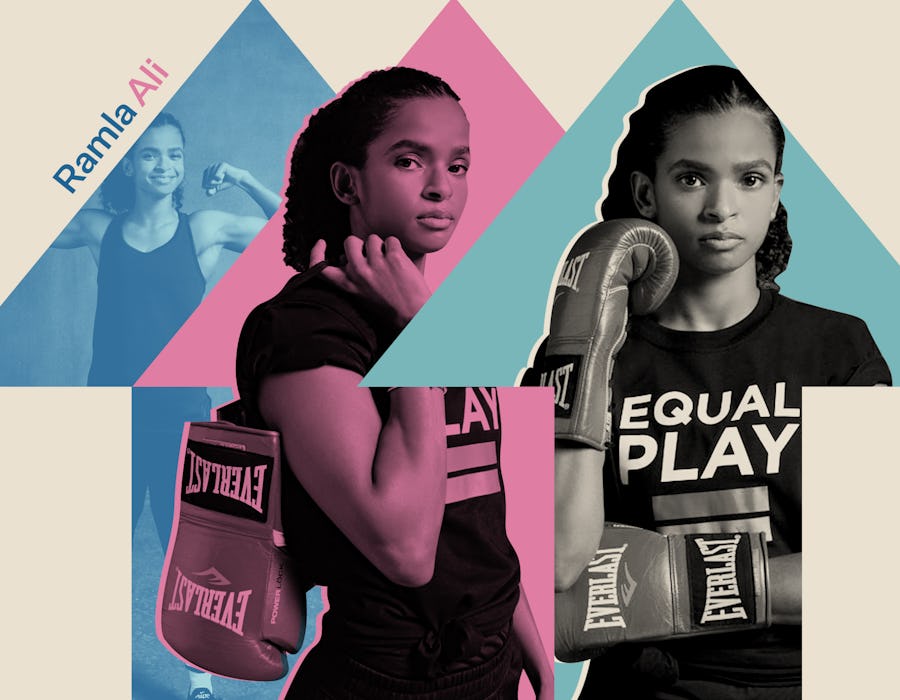 In "The Level Up," changemakers in the fitness and wellness industries tell us how they're making an impact in their communities, from pushing for inclusivity to promoting body acceptance and so much more. Here, boxing champion Ramla Ali discusses the power of safe spaces and making sport a fairer place for women.
Ramla Ali has been fighting her whole life. The stitches in her left eyebrow – a fresh cut from her victory over Bec Connolly at the SSE Arena in Wembley – notwithstanding, and you could be fooled into thinking that the fight hasn't worn her down. When we speak over zoom, it is the end of a long day for the Somali-born, London-bred boxer. As well as sticking to her rigorous training scheduled, she's tagged a photoshoot onto the day. Now she's courting the press to talk about yet another ring she is stepping into: fighting for gender equality in sports as part of Sports Direct's Equal Play initiative.
She is as polite as she is humble, asking about my day and visibly blushing as I recount her (many) achievements. In 2015 she became the first Muslim woman to win an English boxing title. By 2019, she was the African Zone Featherweight Champion, in the process becoming the first boxer – male or female – in history to win an international gold medal whilst representing Somalia. She's a Pantene and Coach brand ambassador; a British Vogue cover girl, chosen by Meghan Markle herself for the historic September issue she guest edited; has contracts with Nike and Cartier; and is the founder of Sisters Club, where she teaches women self-defence. Now she's on her way to the Olympics. Smashing stereotypes seems to be her forte, I suggest.
"It's not something I think about," she replies. "It's just something that is built within me. When I see something that isn't there, I don't think, 'I'm going to do that in five-six month's time.' I'm going to do it now. I'm going to make sure it is done. Because life is too short."
Ali doesn't know her exact age (record-keeping wasn't important when civil war tore through Mogadishu in the late 1980s), but at 31-ish, Ali has survived the death of her brother (who was killed aged 12 by a grenade), a treacherous boat journey from Somalia to Kenya and, eventually, the process to resettle in the UK. She's built a career out of a sport she was told "wasn't for girls", and that was deemed immodest for a Muslim woman. For years she hid her training and competitions from her family – though they now fully support her.
Professional success aside, it is the initiatives of nonprofit Sisters Club and Equal Play that make her light up as she speaks. She may be paying her own way to the Olympics because boxing is so underfunded in east Africa, but she is adamant that women get equal treatment in sport – be that access, pay, visibility, or support.
Here, Ali reflects on the need to close the sport gender gap, and shares the action she's taking to change the face of boxing.
How did Sisters Club come into being?
I started Sisters Club to allow Muslim women to train for free, and it grew to give any woman who has experienced domestic violence or sexual assault a chance to learn to defend themselves. Sisters Club classes were held in a gym in Ladbroke Grove, but the centre is closing down, which has meant we are no longer able to train there.
So, what will happen to Sisters Club next?
I'm excited. Thanks to the Sports Direct's Equal Play initiative, Sisters Club will be expanding – nationally. Launching at four Everlast Fitness Clubs to start, the classes aim to provide training spaces where women can feel safe and confident. For the past two years it's just been me, and I've only been able to do it in London, because that is where I am, but now with the help of Sports Direct, we'll be able to branch out, help more women, and get more women into sport.
Tell me about the Equal Play initiative and what you hope to achieve with it.
Equal Play is Sports Direct's initiative to drive equality in sport, and help close the gender gap. Female athletes are still facing massive obstacles in the sporting industry compared to men, and the pandemic has made this even worse. Equal Play exposes what the true inequalities are.
Female athletes are still facing massive obstacles in the sporting industry compared to men, and the pandemic has made this even worse.
Sports Direct launched a report with Women in Sport to look at the challenges facing female athletes, and will now act upon the findings. The initiative spans sponsorship for female athletes, increased representation of female athletes in campaigns, funding for grassroots organisations nationwide, and creating safe spaces for women to play sport. The ultimate aim is to make sport a fairer place for women, and to inspire more women and girls to take up sport.
What do you hope to change in the wider fitness world?
I want to see more serious female coaches, and less of all of that Instagram booty pics. All that "getting the right angle for the best bum", and selling like these bull***t detox teas that are "going make your tummy flat." And all those extremely high-waisted leggings to suck in your tummy, and things like that. I hate all of that. I want less of that, and more realness. More female athletes, more girls getting into sport.
Social media is such a powerful place, and I feel like people who have a platform should always try to use it for good. Because at the end of the day, you don't know who's looking up to you, and who's following you. So just try to be positive, try to put it out there, basically.