6 Romantic Ways to Wake Someone Up In The Morning
Keep the spark alive with these sweet gestures.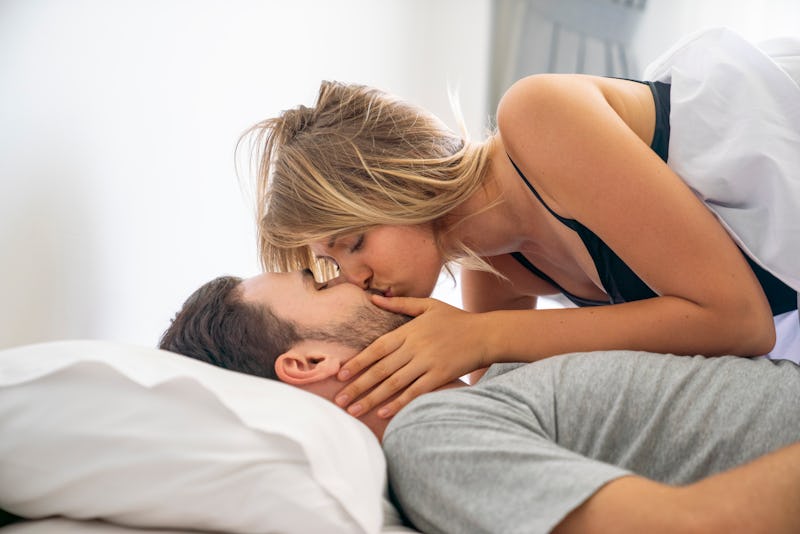 Witthaya Prasongsin/Moment/Getty Images
Whether you've known your partner for a while or just a few months, finding ways to be romantic — like going on regular date nights or taking a spontaneous day trip — is the key to keeping the spark in your relationship alive. The options are endless, but one simple gesture you can try is to wake your partner up in a sweet way.
"When the timing is right, a sweet, special wakeup will set your partner's day in a loving way," Laurel House, dating coach and eharmony's relationship expert, tells Bustle. "When you put a little extra time and effort into your partner, it shows that you care in an even deeper way. Plus, you'll be in their thoughts for the rest of their day, continuously putting a smile on their face."
Of course not everyone is a morning person. According to House, it's important to know your partner's preferences, schedule, and personality before planning a grand romantic gesture for the early AM hours. For instance, some people always wake up in the mood no matter the day, some people prefer to sleep late on weekends, and others get up already thinking about their never-ending to-do list. No matter how sweet you intend to be, your thoughtful plan may put your partner off instead, House says. You don't want to wind up starting a fight — especially before anyone's had their coffee — so be observant and choose your moments wisely.
If you've just started dating and you're unsure about what your partner would like, talk about it. "It may not sound romantic to have a preemptive conversation about how they would like to be woken up, but it's best to prepare by communicating," House says. "If you have clarity, you'll be more confident about how and when to wake up your sweetie."
If you want to help your partner wake up the right way, try doing any of these sweet romantic gestures.
Sources
Laurel House, dating coach and eharmony's relationship expert
Dr. Wyatt Fisher, a licensed psychologist who specializes in marriage counseling
Rori Sassoon, professional dating and relationship coach
Dr. John De Oca, relationship coach