11 Texts To Send A Friend When You Want To Check In
When it comes to mental health check-ins, ditch the memes.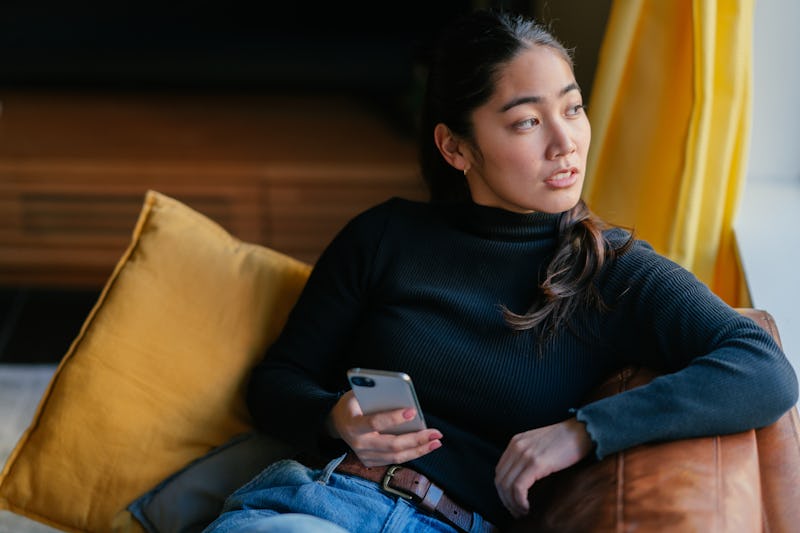 recep-bg/E+/Getty Images
It's so easy to send memes, make jokes, and talk about absolutely nothing via text. But when it comes to texting a friend to check in on them, finding the right words can be tough. If a friend is struggling with their mental health, you might worry about saying the wrong thing, hurting their feelings, or worse. And yet experts recommend reaching out anyway, especially if you haven't heard from them in a while.
"You want your friend to know that you are there for them and a safe person to turn to if they need to talk about their mental health," Lauren Consul, LMFT, JD, a licensed marriage and family therapist, tells Bustle.
That doesn't necessarily mean straight up asking about their anxiety or depression. If you know they're going through a tough time, all you really need to do is make contact. Sometimes sending an "I'm thinking of you" text is a great place to start as it'll brighten their day and help them feel less alone, Consul says. And yes, sometimes that "thinking of you text" can be in the form of a funny meme.
Just don't expect a lively conversation or a response right away. "Your friend may not be ready to talk," Consul says, and that's OK. If they know you are there consistently — in an open-minded and non-judgmental way — it really can mean the world.
Here, a few more ways to check in on a friend so that they know you always have their back.
Sources:
Lauren Consul, LMFT, JD, licensed marriage and family therapist
Kathryn Lee, MHC, mental health counselor
Dr. Sabrina Romanoff, clinical psychologist
Heather Z. Lyons, PhD, licensed psychologist
Kate DeStefano-Torres, MA, LPC, NCC, ACS, BC-TMH, licensed professional counselor
Ingrid Camacho, MHC, MA, mental health counselor