6 Unexpected Things That Can Lead To Diabetes
And they have nothing to do with food.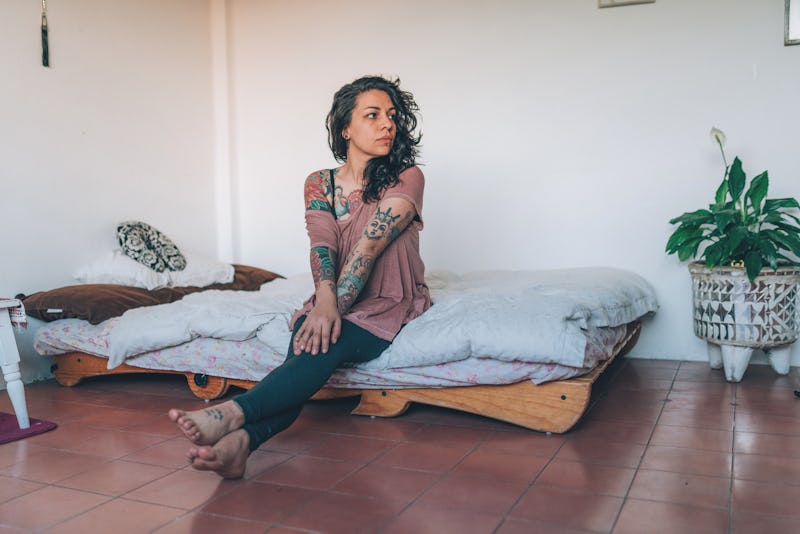 Drazen_/E+/Getty Images
Diabetes, where your body has a hard time producing or processing adequate amounts of the hormone insulin, attracts a lot of myths and assumptions, specifically around food. When it comes to potential causes of diabetes, the picture is a lot more complex than you'd think.
According to the Centers for Disease Control and Prevention (CDC), over 30 million people in the United States have diabetes, and another 88 million have prediabetes — meaning your blood sugar is higher than usual, but not high enough to be classified as type 2 diabetes. (Blood sugar is the amount of glucose in your blood; insulin tells your cells to convert glucose into energy.)
Diabetes is common, yet one in four people don't know they have it. There are many subtle signs of diabetes to watch out for, like being thirsty often or needing to pee all the time. But when it comes to getting the disease, many assume it's limited to lifestyle choices, like eating a lot of sugary foods.
"It can be difficult to separate fact from fiction when you're researching what things might put you at higher risk of diabetes," Dr. Seema Sarin M.D., director of lifestyle medicine at EHE Health, tells Bustle. For example, it was once believed that having an STI could cause diabetes; Dr. Nate Favini M.D., medical lead at Forward, a healthcare provider, tells Bustle that it's a case of association, not causation. "This increase in blood sugar [from diabetes] puts you at risk of developing many more viruses and bacterial infections," he says. Another instance of association, not causation? Not getting enough sun. Though people with low levels of Vitamin D are more likely to develop diabetes, says Dr. Favini, it's more likely that people who don't get outside a lot might also not exercise that much, which is another diabetes risk factor.
Here are some lesser-known factors that are linked to developing diabetes.
These factors, of course, aren't the only ones that can lead to diabetes: genetics and other health issues also play a role. But the good news is, there are easy ways to reduce your risk of getting diabetes: getting outside, eating nutrient-dense foods, and moving in ways you enjoy. Oh, and apparently ditching your mouthwash habit.
Experts:
Allison Caggia
Dr. Nate Favini M.D.
Dr. Joseph Krainin M.D.
Dr. Seema Sarin M.D.
Dr. Jeff Stanley M.D.
Studies cited:
Anderson, A. E., Kerr, W. T., Thames, A., Li, T., Xiao, J., & Cohen, M. S. (2016). Electronic health record phenotyping improves detection and screening of type 2 diabetes in the general United States population: A cross-sectional, unselected, retrospective study. Journal of biomedical informatics, 60, 162–168. https://doi.org/10.1016/j.jbi.2015.12.006
Ayyavoo, A., Savage, T., Derraik, J. G., Hofman, P. L., & Cutfield, W. S. (2013). First-born children have reduced insulin sensitivity and higher daytime blood pressure compared to later-born children. The Journal of clinical endocrinology and metabolism, 98(3), 1248–1253. https://doi.org/10.1210/jc.2012-3531
Baburao, A., & Souza, G. D. (2014). Insulin resistance in moderate to severe obstructive sleep apnea in nondiabetics and its response to continuous positive airway pressure treatment. North American journal of medical sciences, 6(10), 500–504. https://doi.org/10.4103/1947-2714.143280
Bai, P. Y., Wittert, G., Taylor, A. W., Martin, S. A., Milne, R. W., Jenkins, A. J., Januszewski, A. S., & Shi, Z. (2017). The association between total phthalate concentration and non-communicable diseases and chronic inflammation in South Australian urban dwelling men. Environmental research, 158, 366–372. https://doi.org/10.1016/j.envres.2017.06.021
Capua, I., Mercalli, A., Pizzuto, M. S., Romero-Tejeda, A., Kasloff, S., De Battisti, C., Bonfante, F., Patrono, L. V., Vicenzi, E., Zappulli, V., Lampasona, V., Stefani, A., Doglioni, C., Terregino, C., Cattoli, G., & Piemonti, L. (2013). Influenza A viruses grow in human pancreatic cells and cause pancreatitis and diabetes in an animal model. Journal of virology, 87(1), 597–610. https://doi.org/10.1128/JVI.00714-12
Joshipura, K. J., Muñoz-Torres, F. J., Morou-Bermudez, E., & Patel, R. P. (2017). Over-the-counter mouthwash use and risk of pre-diabetes/diabetes. Nitric oxide : biology and chemistry, 71, 14–20. https://doi.org/10.1016/j.niox.2017.09.004
La Merrill, M.A., Vandenberg, L.N., Smith, M.T. et al. (2020) Consensus on the key characteristics of endocrine-disrupting chemicals as a basis for hazard identification. Nat Rev Endocrinol16, 45–57. https://doi.org/10.1038/s41574-019-0273-8
This article was originally published on