TikTok's Voluntary Celibacy Trend Has Sparked A Movement
The lowdown on why people are waiting longer to have sex.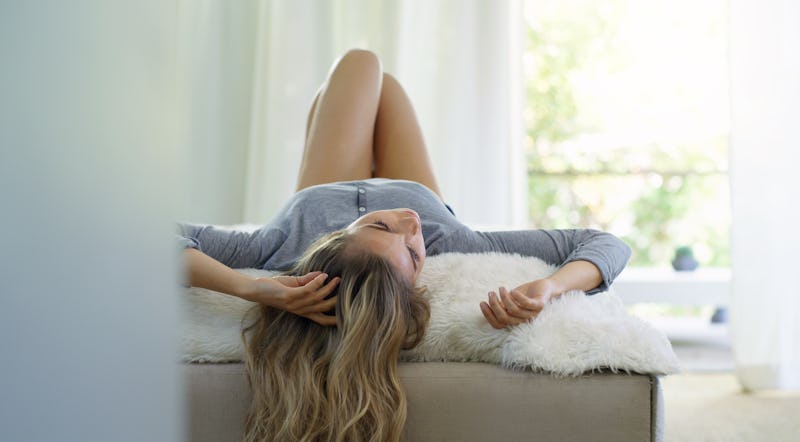 Sean Anthony Eddy/E+/Getty Images
In the past year, the typical attitudes about sex and dating have shifted among singles in the U.S. According to Match's 2022 Singles in America study, 31% of singles are comfortable having sex on the first three dates, but 69% prefer to wait longer. What's more, 36% are willing to wait longer to have sex with someone new than they did pre-pandemic. Hookup culture has changed — just look at the rise of voluntary celibacy.
Over on TikTok, there's an entire celibacy movement happening. The hashtag #voluntarycelibacy has over 163 million views and countless videos of folks talking about why they're choosing to wait longer to have sex with someone they're dating — or taking breaks from sex altogether. And the reasons for these choices are totally personal and different for everyone. Some want to focus on themselves and their career goals, while others might feel that any potential partners might take them more seriously if they choose to abstain from sex for a while rather than sleeping with them after, say, their second date.
Waiting longer to have sex when you're dating or choosing celibacy is a completely valid decision and one that doesn't need justification. Some creators on the internet, however, are still choosing to share some relatable (and even hilarious) backstories of why they've decided to abstain.
In a TikTok video from November 2022, TikTok user @gabivictorr shared that she has chosen to be celibate for over three years because in order to stimulate her sexually, someone first needs to stimulate her mind. For TikTok user @officialantt.tybb, choosing celibacy for almost two years has helped him better himself and reach many of his goals — a reason why many others are also prioritizing other things over having an active sex life.
That's not to say voluntary celibacy is easy or fun for everyone. TikTok user @yankellyvilla shared a hilarious video detailing the phases of celibacy, which, according to her, include temptation, boredom, and self-exploration.
Dating coach Aly McDonald says she actually recommends her clients wait longer to have sex. Her rule? Don't sleep with someone until you're exclusive or in a full-on relationship with the other person because having sex can confuse your feelings. Oxytocin, the bonding hormone, is released when you have sex with someone, she explains in a TikTok video, and makes you think you're more attracted and connected to them than you really are.
"Sex is fun, but it also creates a biological attachment you may not be ready to have," she tells Bustle. "When we first start dating someone we want to stay in what I call 'observation mode,' where we are simply learning who the person is, kind of like an interview for being our life partner. When we bring sex into the mix before there is commitment, our feelings and attachment grow, and we can't see things as clearly."
Maria Avgitidis, better known as Matchmaker Maria, is well-known in the dating world for her "12 date rule," which entails waiting until after the 12th date to have sex with a new S.O. "If you just wait a little before having sex, you'll focus on the things that lead to healthy relationships: strong and predictable communication patterns, emotional understanding, and mutual respect," she shares.
There's obviously a wide spectrum of reasons people might wait a while to have sex with someone or choose a period of celibacy altogether. If it's something you're choosing for yourself, any reason or motivation behind it is valid and worthy of respect. Figuring out the right time to enjoy sex with a new partner is a personal choice, and waiting until the right time for you might just pay off.
Sources:
Aly McDonald, dating coach