When Will The UK Go Back To "Normal?"
The latest news on when and how lockdowns will be eased.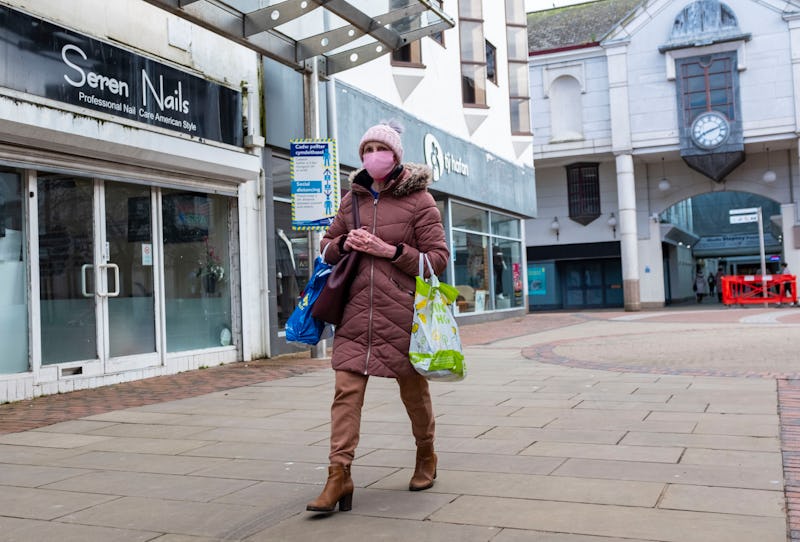 SOPA Images/LightRocket/Getty Images
It's hard to believe that it's been more than a year since the UK first went into lockdown. However, thanks to the vaccine roll-out plan, restrictions have started to be eased in England, with Wales, Scotland, and Northern Ireland soon to follow. It looks like 2021 may be the year when restrictions are finally lifted completely, so when will the UK go back to "normal"? Here's everything we know so far.
As of March 29, more than 30 million people in the UK have been vaccinated with a first dose, and around 3 million people have been vaccinated with the second. Currently, the vaccine is being offered to those aged 50-54 in England. Prime Minister Boris Johnson has now said that all UK adults will be offered the vaccine by July 31.
When Will Lockdowns In The UK Be Eased?
England
On Feb. 22, 2021, Boris Johnson announced his plan for unlocking England amid the coronavirus vaccination programme. His proposal (which can be read here in full) came in four steps, and the first two parts of step one have already passed. The "stay at home" order has ended in England, and people can now meet outside in gatherings of up to six people (or two households) and can also play outdoor sports. However, people should continue to work from home where possible and stay local.
Step two will happen no earlier than April 12, which will see the reopening of non-essential retail, tourist attractions, and leisure facilities. Hospitality venues like pubs and restaurants will reopen for outdoor seating, and there is no "substantial meal" requirement nor a curfew. Funerals can have up to 30 guests, and weddings, receptions, and wakes can have 15.
From May 17, gatherings of up to six people will be permitted indoors and up to 30 can meet outdoors. Indoor hospitality and entertainment venues will reopen, and some big events will be able to resume with a limited number of spectators. By June 21, all remaining limits are aimed to be removed.
Scotland
While up to four adults from two households can meet outside in Scotland, there's still a long way to wait for restrictions to be eased. However, on March 16 First Minister Nicola Sturgeon announced a roadmap out of lockdown, with the next key date being April 2 when the "stay at home order" will be replaced with "stay local."
Hairdressers, garden centres, and click-and-collect services will reopen on April 5, followed by all non-essential retail and hospitality sectors on April 26. Households will also be able to meet indoors by this date.
However, "the precise detail of any continued restrictions will depend on an assessment of the situation closer to the time," Sturgeon said during her announcement.
Wales
Wales has been in lockdown since Dec. 20 under a four-level system.
On Feb. 21, First Minister Mark Drakeford outlined a roadmap of sorts to gradually lift lockdown restrictions over the next six weeks. This included the reopening of non-essential businesses like garden centres on March 22 and the removal of the "stay local" requirement on March 27. The tourism sector is currently experiencing a phased reopening, and two households of up to six people can now meet outside.
Further easement of restrictions will be reviewed on April 1, which may include non-essential retail and hospitality venues reopening from April 12.
Northern Ireland
Northern Ireland's current lockdown was reviewed on Feb. 18, and led to an extension of restrictions "until at least April", Belfast Live reports.
"We are now at a time for patience and persistence," First Minister Arlene Foster said at a press conference. "We must dig in and secure the position we hold and then to slowly move forward. We want to be able to reopen all of society and we will do that with your help."
However, on March 8, pre-school, nursery, and primary school children returned to school, followed by secondary school pupils on March 22. The government has also published a plan that focuses on nine "pathways" out of lockdown, which includes areas like home and community, work, retail, and hospitality. You can read the list in full here.
What about international travel?
Nation-wide vaccination programmes in the UK may certainly have an impact on whether or not lockdowns here can be eased, but that doesn't necessarily mean life will return to the way it was before, especially when it comes to international travel. Experts have said that there will need to be mass vaccination worldwide before we can truly be rid of coronavirus – and this could take between two to three years.
It is currently illegal for anyone in England, Scotland, Wales, and Northern Ireland to travel abroad unless it's for work or for an essential reason (including volunteering, education, medical, or compassionate grounds or to attend a wedding, funeral or related event). This law was initially set to be lifted on May 17, 2021, but that is now up for discussion. It will likely be pushed back until July and, following that, there may be a "traffic light" system in place, which you can read more about here.
What if there's a third wave in the UK?
In March, many countries across Europe began to experience a third wave of coronavirus. While the UK's vaccination programme is going strong, Prime Minister Boris Johnson has acknowledged the possibility of this third wave reaching British shores. "I expect we will feel those effects in due course," he said recently. "That's why we're getting on with our vaccination program as fast as we can."
So what happens if the third wave does arrive? Well, the Commons voted to extend the Coronavirus Act 2020 for another six months on March 25, which means that if cases were to considerably rise once restrictions are eased, rules can easily be put back into place to curb infection rates. As the government writes, "these measures in the coronavirus bill are temporary, proportionate to the threat we face, and will only be used when strictly necessary and be in place for as long as required to respond to the situation."
Contributions from Sophie McEvoy.
This article was originally published on