What If Bachelors Were Disney Princes?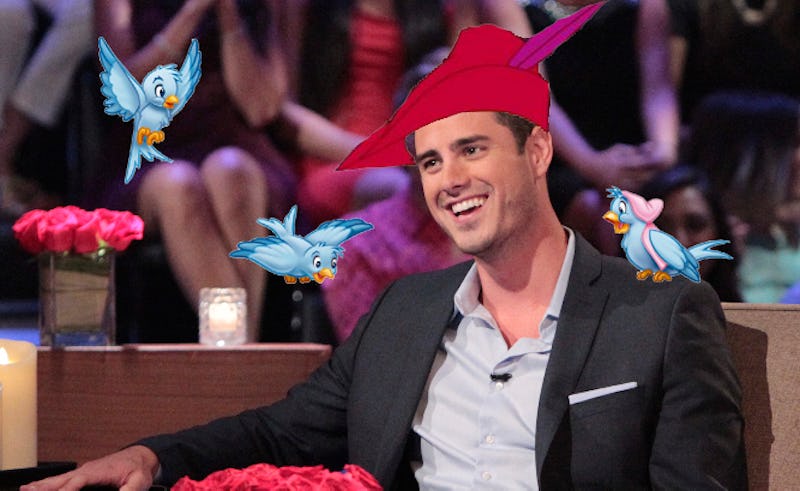 It is quite obvious that ABC's The Bachelor tries to follow a love story trope we all know. From the romantic excursions to the single red rose, the show sets up a fantasy we all remember watching during our childhood — and no, I haven't been watching The Bachelor since I was a wee tot. I'm talking about Disney movies. Since the beginning of time (well, since the beginning of my time), Disney princess films have not only molded our ideas of romance and happily ever after, but they have also set high expectations for the love interests in our lives. Just as Bachelorette contestants have similarities to Disney princesses, the same goes for the Bachelors who resemble Disney princes.
Most times these Disney films follow the princess as the central character, but it goes without saying that the prince plays pretty big role in the story too. Not only do these dudes serve as our heroines' main love interests, but they also help these princesses discover themselves, much like the Bachelors do on ABC.
Even though many Bachelor men of years past (and potentially the future) might not be real life princes (although there was Prince Lorenzo Borghese from Season 9), these bachelors do have a few things in common with Disney's finest.
Brad Womack: Prince Phillip
Just like Prince Phillip, Womack doesn't let people tell him who he should love. America may have hated him for not choosing a winner his first go around, but in reality he was only trying to be fair to both women and himself. It also helps that his second time
on The Bachelor, Womack chose Emily Maynard who is totally Aurora.
Jason Mesnick: Prince Charming
Aside from physically looking like Cinderella's prince, Mesnick was certainly charming. As the first single parent Bachelor, it was obvious that his intentions to find true love on the show were genuine. Even though it took him a few tries, in the end, the slipper finally fit with Molly Malaney.
Ben Flajnik: Flynn Rider
Talk about a spitting image — it must be that hair. Aside from being pretty easy going, these men are both conscious of money. While Flynn thieves to increase his bank account, Flajnik gets his money by being an entrepreneur.
Sean Lowe: Prince Florian
If you're having trouble visualizing this, think of Prince Charming from Once Upon a Time. Not only are these two both kind and charismatic, they both have epic love stories. And since Catherine Lowe is totally Snow White, these two are the perfect pair.
Juan Pablo Galavis: Prince Adam
Just like Prince Adam from Beauty and the Beast, Galavis came off as a bit cocky and arrogant on the show. Even so, I swear there is a sweet side to this bachelor. You just have to look for it.
Chris Soules: John Smith
His nickname may have been Prince Farming on the show, but if Soules is like any Disney prince it is John Smith. Aside from their shared love of working with the land and nature, these two are also very caring people.
Ben Higgins: Prince Eric
Even though he hasn't "officially" been cast as the new Bachelor, Higgins definitely shares some qualities with Prince Eric from his strong sweater game to his gorgeous smile. These two are also extremely mature and down to earth.
And if you can't see these men as Disney princes, well, then maybe you're not watching the same show that I am.
Images: Rick Rowell/ABC & Walt Disney Pictures; ABC (6); Getty Images