What If Bachelorettes Were Disney Princesses?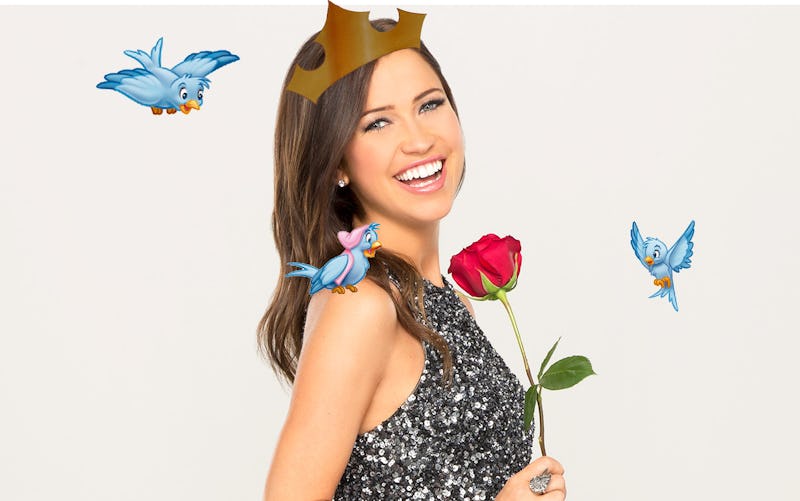 With all the exotic dates and extravagant gowns on ABC's The Bachelorette, the contestants of the show are practically living in a fairytale. Right down to the final rose, the show tells a story almost as old as time. As these women fall head over heels for a guy they have just met, viewers are essentially watching a real life Disney princess film come to life. Even though the Bachelorette contestants do not always find permanent love or a happily ever afters when the clock strikes midnight, the ladies of Bachelor Nation sure do have a lot in common when it comes to some of the most iconic Disney princesses, from their looks to their personalities.
Since the beginning of storytelling, Disney princess films have followed the same pattern: Girl meets boy, boy falls madly in love with girl, and eventually the two live happily ever after. Even in today's Disney stories, a woman's quest to find herself always results in her finding true love. While it is not always quite that simple in real life, these Bachelorette contestants do have a few similarities with our favorite princesses from Britt Nilsson's flawless hair to Andi Dorfman's strong will. See which Bachelorettes would be who in this Disney princess crossover.
Trista Rehn: Cinderella
As the OG Bachelorette, it only makes sense that Rehn would be Cinderella — she is the matriarch of all Disney princesses after all. Not only does she simply look the part, but her love story is definitely one of the books.
Ashley Hebert: Rapunzel
Not only does she rock both blonde and brunette locks, but just like Rapunzel, Hebert is a spirited and smart young woman. Like her Disney princess persona, she is well educated, having attended dental school, and she has a passion for art, having minored in dance.
Emily Maynard: Sleeping Beauty/ Aurora
Possibly one of the most princess-like Bachelorettes of all time, Maynard is so Aurora from Sleeping Beauty. Not only are the two girls extremely classy and poised, but they are also hopeless romantics.
Andi Dorfman: Belle
Not only did she have to put up with a beast (sorry, I'm not a Juan Pablo fan), like Belle, Andi is known for her strong will and go-getter attitude. And as former Assistant District Attorney, you better believe she is super intelligent like our favorite book worm princess.
Catherine Lowe: Snow White
She may not have been the Bachelorette (sorry, I cheated a bit), but her husband, Sean Lowe and her are totally fairytale material. Just like Snow White, Catherine just oozes sweetness. Not to mention, she is a vegan food blogger, so she obviously cares about the environment like her Disney princess persona.
Britt Nilsson: Ariel
Because, honestly could there be a more perfect comparison? Not only do these girls have similar high spirits when it comes to love, but their mermaid hair and cherry red lips are equally envy-worthy. Seriously, whether it's under the sea or waking up in the morning, these girls always look flawless.
Kaitlyn Bristowe: Jasmine
Like Jasmine, Kaitlyn is certainly multidimensional. She is not your typical Disney princess in that she is very independent and not afraid to speak her mind. At the same time though, the two are very compassionate towards the people they love.
So yeah, ABC's got that Disney integration thing down pat.
Images: Craig Sjodin, Screengrab, Rick Rowell/ABC (3); Getty Images (6); Giphy (7)