7 Tie Dye Nail Designs For Your Inner Hippie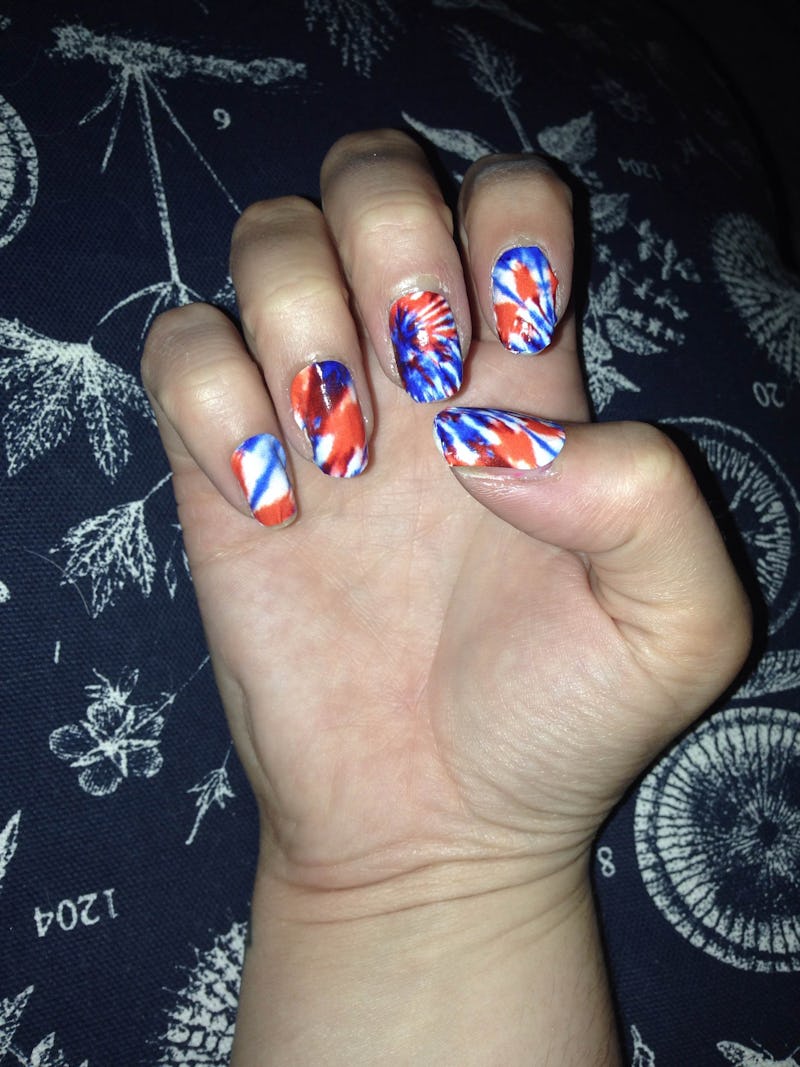 Although there are many people who see tie dye as a granola-crunching, hippie dippie, pot-related kind of look, there's something about that dynamic, vibrant swirl of color that evokes a strong feeling of nostalgia, including in tie dye nails. And guess what? That swirly sentimental style is totally in right now, gracing everything from dresses and T-shirts to bags and shoes. Not prepared to deck yourself out a in head-to-toe tie-dyed ensemble, though? Forget those stunning semi-permanent "sand art" locks that have been flooding the interwebs. One of the easiest (and least committal) ways to add a splash of that good ol' swirl to your style is to layer it up on your nails.
Of course, there are many tactics for pulling off this dyed motif. From quick and easy, slap 'em on and go nail stickers, to potentially-messy water marbling (it's easier than it looks!), and painstakingly detailed painted-on designs, you can accomplish it no matter your skill level.
To get your creative juices flowing as you pick out your favorite colors, I've compiled a super cool collection of tie-dyed digits to inspire your next beauty DIY. Keep scrolling to see my favorite looks, and read a few tips on how to make your swirl a success.
1. Camtucci
Like old school spin art, these nails leave you dizzy with colorful excitement. To accomplish this design, paint a half circle of polish onto the nail, and then drag a toothpick from the center to the edges to push the layers of polish into each other.
2. Rikifindley
Up your hippie level by adding a watercolor effect to your tie dye by water-marbling them! Paint your nails white and allow them to mostly dry, drop a few different colors of nail polish into a disposable cup of water, then swirl with a toothpick and stick your finger (nail side down) into the cup. Next, just clean up your skin, slap on a clear top coat, and you're good to go!
3. Becks_Love_Monster
Break out that classic swirl with a choppy, smudged on design that mimics your favorite middle school T-shirt. (Don't lie, you know you had one.)
4. Lovagahlin
If you're not into the acid brights of traditional tie dye, consider a more subtle, neutral hued style that still showcases the swirling print.
5. Thelizblack
Is the idea of "tie dying" your nails intriguing and overwhelming you? You don't have to be the next (insert whoever does Beyoncé's nails here) to pull off this style. Make your life easier by slapping some printed stickers onto your nails. Both Sally Hansen and NCLA make tie-dyed options.
6. Glassheartsx0
Add some texture (and incorporate negative space, another hot nail trend) by leaving some areas clear, or by using a tool to push into wet nail polish to open up space.
7. Nailsbycambria
If you're particularly talented (or just have the time and a steady hand), decorate every digit with its own tie dye style instead of making them all match. Just stick to the same shades for a cohesive look.
Now all you need is an acoustic guitar and your favorite Janis Joplin lyrics.
Images: Liz Black