9 Beach Bags For Every Kind Of Summer Woman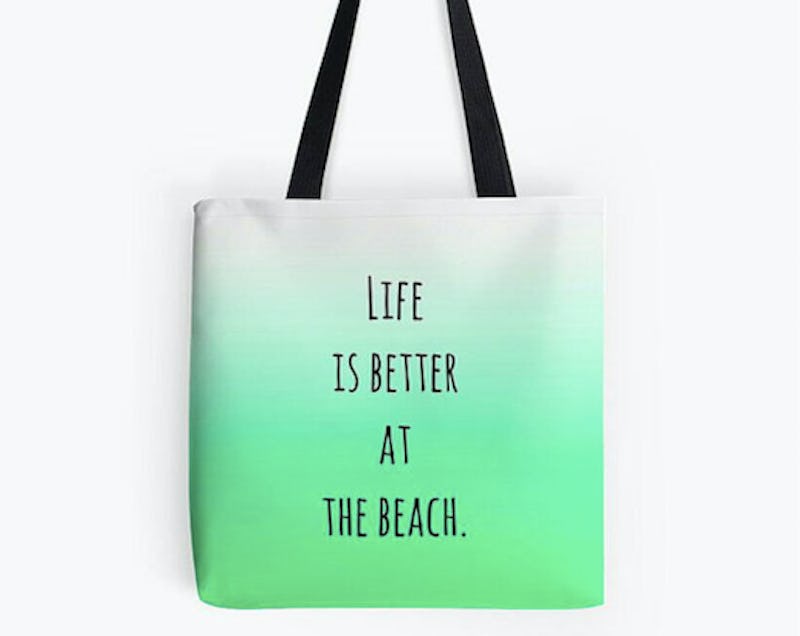 By the end of the summer, your perfect beach bag is bound to be a mess. After all, you've been schlepping it around for months, practically living out of it. The bottom of the bag is filled with sand, a broken pair of headphones, empty sunscreen bottles, and little pieces of paper that were once parking passes or train tickets. Once August hits, a whole season's worth of memories (and probably some random trash) are confined to the tote that's taken you through the summer. That's why it's so important to find your ideal beach bag that won't let you down.
Packing, unpacking, and repacking your bag every time you want to hit the sand is a major pain, so your best bet is to find one you love and use it all summer long. Everyone's beach style, and beach needs, are different — whether you're an "all I need is my bikini and my towel" kind of girl, or the "I need to make sure I have enough stuff with me to get me through the week" type, one of these nine beach bags will be perfect for you. Keep a bottle of sunscreen, a chapstick, and a sarong in the bag at all times so that you're ready to grab it and go at a moment's notice.
1. For The Girl Who Likes To Say It With Her Accessories
What better way to express yourself, and to tell the world how excited you are that it's summer, than with your beach bag?
Similar Styles, $35, Etsy.com
2. For The Girl Who Likes An Old Classic
A straw beach bag goes with everything, and is effortlessly chic. Make it your own by tying a scarf that coordinates with your bathing suit around the handle of the bag.
Structured Straw Tote, $148, Anthropologie.com
3. For The Girl Who Wants To Embrace Her Inner Prep
A monogrammed carry-all works to pack in for the weekend and to take to the beach — it's the only bag you'll ever need. These colorful canvas options (personalization optional) are durable classics that will last you through many, many seasons.
Open-Top Boat Bag, $34.95, LLBean.com
4. For The Girl With Beach-Town Pride
Think you've found the best summer spot on the planet? Brag about it with your bag — and, of course, on Instagram, because there's no better time to take a photo than on a perfect day at the beach.
Tote Bag, $12, Darilynns.com
5. For The Girl Who Wants To Use The Same Bag At Coachella
An easy-to-carry knit backpack is the only bag you'll need all summer — it will get you through every event on your summer calendar with style.
Similar Styles, $103.60 Shopbop.com
6. For The Girl Who Wants To Make A Statement
Feathers, beads and multicolored teeny-tiny pompoms? Not exactly "practical" for being thrown around in the sand, but a bag like this will definitely get you noticed.
Rose Feather Carrycot, $65.36, BeBohoChic.Com
7. For The Girl Who Has Nothing To Hide
A clear bag is sleek looking, and not to mention waterproof, but is not for the faint of heart. Keep personal items (like tampons and your extra post-beach undies) in a smaller pouch inside the bag to avoid broadcasting your lady problems to the whole beach.
Similar Styles, $24, Bloomingdales.com
8. For The Girl Who Likes To Bring Nothing With Her
You don't really need much for a day at the beach. A pouch that's big enough to fits your phone, headphones and a travel-sized bottle of sunscreen is perfect for anyone who hates lugging a huge bag back and forth across the hot sand.
Shiva Puka Shell Clutch, $176, JadeTribe.com
9. For The Girl Who Likes To Bring EVERYTHING With Her
Towel? Check. Book? Check. 75 lip glosses, 3 pair of flip flops and your maltese puppy? Check, check, check. After all, it fits!
Random Kindness Bag, $11.99, Modcloth.com
Images: Courtesy Brands