Will 'Bachelor in Paradise 2' Have An Engagement?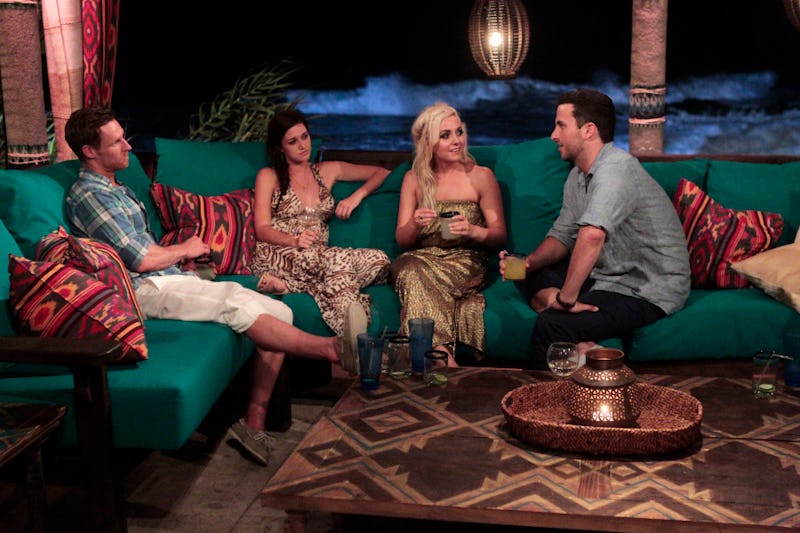 Watching summer reality television can teach you a lot. For example, in just a few short weeks, audiences will learn if there will be an engagement on Bachelor in Paradise Season 2, or if love is no longer real. For viewers, it'd be great for another engagement to happen this season — mostly because it helps us ignore the fact that the doesn't really have a logical conclusion. The whole season builds to a finale where no prize is given out, so the only logical way to "win" the show would be for a couple to get engaged. Which, honestly, isn't a bad thing — no one can complain when love wins.
But it seems like ABC will get their wish and the show will tug at our heartstrings after all. Because, if you listen to Bachelor spoiler blogs, there will be a proposal in the season finale of Bachelor in Paradise Season 2. Now, is it possible that it will reach the heights of madness that was Marcus Grodd and Lacy Faddoul's relationship in the first season of the show? Probably not. But I'll never underestimate the Bachelor/ette alumni's ability to find "love" in a six-week summer camp where the only activities are crying, braiding hair, and having sex in the ocean. And then crying more. **WARNING: SPOILERS TO COME**
Still curious? OK, the rumor is that this season, Tanner Tolbert and Jade Roper are going to get engaged in the finale. Spoiler maven Reality Steve did just predict that Kaitlyn and Shawn would get engaged, but that was after previously guessing that Kaitlyn wouldn't choose anyone and would walk away from both guys. But, this time, he's backed up by other sites — like Inquisitr's spoiler report for the season — and his report was circulated widely among other sites like Moviefone. I would appear that it's been deemed trustworthy enough to speculate about.
So, it looks like there's a chance that Jade Roper, who was considered too shocking for Chris Soules because of her past as a Playboy model, might have found love on the Bachelor franchise. And all it took was a good-natured goofball like Tanner to see past the supposed scandal in Jade's past and fall in love. As a fan who never supported the retrograde reaction to Jade's modeling, this is good news, in my opinion. Even if Tanner and Jade wind up splitting down the line — or never even get engaged — it will be nice to see her treated like the rest of the women in the cast, not some strange pariah because she was comfortable modeling naked. Plus, I just think Tanner is just the right level of dumb-funny for her.
However, if you're looking for clues that he's now an engaged man, I'm not seeing any of them. After that Snapchat leak, though, I'm assuming that ABC and the Bachelor producers must have cracked down big time on the use of social media among their contestants. Tanner's account is still all corny jokes and news about the Royals (his preferred baseball team), while Jade posts plenty of selfies and pics with the rest of the BiP cast — and, unfortunately, there's been no strategic hiding of her left hand.
I'm sure all of the couples that form over the course of Bachelor in Paradise are encouraged into potentially getting engaged to give the end of the season a nice surprise — I mean, they're there to find love, after all, it'd be weird if they weren't supported through it. But, if the rumors are true and it's Jade Roper and Tanner Tolbert who wind up together in the finale, I think Bach fans should support it — because Chris Soules' season did Jade wrong.
Image: Rick Rowell/ABC; Giphy