Why Do Men Love This Position So Much?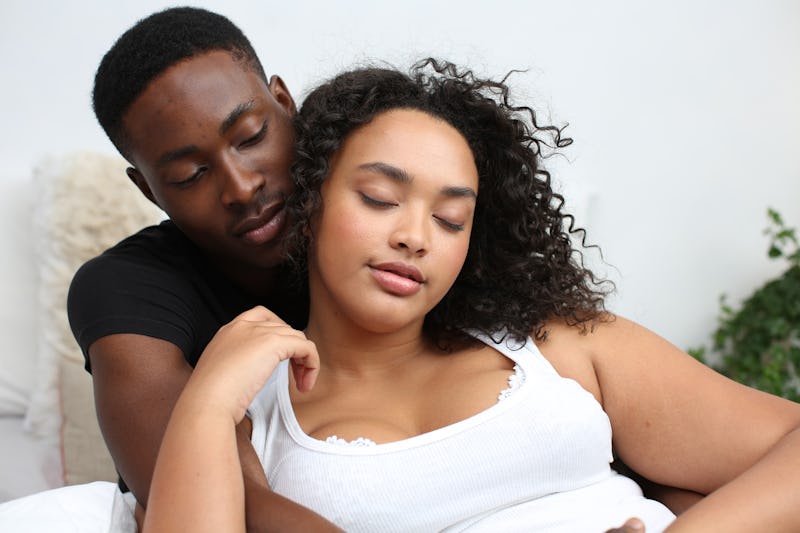 Men have been obsessed with doggy style since the dawn of time. If you're sexually active, chances are that your partner has requested it at some point. But why? Some experts say that doggy style is primal and animalistic, which gives men a sense of dominance and control. On a physical level, the upwards angle of doggy style allows men to thrust harder and deeper, making it more pleasurable than other positions for some. Plus, there are tons of doggy style variations and ways to make it more intimate. It's no surprise many women love doggy style, too.
As Vanessa Marin writes for Bustle:
Doggy style is arguably the best position for hitting the G-spot. Your partner's penis is naturally tilted slightly downwards due to the alignment of your bodies, and it rubs right up against the G-spot as a result. Even if you're not a big G-spot fan, there's no arguing that this position feels incredible.
In fact, in a recent survey of 2,000 people in the U.S. and U.K. from online doctor DrEd, doggy style was the most preferred sex position among both men and women. I love doggy style because it is a naturally submissive position and because I can arch my back and show off my glutes, I can moan as loud as I want, and scream at my partner to go harder. Physically, doggy style feels deeper and tighter.
I spoke with men about how they really feel about doggy style:
1. *TJ, 25:
"It's a very dominating position...the woman is on all fours and you have complete control."
2. *Daniel, 22:
"I like the way her body looks with her back arched like that and her ass up."
3. *Berto, 21:
"I have complete control. She is completely submitting to me; it's really hot."
4. *Joey, 27:
"I like doggy style because I can see her ass bounce up and down and I can pull her hair."
5. *Robin, 25:
"It just feels better. I can thrust harder and deeper."
6. *Tatum, 28:
"Something about the position makes her vagina feel way tighter, so it feels better for the both of us."
7. *Tyler, 22:
"It gives me a nice view of her ass and better control because I can hold on to her hips."
8. *Kellen, 25:
"It's a super sexy, dominating position. She's on her hands and knees for me, I'm holding on to her hips, I can pull her hair.. I like being totally in control like that. "
9. Thomas, 27
"Doggy style lets me thrust way deeper, which heightens the sensation for both of us. Its also carnal and animalistic. "
*Names have been changed
Images: Ashley Batz/Bustle; Giphy