Get To Know Jamie Bell, AKA The Thing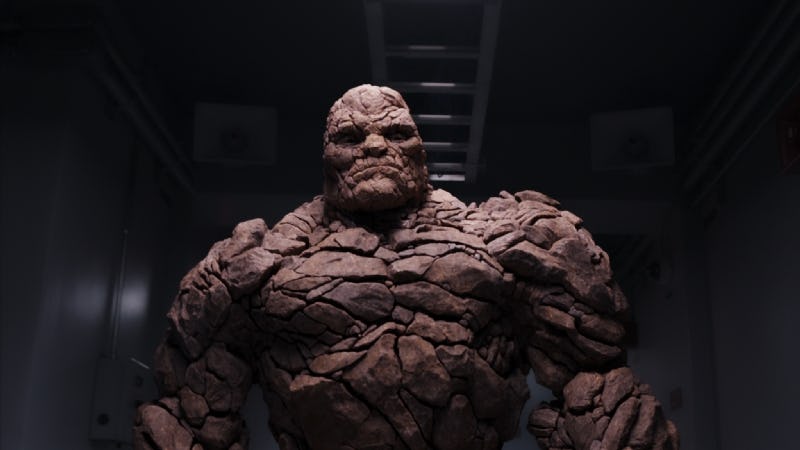 Before Fantastic Four hits theaters on Friday, August 7, there's one face you should familiarize yourself with: that of Thing, a man-turned-enormous rock also called Ben Grimm. Yet that's kind of hard, considering that, you know, he's a rock. So who is the actor who plays Thing in Fantastic Four ? Why, it's none other than Jamie Bell. The British import, best known for his breakout role in 2000's Billy Elliot, may not be the most recognizable star of the Marvel movie — in fact, his face isn't even featured on the poster — but he's far from an unknown actor.
Bell first burst onto the scene when he was 13, starring as a little boy who fell in love with dance in the hit film Billy Elliot. Ever since, the actor has continued to work steadily in film and television, starring in little known indies such as 2004's Dear Wendy, big budget productions like 2005's King Kong, and a successful TV show, AMC's Turn. And yet despite all this, Bell remains under the radar — that is, until now. His breakout role in Fantastic Four should certainly push him into the spotlight.
Make no mistake, Bell is a heartthrob — and he's definitely an actor you should know about. He's had brushes with mega-fame before (he co-starred with Charlie Hunnam in 2002's Nicholas Nickleby before Charlie Hunnam was Charlie Hunnam), and for awhile, he was one half of a dazzling young Hollywood couple. Bell dated actress Evan Rachel Wood on and off for years after meeting on the set of the music video for Green Day's "Wake Me Up When September Ends." They married in October 2012, and welcomed a son in July of the following year. Unfortunately, the two have since split, but remain friendly.
You also might know Bell from 2008's Jumper, in which he starred as the anti-hero opposite leading man Hayden Christensen, or 2011's The Eagle, where he played Channing Tatum's slave-turned-sidekick. Maybe you recognize him as St John Rivers in Jane Eyre (2011). Most recently, he starred as fellow Marvel superhero Chris Evans' BFF in Snowpiercer. He's had a series of excellent roles that have allowed him to build a reputation as a consistently strong actor. However, they haven't quite propelled Bell into People's Sexiest Man Alive territory. If anything, Bell has a habit of being the guy next to People's Sexiest Man Alive.
Even in his bigger starring roles, though, Bell manages to steer clear of the public eye. In 2011, he proved he could carry an international blockbuster when he starred in The Adventures of Tintin, a film made entirely in motion capture. And now, in Fantastic Four, Bell is gearing up for yet another major motion-capture role. He is arguably the least known franchise star working in Hollywood — but that's by design. In fact, that's part of what appealed to him about the role of the Thing in Fantastic Four.
"There is a certain thing about the anonymity of the character that is kind of intriguing. I like that," Bell recently told Interview Magazine.
The idea that an actor working in Hollywood would actively seek out roles that hide is face is surprising, to say the least. Sure, actors complain about being in the spotlight, but make no mistake, being recognized by fans is what keeps many stars' careers alive. Not so for Bell, who is making a career out of being unrecognizable. Speaking to Vanity Fair, he said that he likes "maintaining a bit of mystery."
Said Bell, "I've been working a long time, but I think people still think, I don't know that guy. I think it's a really good position to be in as an actor."
Although he appears in Fantastic Four as Ben Grimm before the character becomes The Thing, it looks like the majority of his screen-time will be as a pile of animated rocks. But perhaps that's not a bad thing; maybe it's the anonymity that gives Bell's characters their appeal. Yet with Fantastic Four set to be one of the summer's hottest films, the actor's star is only going to keep rising, whether he likes it or not.
Image: 20th Century Fox