7 'Housewives' Cast Members Who Left Way Too Soon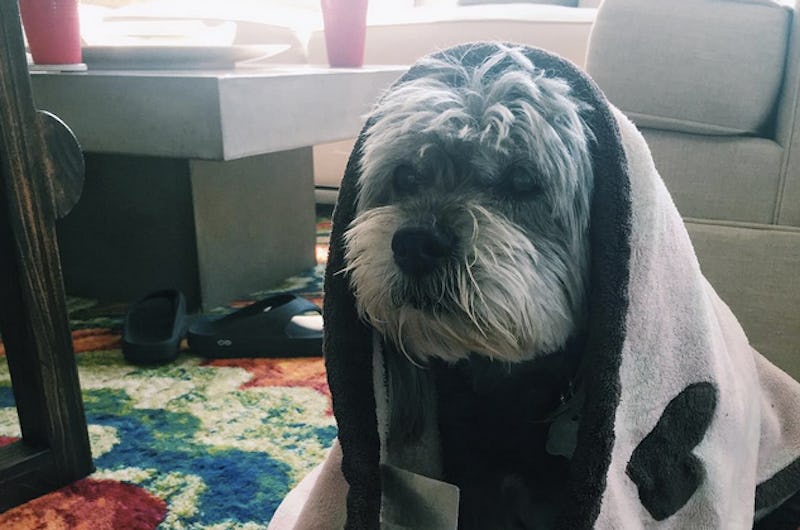 At almost any given moment, you can watch a Real Housewives episode on TV because repeats are almost always airing. I love watching old episodes of Real Houswives for two main reasons: One, I love to see how the ladies used to look. There's nothing better than a throwback of a then-trendy now-dated hair style and a look at a closet full of pre-frist Bravo check clothes. And two, I get to remember all the cast members who are no longer on Real Housewives who I really miss.
Sometimes I can't help but miss the way a show used to be. There are too many faces who disappeared from the franchise way before their time was up — at least in my opinion. From actual Housewives, to boyfriends, to pets, there are far too many great personalities that I miss seeing on Bravo. It would be kind of awkward to bring some of them back now, but that doesn't mean I miss them any less. I just wish that I could rewrite history and keep these gems on TV longer than they actually were.
Some of the names below will be glaringly obvious to huge fans of the show, and others you may have forgotten about due to their short stay on the network, but there are plenty of people (and pets) who I miss.
1. Danielle Staub
Before Teresa Giudice's legal trouble that got her thrown in jail, Danielle Staub was the most interesting Housewife on Real Housewives of New Jersey — by far. Danielle was navigating life as a single mom, getting in fights with everyone in the cast, and had a troublesome past. It was cruel to fans that Danielle got the boot after Season 2.
2. Cedric Martinez
Cedric was Lisa Vanderpump's right hand man during the first season of Real Housewives of Beverly Hills. Lisa essentially adopted a grown man and financed his lifestyle. He was her plus-one in addition to her husband, Ken (and dog, Giggy), and the two of them were just hysterical together. Then it was revealed that Cedric was a pretty shady dude who, according to the show, tried to exploit Lisa. I wish that they made up or at least hashed out the end of their friendship on camera during Season 2.
3. Shereè Whitfield
Shereè Whitfield was made for reality television. She has the most quotable remarks and was never ever boring with her up-and-down friendships with the other ladies like Kim Zolciak and NeNe Leakes. Shereè brought us this unique combination of a woman who epitomized high class and a woman who would destroy you if you came at her. Plus, I would love to see her working on her long-awaited clothing line She by Shereè.
4. Cookie Frankel
I get that Bethenny Frankel's daughter, Bryn, has been kept away from the cameras to protect her privacy, but where has her dog, Cookie Frankel, been? Bethenny and her beloved pooch were inseparable. Cookie provided some adorable comic relief on Real Housewives of New York City during Bethenny's first go 'round, but now we barely see him on the series.
5. Dwight Eubanks
Dwight had the best commentary, the best sense of style, and had the next best role to being an actual Real Housewife. We first met him as the right hand man to NeNe Leakes and we saw their fall out. I'm not sure why Dwight hasn't been on the show since, though. He hung out with most of the other women and even planned lavish events for Phaedra Parks like her son's birthday party. I saw him in an episode of Botched, but that wasn't enough for me. I need that sass back on my television screen.
6. Kim G
Kim Granatell, known as Kim G, was one of the best things that ever happened in the New Jersey series. She was never an actual Housewife, but she had no qualms about stirring the pot and turning up the drama between the ladies. Her antics were always a guilty pleasure of mine, and I couldn't get enough of her up-and-down friendship with Danielle Staub. She was accidentally hilarious and it was everything to me.
7. Victoria Gotti
I know she was not a regular fixture on the show, but her one appearance on RHONJ was pretty legendary. Victoria Gotti set up enough conflict to last all of Season 6. Victoria told Teresa Giudice and Amber Marchese that Teresa Aprea's husband Rino Aprea slept with his wife's mother. If she was able to have this much of an impact after that one appearance, could you imagine how great she could have been if she was on the show more after that? It would be the ultimate.
In all honesty, I will watch every episode of every Real Housewives series no matter who is on it. Nevertheless, I would be a way happier fan if all of these characters had the amount of screen time that they deserved. They were cut loose way too soon and I miss them all.
Images: Bethenny Frankel/Instagram