9 Day Planners That Will Make Everybody Jealous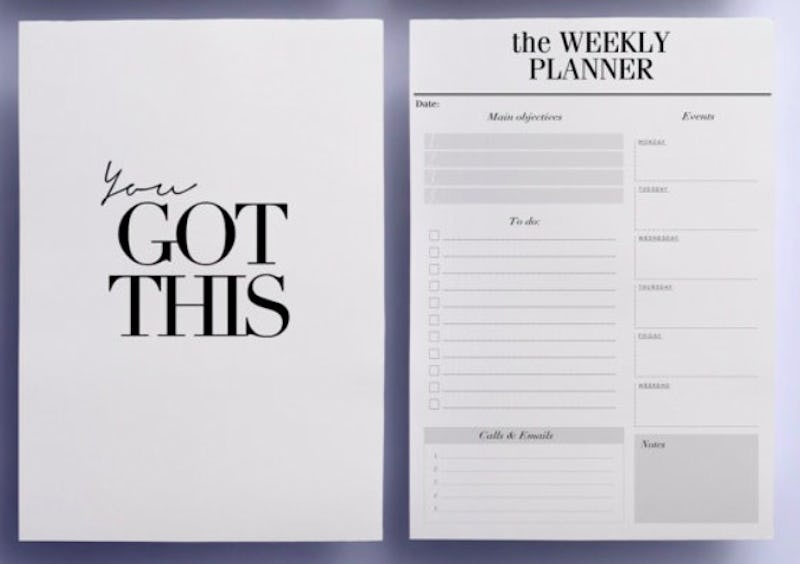 Everyone knows the most important part of going back to school, whether that's high school, college, or grad school, is the stationery, including a college day planner on which to plan your academic take over in. Take it from a 30-year-old grad student: there's no more joyful feeling than finding that one amazing notebook that you want to cradle against your chest as you walk around campus, and pairing it with gel pens for the full back-to-school effect. I mean, learning is great or whatever, and achieving things is fulfilling I guess, but those cute books? That's a whole other level of excitement. And yeah, people will be jealous of your drive, your inspirational study ethic, your killer results. But that's not really going to compare to the jealousy they feel when you walk into class and open up The World's Cutest Day Planner, now is it?
If you're going to be making people jealous of you at school, go hard or go home. Don't just be an exemplary student who grinds the midnight oil studying, participates in campus social life, volunteers and holds down a job or internship. Be all those things plus someone who uses the best, more creative, vibrant day planner a student ever saw. Because if you're going to have it all, you're going to need to organize it with style. And you can have it all. You deserve to have it all. Go forth with these nine amazing day planners that will literally make your cohort shit themselves with jealousy.
1. This Day Planner With Attitude
Show life planning you mean business with this assertive planner from Etsy store Nude And Loitering Tees ($25.42).
2. This Adult Leather Day Planner
If you're an adult, a leather day planner is a stylish statement. Getting it in bubble gum pink should satisfy your inner little girl, if you have one. This soft pink leather planner from Graphic Image ($70) should satiate both elements of your personality.
3. This Stupidly Cute Diary
It comes with strawberry stickers. I believe I don't need to say anything else. And it's only $26.95 from Kikki.K.
4. This Productivity Inspiring Planner
This conceptual design planner from Etsy store Crossbow Printables ($17.63) not only looks good but will keep you perfectly organized.
5. This Declarative Agenda
We all already know Kate Spade has some of the prettiest things, and now you can add a strong willed agenda ($36) to the list of covetable organizational items.
6. This Other Declarative Planner
I think I'll probably make this statement planner from Ban.do ($20). After all, I am, indeed, very busy.
7. This Color Block Planner
For the design focused minimalist, this planner from Poketo ($18) is a little bit "Somebody That I Used To Know," but in a very cool way that will leave classmates pastel with envy.
8. This Personalized Planner
Nothing says "I've got this" like your name on your notebook. These personalized planners by Paper Source ($49.95) come in lots of different but equally awesome designs, and the best part is that you can stick your name right in the middle.
9. This Cosmic Planner
This gold and blue marble planner from Julia Kostreva ($32) is soothing to look at, no?
Images: NudeAndLoiteringTees, Crossbow Printables/Etsy; Graphic Image; Kikki.K; Kate Spade; Ban.do; Poketo; Paper Source; Julia Kostreva