7 Throwback Backpacks From Our Middle School Days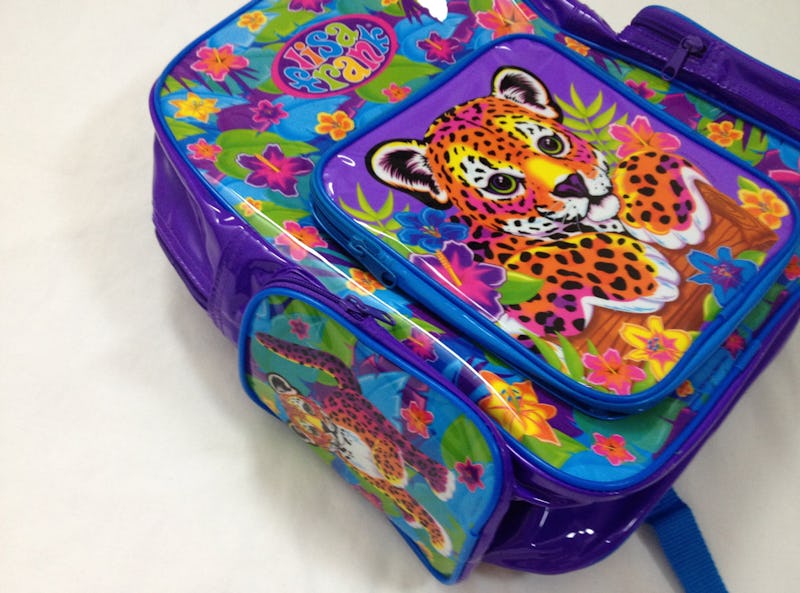 Any millennial knows we went to school decked out in the freshest gear, complete with the trendiest school supplies. Of course, that includes popular middle school backpacks that took over our tweens from the '99 to the 2000. Whether we were one-strappers or two-strapping it, you couldn't be a part of the in-crowd if you didn't have the latest and greatest backpack. After all, something had to compliment those embellished jeans and tattoo chokers.
Now maybe it really wasn't that serious, but as my inner Heidi Klum is dying to say, "in fashion, one day you're in and the next day, you're out." If that's the case, then it's no wonder we begged our parents for a backpack that'd keep us on trend with our judgmental peers. From my late elementary school years to the end of my middle school days, I saw plenty of backpack styles dominating the school. As back to school season runs its course, I'd like to get nostalgic about my own That's So Raven watching, Limited Too wearing, Britney Spears obsessing days. Here are seven backpacks I remember seeing floating around those tiled hallways.
1. Rolling Backpacks
Kid's Rolling Suitcase And Carryon Backpack Set, $26.99, ebay.com
When I was a fifth grader, these were the sh*t. There was just something magical about strutting down the hall with your backpack effortlessly trailing behind you. It said you were cool, in an "I'm way too fly to actually carry my books on my back like some kind of pack mule" kind of way. I'm definitely guilty of racing down the hall with my rolling backpack flying behind me (sorry mom).
2. Clear Plastic
Having a clear backpack was a trend that took over the '90s and somehow spilled over into my middle school years for a stint. I'd say it takes a little courage to commit to a clear backpack, so I tip my hat to the kids who did. To me, it always seemed a little invasive to have my belongings out on display for the world to see. The awkward tween I was couldn't handle that level of exposure... not that I really had anything worth hiding from my peers.
3. Monogrammed L.L. Bean
Basically everyone and their mom had a monogrammed L.L. Bean backpack. You probably have one stuffed into the back corner of your closet right now! With your initials stitched onto your backpack, there was no way someone could claim to have accidentally taken your bag. Kids today are still strapping their L.L. Bean's to their backs. It's just one of those things that will forever stand the test of time.
4. Lisa Frank Backpacks
Lisa Frank Hunter the Leopard Cub Backpack, $165, etsy.com
If there's anything that gets me nostalgic about my school years, it's thinking about the rainbow covered, unicorn infested, glittery surprise that is the Lisa Frank brand. I don't know a millennial who doesn't recognize the name — after all, those rainbow cheetah prints would have been a hard trend to miss. I may have been toting a plain-colored backpack (minus ten cool points for blandness), contrary to my Lisa Frank-ed out peers, but I had plenty of her folders and notebooks to redeem myself (cool points fully restored). I know I wasn't the only one Lisa Frank-ing all of my school supplies with those bomb.com stickers too.
5. Jansport Suede Bottom
It can't get any more classic than Jansport! Compared to Lisa Frank's explosive designs, Jansport was, well, pretty basic. But it was the kind of basic we embraced and loved! I can remember guys carrying solid black Jansport's with that iconic suede bottom. Then there were the brighter, likely suede-less, neons and pastels favored by the girls in my school. Jansport didn't need a bunch of funky patterns and embellishments to be cool.
6. Messenger Bags
I did try the whole messenger bag thing once. I guess my friends and I reached a point where we thought we were too good to strap a bag to our backs like normal people. There was just something about a canvas messenger bag that gave off a "I'm cool without trying" kind of vibe. That phase didn't last long for me, but I have to acknowledge that it did happen. I surely wasn't the only one securing this puppy over my head and across my chest.
7. Drawstring Backpacks
Nike Team Training Gymsack, $17.99, champsports.com
My middle school years ended with drawstring bags becoming popular. These athletic bags may have been cheaper than a Jansport or L.L. Bean, but the brand name still mattered just as much. Nike and Adidas were the go-to! I personally couldn't get past that plastic-y material that reminded me of those old jogging suits that do the swishing sound when you move, but everyone else clearly loved them.
I'm obviously biased, but I don't think anybody did it better than us 2000s kids when it comes to childhood school supplies. We had it all, from our rolling backpacks, to our Lisa Frank folders, to our gel pens. BTW Lisa Frank, I fully support you when you want to make a major comeback and give these new-school kids a taste of the rainbow puppy backpack life.
Images: Courtesy Brands (3); Slipstitch Designs/Flickr