Who Is Samantha From 'Bachelor In Paradise'?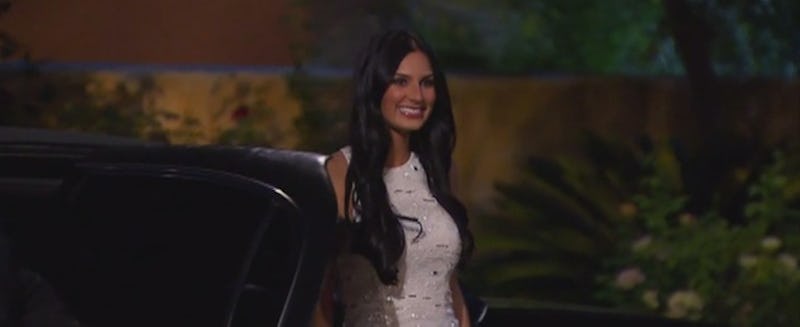 On Sunday night's episode of Bachelor in Paradise , Joe hinted that he wants to date Samantha. If that had you going "Who?" you're not alone. Samantha Steffen was hardly ever shown during Chris Soules' season. So if she does end up making it to Paradise, she definitely deserves some time in the spotlight. And there's a very real chance she will show up on Mexico. After all, the BiP cast is ever-changing. Moments after Lauren asked for Joshua to show up, he did. So we may see Samantha on Bachelor in Paradise soon, too. But what has she been up to since saying goodbye to Chris?
A former Miss California contestant (she competed as Miss Beverly Hills), Samantha is a fashion designer who likes to come home to her teacup Maltese, Kallie. Though she didn't last long on Chris' season (she was eliminated after the river rafting in Week 6), she certainly made enough of an impression on Bachelor producers to get a visit to Mexico for Bachelor In Paradise. Plus, Joe already has his eye on her, and she hasn't even shown up yet! It looks like Samantha could well be on her way to finding love. But let's talk about what she's been doing when not potentially basking in a tropical utopia.
She's A CEO
This fashion designer started her own company, IDGAF clothing. She has stars like Pretty Little Liars' Sean Faris repping the brand on the company website, so that's pretty cool. She's even outfitted her Bachelor ladies in the brand's digs.
She Has Been A Real Jokester
Not one to take herself too seriously, Samantha's social media postings are full of puns and bad (but, you know, good) jokes. We definitely have the same wacky sense of humor. Can we hang out, Sam?
She Possibly Dated Jeremy Piven
Tongues wagged when a lucky paparazzo got a snap of the two walking down a Malibu beach last February. They also appear in pics from the same party, and she retweeted all of the things he published on social media about said party. Who else can say that they went on a date with Ari Gold? Samantha can.
She Has Been, Um, Answering Fan Mail
As any remotely public person can attest, you get a lot of weird mail from a lot of weird people. Samantha, as a gorgeous and fun girl, is no exception. Let's hope that she's filing these away for a laugh on a rainy day.
She Has Gotten Close With Her Bachelor Ladies
She may not have gone home with Chris Soules, but Samantha certainly got some great friendships out of being on The Bachelor. Her social media features frequent snaps of her hanging out with Becca, Jade, Ashley I., and Amber. It's nice that they've formed their own little Bachelor sisterhood.
You guys, Samantha might be way too fun to be on Bachelor In Paradise. But at least if she doesn't find true love, she's got some of her best girlfriends down in Mexico to hang out with. A girls' trip to Mexico is always a silver lining to any situation.
Images: screengrab/ABC