Sexiest Moments In 'Big Brother' History
I will never understand the housemates who have sex in the Big Brother house. Listen, I'm all for getting it in when and where you can, but, like... when you know there are cameras watching your every move? OK, maybe I can't actually understand the amount of… ahem… pressure a houseguest experiences after being stuck in a house for three months with a bunch of hot people, but still — not for me. I guess this is why I'm not on Big Brother. Still, it seems there are a lot of people on this show whodon't feel as strongly as I do about the cameras being around all the time, which is why we have a solid list of sexy Big Brother moments that are way NSFW and way hot.
Trust me, there have been some seriously sexy moments in Big Brother history — like, moments that put Season 17's Clay and Shelli's snugglefests to absolute shame. Or, like, Season 17's Austin rubbing Liz's feet in the pool? Ain't got nothin' on Season 10's April and Ollie, and all of the times they straight up did it in the Big Brother house.
Maybe you just forget after a while that you are being watched? Maybe you just get acclimated to the cameras and the whole thing just, like, slips your mind? Yeah. That's what I'm going to tell myself to get through these next few videos. Because, believe me, they are not suitable for work.
Season 4's David And Amanda In The HoH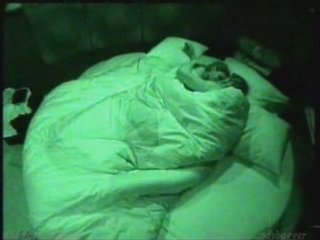 You could cut that sexual tension with a knife.
Season 9's Ryan And Jen Having Sex
The best 50 seconds of their lives, I'm sure.
Season 9's Jen Trying To Get Into Ryan's Pants
So that's what all of those throw pillows are for.
Season 9's Matt And Natalie Exchange Massages
It starts out so innocently…
Season 10's April And Ollie Thinking A Blanket Could Hide the Truth
Blankets might block bodies, but they don't block noises, my friends.
Things change so quickly in the Big Brother house, it can be hard to keep up. To keep track of everything going on in the Big Brother house, check out Bustle's very own Big Brother podcast, The Diary Room. Listen to the latest episode below, and be sure to check out future episodes on Bustle's SoundCloud page and iTunes.
Image: CBS