Alexis Bledel Spills On The 'Sisterhood' Movie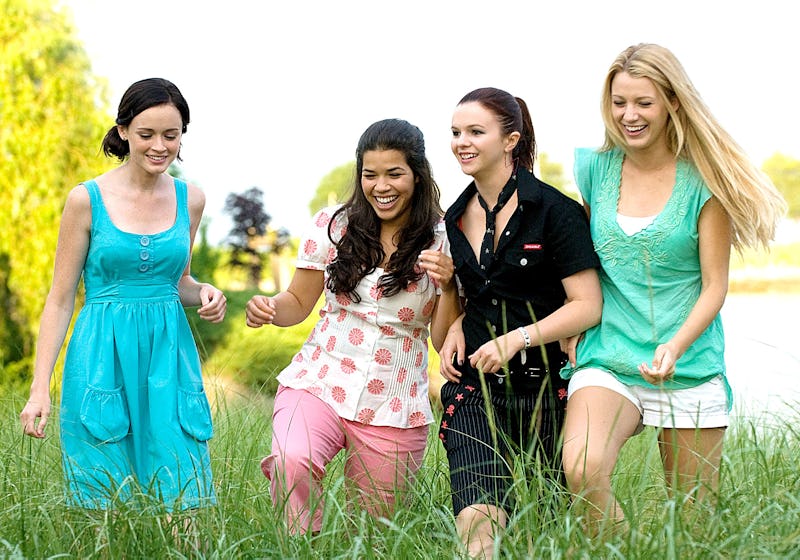 It's hard to believe that the first introduction the world had to Sisterhood of the Traveling Pants was just 14 years ago, because in the time since, there've been four more books, two movies, and countless pairs of written-on jeans sent in the mail. Ann Brasheres' story of friendship and pants has spawned a huge following over the last decade and a half, and so it's no surprise — although certainly a delight — that a third Sisterhood movie, the first since 2008, is currently in the works. Talking to Bustle about her new movie Jenny's Wedding , star Alexis Bledel — Rory from Gilmore Girls , and Lena in Sisterhood — revealed a few new details about the upcoming film.
"It's moving forward," says Bledel. "We are definitely in the process. I don't know how far away we are exactly from being on set — that would be hard to gauge for me because I'm a producer for the first time on this... but it is moving forward, and we're all excited about it."
Unfortunately, Bledel can't share much information about the new film's plot, saying that "I should probably keep the details to myself."
"I don't know how much we're supposed to say about it," she says, laughing as she adds, "I probably wasn't supposed to say that I'm producing it, because it's not like everything is finalized."
Oh, well; even a tiny bit of Sisterhood information is better than none. Fans of the series couldn't be more excited for the upcoming film, especially because it promises a reunion between all four of the main cast members: Bledel, Blake Lively, Amber Tamblyn, and America Ferrera. The four actresses are close friends in real life, as well, and they frequently post photos of their off-screen adventures together.
Regardless of what happens in the next Sisterhood, it'll just be nice to see the stars reunited once more, bonding over siblings, boys, and a pair of beloved jeans. When Amber Tamblyn spoke to Bustle in April, she confirmed an earlier comment by America Ferrera that a script was in the works, and she added some details of her own, saying, "We're very excited about doing something that has literally never been done before, which is creating a film that's part of a YA book series that's incredibly relevant emotionally, that goes deeper. We're all really excited about writing about what real lives are like for women who are turning 30 or have just turned 30."
She added that if the movie does follow the series' final book, 2011's Sisterhood Everlasting, then viewers can expect some dark times ahead as, in the novel, (Spoiler alert!), "Tibby dies."
Say it ain't so! Even if the new movie is darker and sadder than any we've seen yet, it'll certainly still be a satisfying addition to the works so far. How can it not be? If a movie features those four actresses, a storyline about friendship, and a magical pair of pants, there's no way it won't be a total success in the minds of millions of fans.
Image: Warner Bros.