'Bonnie & Clyde' is a Complete Tease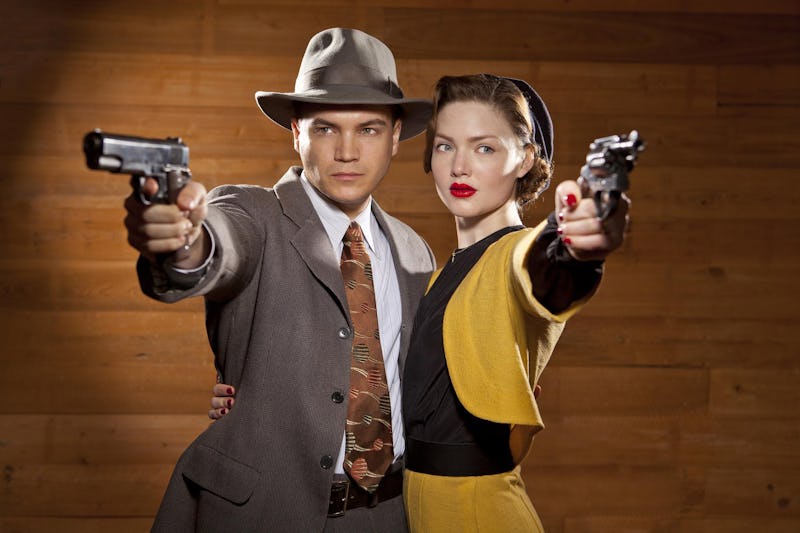 "He held the gun, she called the shots." It sounds like a promo for a terrible made-for-T.V. Lifetime movie, and in reality, 'Bonnie & Clyde' is just that. Starring Into the Wild's Emile Hirsch and Holliday Grainger as the infamous duo, Bonnie & Clyde feeds the legend of good-boy-gone-bad Clyde and his hyper-sexualized, gun-totting Bonnie. The two-night event begins tonight and airs simultaneously on A&E, Lifetime, and History channels.
In real life, 23-year-old Bonnie and 25-year-old Clyde became famous for their two-year robbery and murder spree during Depression-era America, and eventually met their fate by being ambushed with several rounds of bullets pelting their every appendage. The two-part film opens with Clyde's death, answering the audience's immediate question of whether or not the film would span their demise. It does, and it's quite bloody. It's even said that in real life, the pair were so chopped up by bullets that their bodies couldn't hold embalming fluid for burial. Yuck.
Early in the film we see Clyde as a child, experiencing a severe sickness which offers him a sort of futuristic hallucination of a grown-up Bonnie, angelic and walking towards him in a field. It is this image that drives him, the romantic idea of one day meeting the woman of his (literal) dreams. And when he does finally meet Bonnie, when his brother convinces him to crash a wedding reception that turns out to be Bonnie's (in actuality, Bonnie was married at 15), his only goal is to be with her. But Bonnie doesn't seem to care for men — her husband, Clyde, the men she murders. 2013's Bonnie Parker is an actress whose only goal is to make headlines, whatever the cost.
Something hugely bothersome about the depiction of Bonnie as a attention-seeking actress wanna-be, is that we don't know what drove Bonnie to pull the trigger or to jump in the front seat of Clyde's car. Historically, it was love, probably. We can guess, we can speculate, but this film tells us that fame is Bonnie's one reason to be alive (more so than her relationship with Clyde). According to Lifetime's adaptation, she was a newly-wed, struggling actress who valued headlines more than family-life, and when small-time criminal Clyde came along, it was her ticket to a new, sensational life.
Bonnie is also the catalyst which fuels Clyde's want to rob. She urges him to go bigger, take on more dangerous crimes, and she'd better have a front-row ticket to the mayhem when it ensues. She's your classic femme fatale, and she wants everyone to know it. In this version of their story, she even takes incriminating looking selfies with Clyde and mails them to a female journalist for her publication (all completely false). Yet when something airs on The History Channel, it's easy to take what is presented as fact, even after the channel aired a "docufiction" film (and then a sequel) on mermaids (a special that has huge entertainment value, but little actual merit).
Regardless of its credibility, I'm still waiting for a T.V. movie to convince me that it's better than the T.V. movie stereotype which binds it. The film has it's moments, and is indeed quite pretty. But even William Hurt as Texas Ranger Frank Hamer and Holly Hunter as Bonnie's mother can't save this sensational and bloated adaptation. We get it: gangsters, vintage fedoras, and sex sells, but perhaps this is one retelling that should of been left in the Ford automobile that contained the lover's bodies, and 130 machine gun rounds.
Watch the trailer below:
Image: A&E