Monica & Rachel Were The Ultimate #FriendshipGoals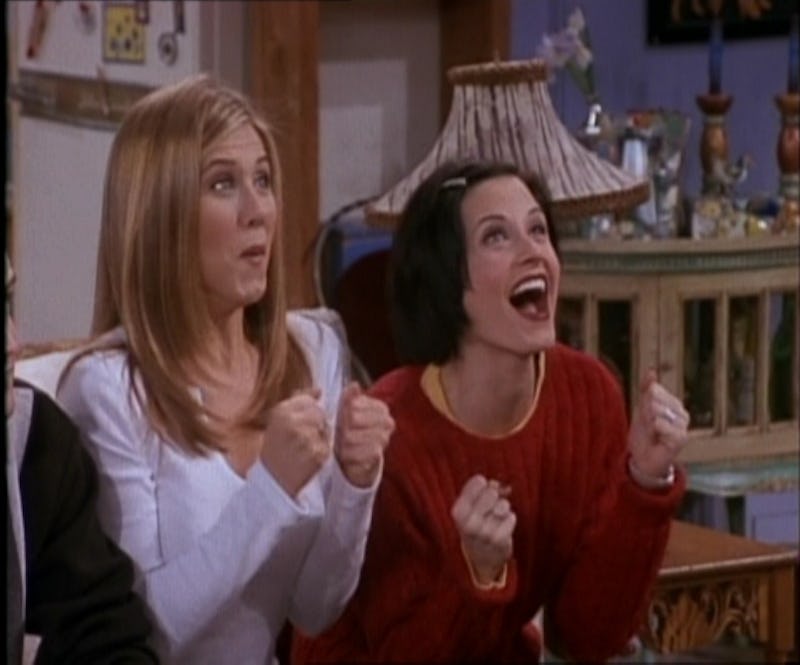 If you have so much as glanced at the Internet recently, you probably know that Jennifer Aniston and Justin Theroux reportedly tied the knot on Wednesday, August 5. Although both parties have yet to comment, the media has been teeming with observations and details about the alleged nuptials. As for the guest list, it should come as a surprise to no one that Aniston's longtime bestie and fellow Friends alum Courtney Cox was reportedly in attendance and gleaned a top spot as Aniston's maid of honor. According to an August 8 report from People, Cox proved that she continues to know how to "be there for" her pal, as she didn't leave the party until early morning. Now that's dedication.
As avid Friends fans know, Cox and Aniston's friendship began when the two met in 1994 after being cast as BFFs Monica and Rachel. Just as the two actresses have long proven to be the quintessence of #friendshipgoals, their sitcom characters spent 10 glorious seasons displaying all the wonderful facets that make for the ultimate friendship. In celebration of the two besties, Friends, and bonds that last a lifetime, let's take a look at seven times Monica and Rachel had the most enviable friendship.
1. When Rachel Taught Monica About The Art Of Seduction
This doubled as a lesson on the ultimate revenge. Although I've never personally tried caressing a dish towel as a way to entice a potential suitor, I appreciate Rachel's commitment to helping out her bestie.
2. When Rachel Gave Monica The Ultimate Gift
Being the ultimate BFF means knowing all about your bestie's favorite pastimes. Rachel bestowed Monica with the gift of packing what appeared to be a tornado of clothing and accessories — and avoided dealing with the chore of organization herself. Props.
3. When Their '80s Dance Moves Were Everything Ever
Even while she was "sooo drunk," Rachel managed to rock a mean stanky leg. Meanwhile, Monica's undulations are truly on fleek.
4. When Their Fights Were Hilarious
For most of us, fighting with a friend is anything but funny. When it comes to #friendshipgoals like Monica and Rachel, however, even fights between the two managed to spur a chuckle.
5. When They United In Having No Idea About Chandler's Occupation
Friends that are confounded together, stay together.
6. When They Gave Chandler Relationship Advice
Before Chandler and Monica became #relationshipgoals, he sought dating advice from Monica and Rachel, proving these BFFs were a formidable force when it came to romantic guidance.
7. When Their Tearful Goodbye Made Us Feel Everything
Buckle up, guys, because this one is a toughie. When Rachel planned to move to Paris for a new job opportunity, she took time to individually say goodbye to each member of the gang. Rachel and Monica's heartfelt exchange — which became hilariously garbled once the tears started — was the perfect way to showcase the sisterly bond fans had watched grow over 10 seasons.
This proves that friendships truly are the best ships — amiright? Excuse me while I schedule another Friends marathon session courtesy of my Netflix account.
Images: NBC; Giphy