Dorinda & Richard's Marriage Was Short But Sweet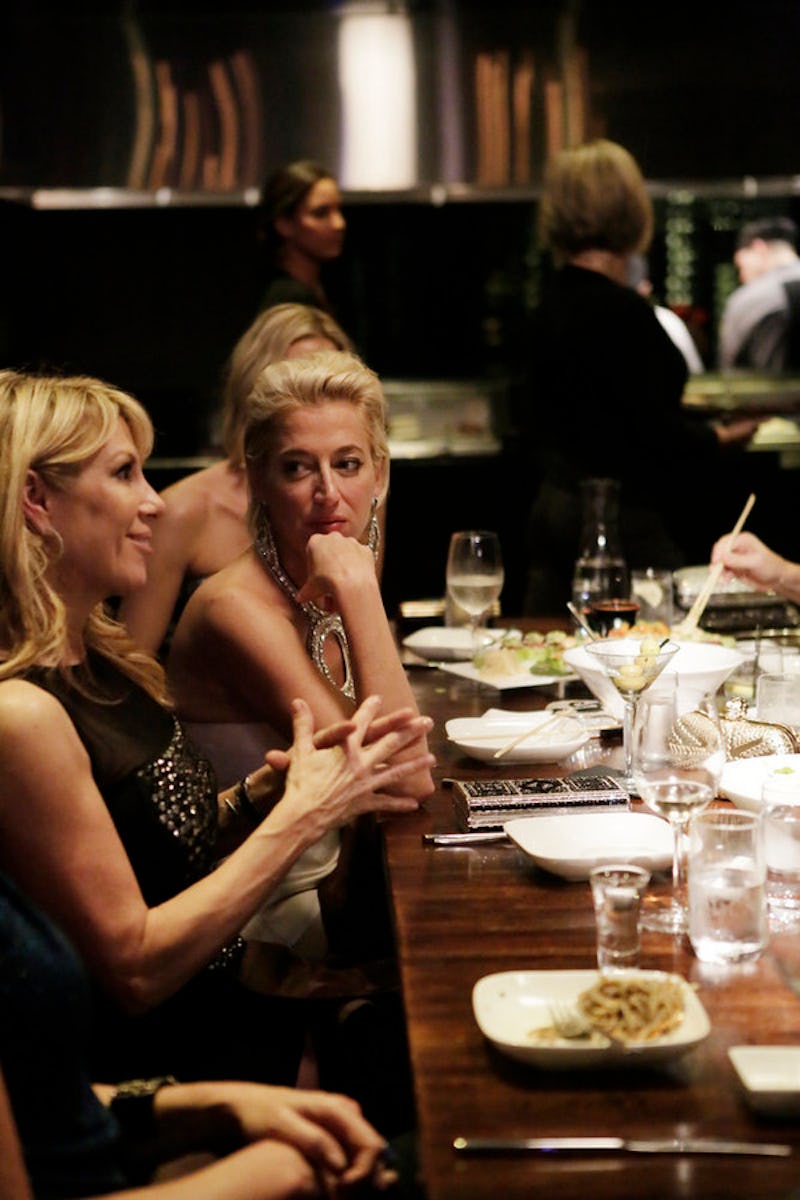 I've said it once, and I'll say it again: Dorinda Medley is one of the best parts of Real Housewives of New York Season 7. Dorinda is so amazing for a lot of reasons, but it's mainly because of her backstory. This Real Housewife is so cool and tough because she has gone through many hardships in her life, but that's also what makes her so down-to-earth. That main source of adversity is, of course, the sudden death of her husband Richard Medley in 2011. When someone you love dies, you never feel like you've had enough time with him or her, but it seems like Dorinda and Richard's time was especially cut short. It makes you wonder how long Dorinda and Richard were able to be together before this love story had to come to a tragic end.
It looks like Dorinda and Richard first met some time in the early-to-mid-2000s, they got married in October 2005, and they remained married until Richard's death in November 2011. Though the length of Dorinda and Richard's relationship was relatively short, it looks like it was filled with love throughout.
However, Dorinda and Richard had a business relationship before they had a romantic one. Dorinda first met Richard as his real estate broker searching for a townhouse for the hedge fund manager, according to New York magazine. The two eventually realized they were doing more talking about themselves than the real estate, and Richard finally asked Dorinda out on a date. He proposed 10 months later.
The couple then had their wedding ceremony at the Brick Church in Manhattan and a reception at the Four Seasons restaurant, complete with centerpieces featuring multicolored koi in glass bowls and women dressed up as old-school cigarette girls. Dorinda and Richard even described themselves as a "1950s couple" to the magazine. I highly recommend you scroll through the New York Weddings photo slideshow of the Medleys' wedding, because Dorinda and Richard look so happy, and everything is absolutely gorgeous, natch.
Dorinda and Richard never had any children of their own, but they were still one big happy family. Together, the couple raised Richard's children from his first marriage, Paige and Aidan, as well as Dorinda's daughter from her first marriage, Hannah.
And, let me tell you, Halloween was off the chain at the Medley household. A 2008 New York article shows that the Medleys went all out for the scariest holiday of the year, placing demonic decorations all over their townhouse such as hanging skeletons. We already knew Dorinda has a great sense of humor from watching her shenanigans on RHONY every week. Richard must have been a joker, too.
It's true that Dorinda knew Richard for less than a decade and he passed away more than three-and-a-half years ago, but he is still a huge part of her life, as seen on RHONY. Even though Dorinda has a boyfriend, she still misses Richard every day. Dorinda didn't think she'd be able to handle being in London with Carole Radziwill sans Richard since that was their city, but she did it, and it was a major accomplishment for her. Still, hearing her open up to Carole about Richard's passing was one of the most heartbreaking moments of the season, maybe even ever on RHONY.
No matter how long Dorinda and Richard were together when he was alive, it's clear that she will love him for the rest of her life.
Image: Nick Valinote/Bravo