Tanner Tells Us His Pick For The Next 'Bachelor'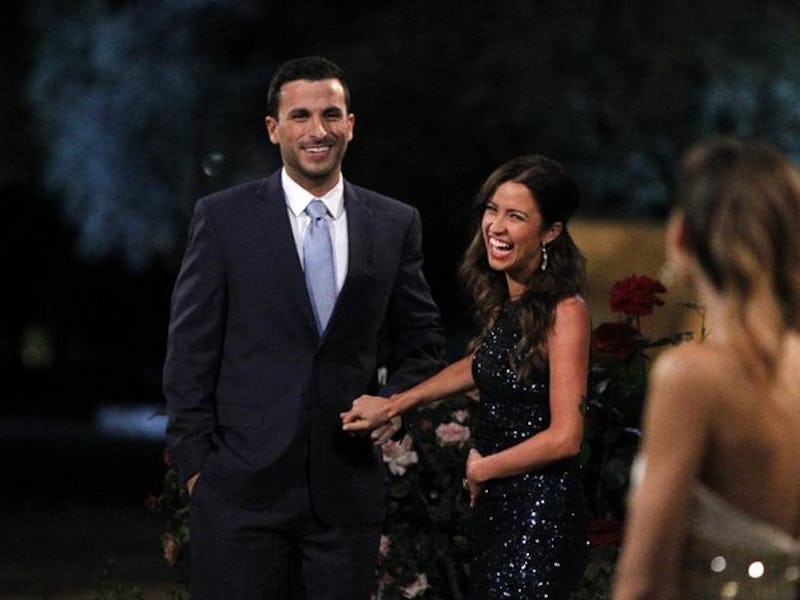 The latest installment of ABC's addictive Bachelor in Paradise has already found a star heartthrob in former The Bachelorette castoff, Tanner Tolbert. Fans may remember Tanner as the endearing — yet often overlooked — contender during Kaitlyn Bristowe's season. Always quick with a one-liner and one of the arguably least dramatic contestants, Tanner sadly got the boot after Kaitlyn found deeper connections with frontrunners Ben Higgins, Nick Viall, and — of course — her new fiancée, Shawn Booth. While Tanner is currently having no problem getting recognized on BiP, the newfound fame — and legions of fans shipping his romance with contestant, Jade Roper — is a bit of a turnaround for the droll suitor.
Bustle had the opportunity to catch up with Tanner, and ask the reality star about his time on Bachelorette, who he has remained in contact with post-show, and which contestant he would like to see announced as the upcoming Bachelor.
As far as staying connected to Kaitlyn, Tanner tells me the two "have not talked. We had one conversation on social media where I thanked her for my time on the bachelorette and then, of course, had a brief conversation at Men Tell All. But other than that, no contact." Despite the lack of conversation, Tanner says he was understanding of the Bachelorette star's position, and why she was unable to offer the same attention to him and other contestants during her run on the series.
"I was grateful for the experience, but understand the reality that Kaitlyn had stronger connections with other guys," he says. "So I just tried to enjoy the moment and get to know her the best I could. Kaitlyn was great throughout the entire process and I thank her for keeping me around long enough to get an invite to paradise."
Tanner also let me know that he remains in contact with some of the former Bachelorette contestants, and a few of them even take part in a group chat. "I've seen a few of them post-filming. I keep in contact with Ben H., Jared [Haibon], and JJ [Lane] a lot — I'll consider them friends for the rest of my life. I also talk to Ben [Zorn] and Clint [Arlis], as well as Nick and Joe [Bailey] quite a bit."
Given how well Tanner got along with other contestants — and his ability to avoid all the drama — it's no surprise that he's been able to remain friends with former cast members. While many of the Bachelorette contestants displayed some animosity toward late-entry, Nick, Tanner noted that he ended up bonding with the infamous contender. "I actually became friends with Nick and — aside from any drama — he is a good guy who I think genuinely wants to find someone. Maybe his third show could be the charm."
Did Tanner just nominate Nick to be the next Bachelor star? Well, not exactly. "If the producers wanted to stir the pot, they could choose Nick," he says, but would select a different frontrunner to helm the upcoming season. "Ben H. is my boy. He is a stand up guy, and I would love to see him on my TV next season. Plus, he deserves it and we all know the ladies love him."
Well put. Ben H. has certainly been garnering a lot of attention as as top pick for the next Bachelor — although Tanner's newfound status on BiP may prove to give the fan favorite a run for his money. I guess we'll just have to stay tuned.
Images: Rick Rowell/ABC; Bob D'Amico/ABC