Are The 'PLL' Moms Still Locked In The Basement?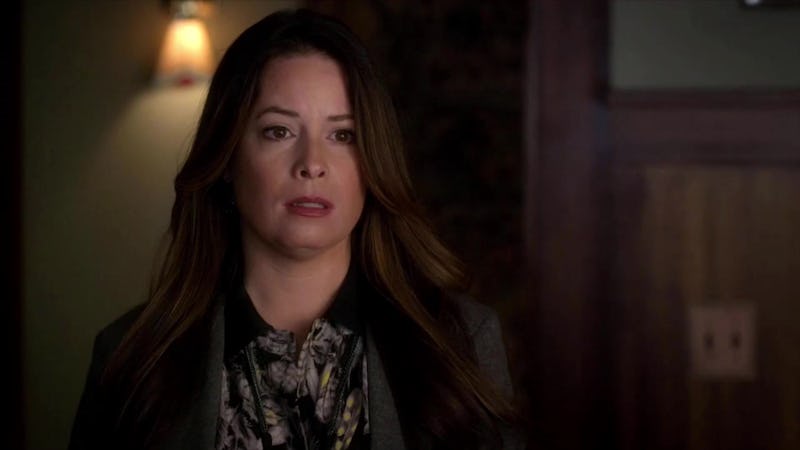 On the penultimate episode of this season of Pretty Little Liars , the moms got locked in the DiLaurentis basement — while awesome wasted off wine. Let me back up here. In "Last Dance," the moms were chaperoning, from a safe distance, the girls in their lame-o barn prom, and boy, did the wine start flowing. Veronica Hastings told everyone about Jason's paternity (of which they did not know), they talked about all the effed-up crap their girls went through, and they met Rhys, the face of the Carissimi group. Then they followed strange noises to the basement and got locked in, proving that they are indeed as reckless as their daughters. With all of the commotion in the season finale, something popped into my head: What happened to the Liars' moms? Are they still locked in the basement?
That half-episode of watching all of the Pretty Little Liars moms get together in their coffee klatch and, you know, actually seem like parents is something that I would watch all day, every day. I would totally take a spinoff of the moms drinking wine and talking crap about Ken and Jessica DiLaurentis. It would be amazing to watch, but I get why Pretty Little Liars pulled back the reins on the mom story. There was just so much going on in the episode. CeCe is A, Bethany killed Toby's mom, and Sara is Red Coatand Black Widow? I mean, whoa. I'm dizzy.
Since the events of the finale happened pretty much consecutively with the events of the episode before, I think it's safe to say that the moms are still trapped in the basement. It's only been a few hours, after all. They're in the DiLaurentis basement, sleeping off their wine hangovers. I assume they got out before their daughters went away to school, but who really knows in this town? I guess we'll find out after the time jump next season if they made it out in one piece, and if their friendship is strong enough to survive a few very awkward hours. For more on the new stars of the show, check out Bustle's PLL podcast below.
Image: ABC Family