Nick Viall On Sex, 'Bachelor' Gossip, & The Ladies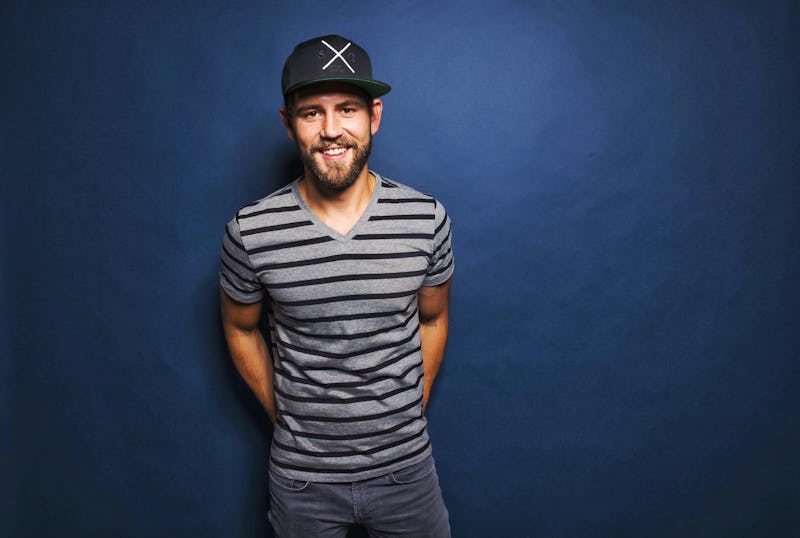 If you're a devoted student of reality TV or the unfortunate friend / significant other of a devotee, you're probably up to speed on Bachelorette star Nick Viall's dating history. After bachelorette Andi Dorfman passed him over for walking-muscle-of-a-man Josh Murray, whom I would not kiss with someone else's tongue, Viall decided to throw his hat in the ring again with Kaitlyn Bristowe. The spunky Canadian chick had left the previous season of The Bachelor after Chris Soules did her the immense favor of saving her from a life of cow-tipping and anti-climactic Friday night high school football games. (Note to Kaitlyn: You owe him a nice bottle of wine.) Ultimately, Viall was again passed over in favor of another beefy, boring dude, leaving him heartbroken (sad face emoji) and single (happy face emoji!).
Viall joined us on this week's edition of Bustle's sex and relationships podcast I Want It That Way to talk about behind-the-scenes Bachelorette gossip, how to cope with a breakup, and what's going on with his love life now. He's learned a lot from his experiences on The Bachelorette, and he says that, like with many relationships, his dalliances with Bristowe and Dorfman helped him further hone his ideas of what kind of a woman he is looking to date.
"That's the great part about dating, and the great part of relationships sometimes not working out," Viall tells Bustle. "You get to know yourself and, more importantly, what you want in life."
So what does Nick Viall want in a partner? His answer to that question might make you Team Nick folks crush harder on him than you already are. (And in case you were wondering: Yes, he's very cute in person.)
1. A Strong Personality
"I've always been attracted to very strong personalities in women," Viall says. "And while Kaitlyn and Andi are very different, they both have very strong personalities."
2. Confidence
"I've always been attracted to confidence, and a woman who knows her own self-worth, which is really hard to find in this day and age," Viall says. "I find it really attractive when a girl, not in a cocky way, just knows that she has value ... and that she is deserving of respect."
3. A Challenge
"I like someone who challenges me and brings out things in me and shows me life in ways maybe I haven't seen before," he says.
4. Assertiveness
"I definitely want someone who can stand up to me, too. Call me on my bullshit," Viall says.
5. Someone Who Helps Him Be His Best Self
"I want to meet someone who brings out the best version of me, and hopefully I have an opportunity to bring out that in them," Viall says.
6. An Edge
"I like people with edge — I have a little bit of edge to me — and people who don't always play it safe, and are exciting," he says.
7. Mutual Love
"I want to be with someone who wants to be with me," Nick says. Any volunteers?
Listen to the rest of our conversation with Nick below. And subscribe to I Want It That Way for more juicy conversations on sex and relationships each week.
Images: Courtesy of Damon Dahlen/The Huffington Post; Giphy