8 Getaways To Celebrate National Relaxation Day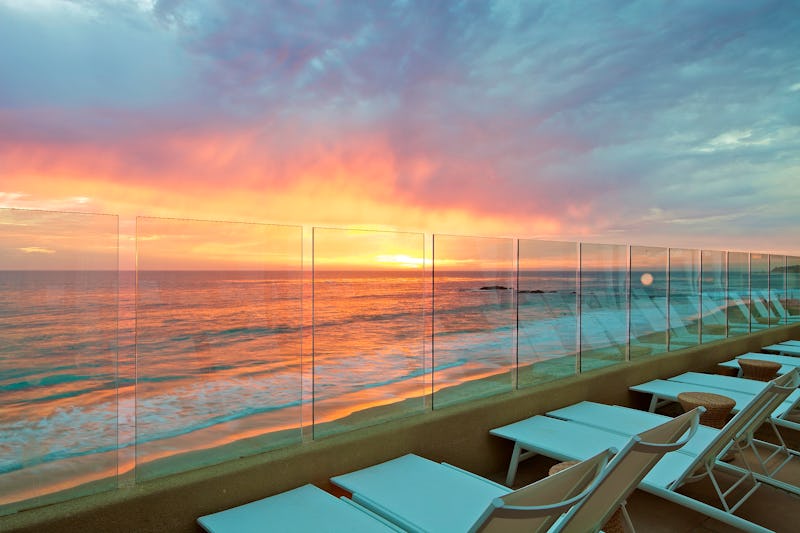 I just got back from my first real vacation in 10 years, and believe me, I feel fantastic. As someone with near constant anxiety, it was amazing to spend 10 days in Maui, and really take some time to relax. August 15 is National Relaxation Day, a day dedicated solely to winding down, de-stressing, and just generally making time for yourself. So, in the spirit of celebrating, get inspired to book your own de-stress hotel getaways, and end your summer on a zen note.
Americans aren't the best at taking vacations. Unlike our European cousins, who typically take three weeks to a month off of work every single year, the average, full-time worker in the U.S. only gets about 16 days of paid vacation — but who knows how much of that they actually use to go on a trip. I know that it's hard to take time off, and that vacation can be expensive, but it's also necessary to maintain your sanity.
Whether you're hoping to squeeze in a vacation before the end of summer, or you are looking ahead to next year's vacation time, these trips will leave you more relaxed than you thought possible. Most of the getaways on this list have a decent price tag, but if this is your first vacation in a while, then treat yourself!
1. The Ahwahnee — Yosemite, California
I was lucky enough to stay at The Ahwahnee twice as a teenager, and it is worth every penny. No spa treatments here — the woodland meadows and mountains of the Yosemite National Park are all you need to relax. Make sure you take advantage of all the plush armchairs and circle pool.
2. The Ritz-Carlton, Naples — Naples, Florida
The Ritz-Carlton in Naples has a special treatment for those with over-active minds that is designed to help you fall asleep and stay asleep consistently — it includes a milk bath and a full massage!
3. Twin Farms — Barnard, Vermont
Nestled amidst 300 acres of Vermont meadows and woodlands, the all-inclusive Twin Farms features a slew of zen-inspiring outdoor yoga classes, and a steaming hot Japanese-style soaking pool. Clothing is optional (hey girl hey).
4. Sand & Surf Resort — Laguna Beach, California
A beachy getaway is the perfect way to end your summer on a relaxing note. The Sand & Surf Resort in Laguna Beach offers stunning ocean views, and some impressive spa treatments — like the Aquaterra Organic Massage, which includes a full-body massage and aromatherapy towels.
5. The Mayflower Grace — Washington, Connecticut
The Mayflower Grace's special Forest Bathing treatment is said to lower blood pressure, heart rate, and stress levels. As an added stress reliever, the hotel suggests that guests leave their electronic devices behind.
6. The Ritz-Carlton, South Beach — Miami Beach, Florida
Another gorgeous Ritz-Cartlon location, the one in South Beach offers a variety of spa treatments to help you mellow out — not to mention you get to experience all that Miami has to offer.
7. The Palms Casino Resort — Las Vegas, Nevada
The Palms is known for its legendary pool parties, but it's also just a great place to catch some rays and chill out. The Palms, along with the adjoining condo units at the Palms Place, has everything you need to unwind.
8. Keystone Resort — Keystone, Colorado
While the Keystone Resort is perfectly picturesque in winter, it still has a lot to offer in terms of relaxation during the summer months. You can enjoy a variety of outdoor activities — like mountain biking, swimming, and hiking — as well as yoga and a full spa.
Image: Photo by Richard Nowitz The Ritz-Carlton; Courtesy of Twin Farms; Courtesy of Surf & Sand Resort; Courtesy of Grace Hotels; Courtesy of The Ritz-Carlton; Palms Casino Resort; Keystone Resort; Giphy (1)