Left Shark's Bae Was In This '80s-Inspired Video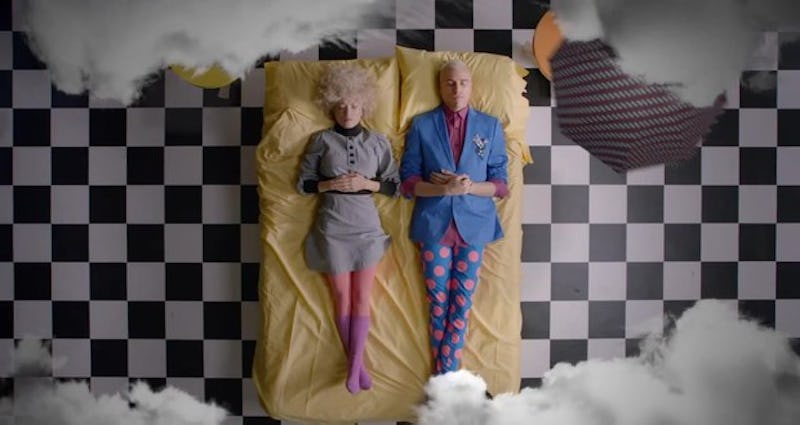 While many of my fellow millennials continually become steeped in nostalgia over the '90s — myself included — there are plenty of us that also enjoy waxing poetic about the tubular decade known as the 1980s. Although I was just a wee thing when the '80s were going on, the memories I have from that time are, like, totally rad. From bombastic beats, to wonderfully irreverent music videos, and cinematic treats like The Breakfast Club, there's no doubt that — as decades go — the '80s proved to be one of the most gnarly time periods. Although we are a couple decades and change into the 21st century, many of our favorite artists on the charts have proven that they aren't afraid to show some '80s love.
Several music videos have drawn inspiration from the decade by featuring a smorgasbord of teased hair, gaudy outfits, and '80s-style animations to pay tribute to a time when Pat Benatar mused about how "Video Killed The Radio Star." In case you don't make a regular practice of binging music videos on YouTube like I do, I have cherrypicked a few recent — and semi-recent — videos that are an '80s fan's dream come true. Spoiler alert: one of said videos includes a dancing shark that could totally be the famously uncoordinated Left Shark's bae — what?!
1. Neon Trees, "Sleeping With A Friend"
Everything about this video oozes '80s. From the outfits, to the animations, and the nonsensical helicopter ride — it is all glorious. I can't even. I would also be remised if I didn't note that the shark dancing in a hula skirt is totally Left Shark's bae. You're welcome in advance for this gift I just bestowed to you.
2. Scissor Sisters, "Baby Come Home"
For some reason, an animated tribute to beer labels just strikes me as very '80s.
3. Nate Ruess, "AhHa"
The fun. frontman channelled Peter Gabriel's "Sledgehammer" in this delectably irreverent music video.
4. Katy Perry, "Last Friday Night (T.G.I.F)"
Katy Perry has an '80s-themed party of the ages in this video that will give you a serious case of FOMO.
5. Walk The Moon, "Shut Up And Dance"
You almost expect Walk The Moon's frontman, Nicholas Petricca, to triumphantly raise a fist to the sky a la The Breakfast Club by the end of this visually tantalizing video.
6. Bowling For Soup, "1985"
With a title like "1985," you can already guess this video is going to be enveloped by glorious '80s tropes.
7. 5 Seconds Of Summer, "She's Kinda Hot"
Meshing '90s and early 2000s punk with '80s animations — as well a confection of colors — makes this a truly impressive piece of eye candy.
It looks like it's time for me to dig out my hair crimper and plan another '80s-themed party — amiright??
Images: VEVO