10 Books To Read This Back-To-School Season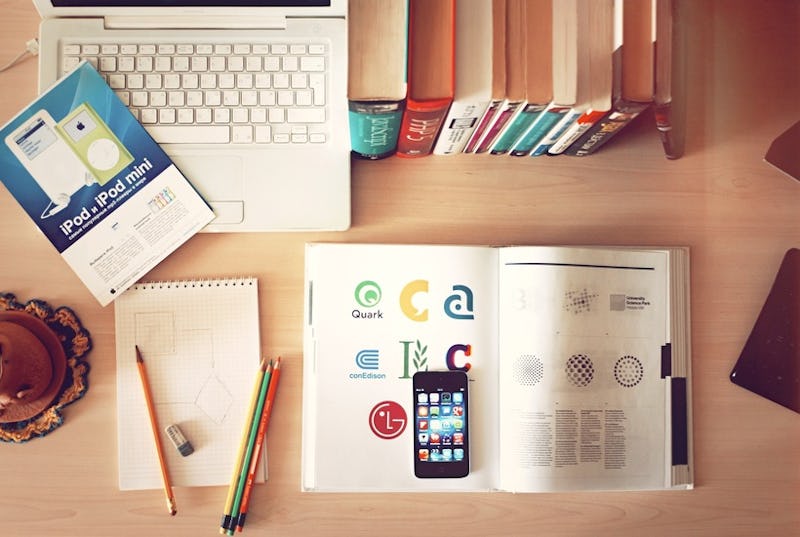 In between vacations, barbecues, and long summer nights, August managed to creep in without making a sound, bringing with it the end of summer, and the looming back to school season. The languid summer days of reading by the pool and the beach are, somehow, coming to a close before our eyes.
I know, I can't believe it either. But the uniforms have hit the shelves. Targets everywhere have devoted half of their stores to notebooks and backpacks. And, of course, students are filled with that unique combination of excitement and dread that only the first day of school can bring.
If you're on your way back to school in a few short weeks, and you're looking for a book to get you in the spirit, you might pick up Miss Peregrine's Home For Peculiar Children for a fun and delightfully creepy school turned home. If you're going off to college for the first time, This Side of Paradise by F. Scott Fitzgerald might be more up your alley. Or, if you're just nostalgic for the smell of sharpened pencils and the possibilities of new notebooks, here are 10 of the best books set in schools, because you're never too old to go back to school — even a fictional one!
Miss Peregrine's Home For Peculiar Children, $8, Amazon
Whether you're going back to college, or walking onto campus for the first time this fall, Donna Tartt's The Secret History is one you can't miss. It's an amazingly immersive novel about a group of friends who take their eccentricities a bit (OK, WAY) too far. Set in a fictional New England university, Hamden College comes alive through the rich descriptions and the charming — albeit evil — personalities of some of the craziest and most interesting students in literature. If you want a back to school read that's a whodunit in reverse, this is the one for you!
You might have read this for school a couple of years ago — assigned as summer reading, no doubt. But A Separate Peace is a classic that is well worth revisiting right as fall rolls around. There are so many things that will bring your own high school memories back — friendship, jealousy, confusion about just about everything —which makes A Separate Peace the perfect book to read before school starts up again.
If Holden Caulfield was 13, way less whiny, and wise beyond his years, Black Swan Green would be an English Catcher in the Rye. Instead, we have Jason Taylor: poet in disguise, stammerer, just trying to make it through day after harrowing day on Comprehensive School. Black Swan Green takes place over the course of the year, and is a gorgeous series of vignettes of Jason's life. If you've loved Mitchell's more popular books, this is your back to school calling!
Carrie by Stephen King
Just a warning: If you're apprehensive about going back to school, this might not be the book for you. On the other hand, Stephen King's debut novel is the perfect thing to read as fall sets in. Carrie is, well, a bit strange, to put it mildly, and girls in schools aren't always the nicest. When Carrie gets pushed around one time too many, she takes things into her own hands in a terrifying way. Classic Stephen King is the perfect way to welcome fall, and it's always a good reminder to treat people kindly — or else.
We still have about a year before this bestseller makes it to the big screen, but Ransom Riggs' amazingly peculiar book is the perfect back to school read. Miss Peregrine's Home is a home, school, and a lifestyle for the peculiar children, who would otherwise have nowhere to go. And, luckily, there's a sequel and a third book on the way later this year, so you'll have something to look forward to as school, and colder weather, sets in.
Miles "Pudge" Halter goes away to Culver Creek Boarding School in search of a Great Perhaps. He wanted to find something better than what his old school offered him, and found Alaska Young. Queen of pranks, mysterious Alaska makes Pudge feel like he never has before. But that was Before. Pudge will never be the same again, After. The perfect boarding school book to read before you go back to school if you love a good prank, mysterious friends, and a dose of John Green-style heartbreak.
Kathy, Ruth, and Tommy grew up together at a boarding school in the English countryside: Hailsham. The students were constantly reminded of just how special they were, but never told exactly why. Looking back at her time at Hailsham as an adult, Kathy thinks about the ways childhood friendships and the things we learn as children, stay with us forever. Not a light read, but Never Let Me Go is a beautiful book that will make you think.
Belzhar by Meg Wolitzer
Jam Gallahue knows one thing, and that is that life isn't fair. Her beloved boyfriend Reeve Maxfield is dead, and Jam is a The Wooden Barn, a therapeutic boarding school in Vermont. Jam is beside herself with grief and heartbreak, until an assignment leads her to Belzhar. In Belzhar, the past is exactly how she wants it to be: unmarked by tragedy. She can see Reeve again, and even feel his arms around her. But things like that don't come without a price. The perfect mysterious novel to read for the back to school season, by a well-loved author.
Fitzgerald wrote This Side of Paradise, his first novel, when he was just finishing up his own time as a college student, so naturally, it takes place at Princeton. This Side of Paradise follows Amory Blaine, the idealistic and enthusiastic college student, as he navigates the world of Ivy League education. If you're setting off for college the first time, Amory's story is a great back to school read to start with!
Oscar has some big dreams: he wants to be the Dominican J.R.R. Tolkien, and he wants to find love. But Oscar believes that an ancient curse is working against him to keep him from his dreams — the fukú has haunted his family for generations, and Oscar is determined to achieve his goals anyway. Hilarious and moving, The Brief Wondrous Life of Oscar Wao is a back to school novel that is perfect for any age.
Image: Pexels