9 Stylish Tips On How To Style Overalls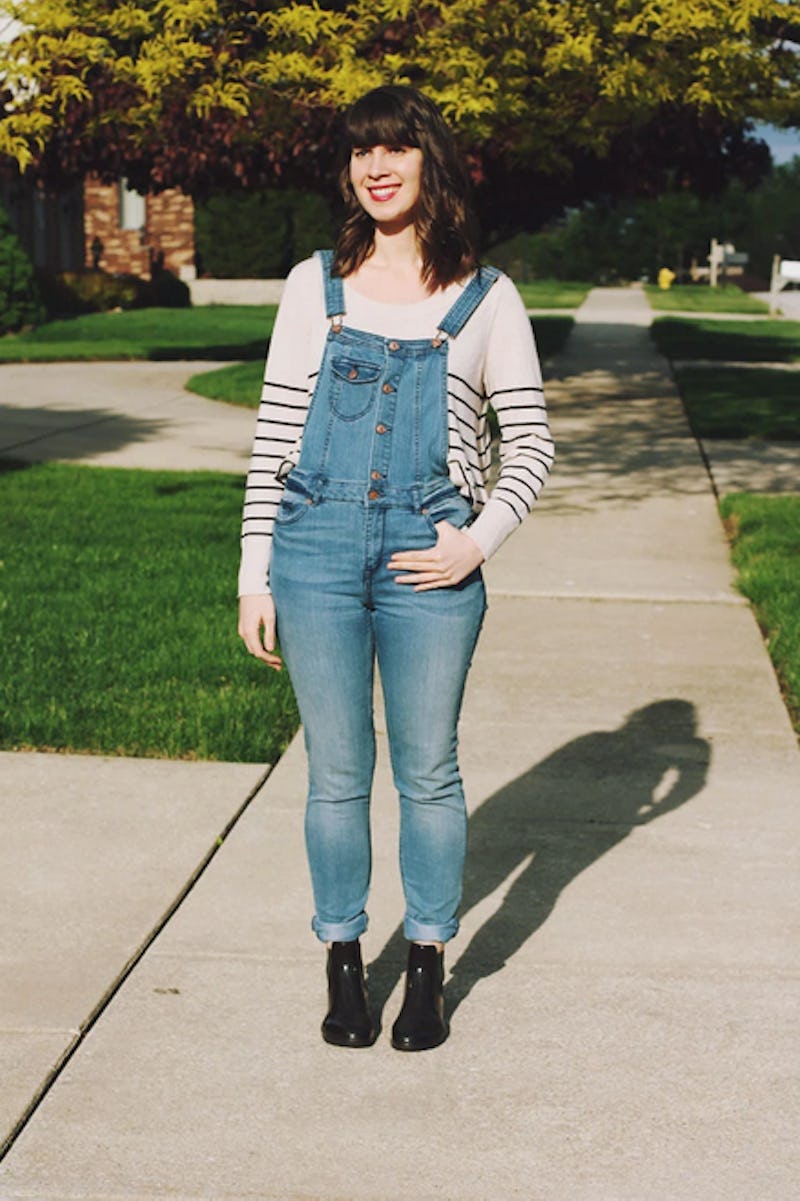 Trends come and go but one trend that is sticking around and staying stubbornly tricky to crack is the overalls. Figuring out how to style overalls can be a challenge because you've got a lot of hurdles to jump: You don't want to end up looking like a minion, you don't want to seem like you just came back from selling your strawberries at a farmer's market, and some pieces make you either look frumpy or like JLo circa 2001. While trying to figure out how to make the trend work with your style may seem like more effort than it's worth, I'm here to tell you that there are a few styling moves that will make the whole ordeal easier.
If you keep a few of these styling tactics handy in your back pocket, you won't have to start from scratch and you'll be able to work with your overalls as soon as you bring them home from the store. These overalls styling tips are tested and true, and have proven to be both effortlessly stylish and on-point, making sure you'll never be mistaken for a minion ever again. Below are eleven ways to style overalls in chic and on-trend ways!
1. Add Luxe Accessories
Feel like your overalls feel too farmer-esque? Wipe that impression away by pairing them with high end, well made pieces like leather cross-body bags or statement shoes. The small detail will go a long way in terms of adding polish and touches of chic. That and the contrast between the two elements is really fun.
2. Pair It With Chunky Shoes
The easiest way to make an outfit look on-point nowadays is to tie it together with a pair of clunky shoes. Whether they're flatforms, sandals, or block heels, the bold addition will help anchor the look down and add some urban edge.
3. Tie Something At Your Waist
Need some proportion control with your overalls? Tie a cardigan or jacket at your waist to create a natural line at your waist, while simultaneously adding a pop of color or pattern to your look.
4. Incorporate A Turtleneck
If you have a pair of short overalls, the covered chest and sleeves will make for a fun contrast with your bare legs. If you have a longer pair, this styling is perfect to help move the piece into fall.
5. Use Your Button Downs
Add a touch of class to your pair by matching it with a crisp, white button down. It'll be the perfect mix between preppy and casual, and the classic piece will help make the denim appear a little more grown up.
6. Repeat After Me: Heels And Scarves
Heels will instantly elevate your look to chic levels, and the extra volume from a bundled up scarf will help the overalls appear slimmer and less frumpy. It's a great way to transition your summer overalls into fall, too!
7. Go Uber Casual
You can be casual and chic at the same time- it's totally doable! Pair your overalls with a soft tee and your favorite kicks, but then elevate the look by contrasting it with one of your more luxurious cross body bags (like ones with sharp, hard lines and chain link straps) and a pair of classic aviators.
8. Style It Like A Minimalist
Give your overalls a sophisticated twist by keeping them minimal. Stick to neutral color palettes and pick out minimalist-approved accessories like one-strap heels or sandals, small cross-body bags, wide brim hats, and big faced watches.
9. Add Boots
While the whole world is still wearing sandals, go the opposite direction and pair your short overalls with boots. Over the knee pairs will help anchor the look and drag the eye downward, while short booties will do the same thing but with a lighter touch. This styling tip is great because it lets you add some color or texture to your look, while also allowing you to pair the denim with cleaner-cut pieces.
Still afraid of styling this amazing trend? Didn't think so.
Images: Marlen Komar