This Is When Female Viagra Will Be Out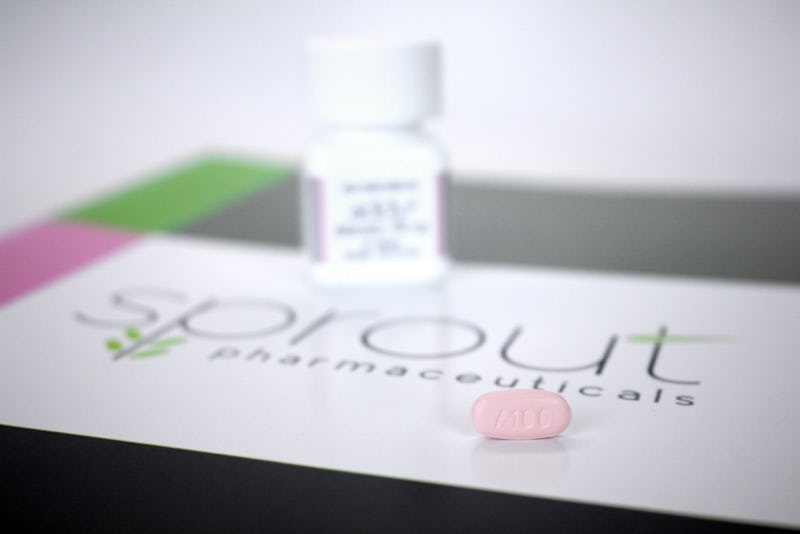 As you probably know by now, it is a revolutionary day for women's sexual health. Flibanserin, also known as Addyi and being called "female Viagra," was approved today by the FDA. Third time's a charm, since the drug, made by Sprout Pharmaceuticals, was reviewed three times by the FDA over the years before being approved. In June, the panel of the FDA's advisers voted 18-6 for the pill. In the past, attempts at a female version of Viagra failed, often due to it not being effective enough and its health risks. And now, it will be coming to a pharmacy near you as of October 17, Sweetest Day (no pun intended), and will go by the name Addyi.
"Today is a momentous day for women and is a huge day for celebrating the opportunity of choice for women," says Dr. Michael Krychman, who was one of the doctors at the scientific advisory board testifying on behalf of flibanserin to the FDA. "Flibanserin is going to be a game-changer. I have a lot of women patients who will certainly benefit from it. Women with Hypoactive Sexual Desire Disorder (HSDD) are really suffering. They come in with heart-wrenching stories. They've done everything — therapy, date nights, sexy lingerie, etc. Finally, they will not be alone and isolated. I think people will now have a better discussion opportunity."
The drug was studied in over 11,000 women, who were very closely monitored. The main FDA-mandated issues that they looked at were to make sure that the drug proved: an increased higher number of satisfying sexual events; increased sexual desire; and a reduction in stress. Though the drug is targeted for pre- and perimenopausal women with HSDD, which can affect one-third of women, only a doctor can determine if you are a candidate for flibanserin. First, an evaluation is done to rule out other causes of low libido, such as underlying medical issues, side effects from medications, and lifestyle factors.
In addition, potential users should note that it doesn't work like its male counterpart, Viagra — you don't just pop a pill before sex. Rather, you take a pill every day . According to studies, women who took it said they had between 0.5 and 1 additional "sexually satisfying event per month" versus those who took a placebo. In addition, when answering questionnaires about their desire, they scored higher (and lower regarding levels of stress).
"These are very modest results," Dr. Julia Heiman of the Kinsey Institute at Indiana University told Newsmax. "But on the other hand, even modest results can make a lot of difference when you're at a certain point in the clinical problem."
Unlike the male version of Viagra, this female-oriented pill focuses on increasing sex drive through one's brain chemistry (like serotonin) instead of increasing blood flow to genitalia. Originally, it was meant to be an antidepressant, but once women had an increased level of sexual satisfaction, it was turned into a libido-oriented pill. "I want to want my husband, it is that simple," Amanda Parrish, a mother of four, told Newsmax. "For us, flibanserin is a relationship-saving and life-changing drug."
Flibanserin (Addyi) enters the bloodstream immediately, but it could take up to four weeks to see an effect, Dr. Krychman said. "If there is no response in eight weeks, many women will be advised that it should be stopped. The medication is certainly not for everybody, but women certainly deserve options and to see if it's right for them."
Some people have expressed concern about the pill's side effects, which include fainting, low blood pressure, sleepiness, and drug (and alcohol) interactions. "There are a lot of medications that have side effects," Dr. Krychman says. "I believe in women to make a good decision (about taking flibanserin). If they see a benefit, they will stay on it. If it is not working, they will not stay on it."
"Another fascinating piece of the puzzle is, will it be marginalized by health insurance companies or not — the cost of the pill, whether insurance will cover it, and if Medicare and Medicaid will, also," says Dr. Brett Worly, MD and OB/GYN.
Want more of Bustle's Sex and Relationships coverage? Check out our new podcast, I Want It That Way, which delves into the difficult and downright dirty parts of a relationship, and find more on our Soundcloud page.
Images: Courtesy of Sprout Pharmaceuticals, Inc. (1-2);