Woman Hilariously Recreates Celebrity Instagrams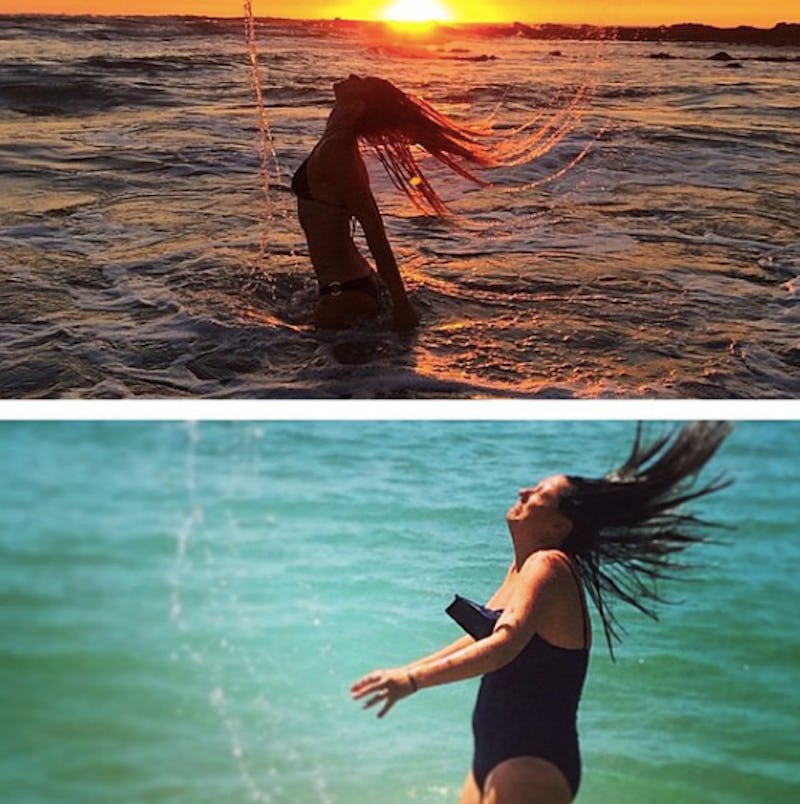 Here's something in case you need to feel better about yourself. Celeste Barber is recreating celebrity Instagrams, and in the process is making herself a metaphor for all of our lives and #struggles. (Or maybe it's just a metaphor for my life, and you're doing wonderfully — in which case, mazel tov.) Barber takes celebrity photos — think Kim Kardashian's Selfish or Ellen DeGeneres' selfie that broke the Internet — and recreates them with a slightly more real, human vibe. The results are hysterical. She's going out of her way to demonstrate that, while we are so happy for the beautiful celebrity Instagrammers, some of our lives will just never look that perfect. (Personally, I'm still trying to figure out how to 'gram iced coffee without getting the window glare in my photo, so Barber is several steps ahead of me on her Instagame.)
From the ~bizarre~ photo of Justin Bieber holding a knife to his mouth to a naked Kardashian pregnancy photo, Barber's recreations are authentic AF and hilarious. My personal favorite is her attempt at doing the splits à la Serena Williams. (Though her interpretation of Kim and Kanye is pretty exceptional, too.)
Barber wrote to Bustle, "I'm a comedian, and I started the series as a bit of fun. I wanted to see how hot, sexy, relaxed, intelligent, and STUPID I would look recreating some of these photos. Fair to say I look pretty RIDICULOUS." Here are six perfect celebrity parody photos that will make you feel great about life.
1. Serena Williams
We just can't all have abs of steel and perfect flexibility.
2. Miranda Kerr
My glasses don't make me feel sexy either, Celeste.
3. J Lo Hailing A Cab
YAAS, thank you for representing those of us who can't hail cabs. YAS.
4. Kim Kardashian "Yawning"
#IWokeUpLikeThis
5. Kim Kardashian On A Mountain
This is ICONIC.
6. The Gisele Hair Flip
Sexy sexy sexy.
Check out the rest on her Instagram here.
Images: Courtesy of Celeste Barber/Instagram