Any 'Proof' This Show Is Coming Back?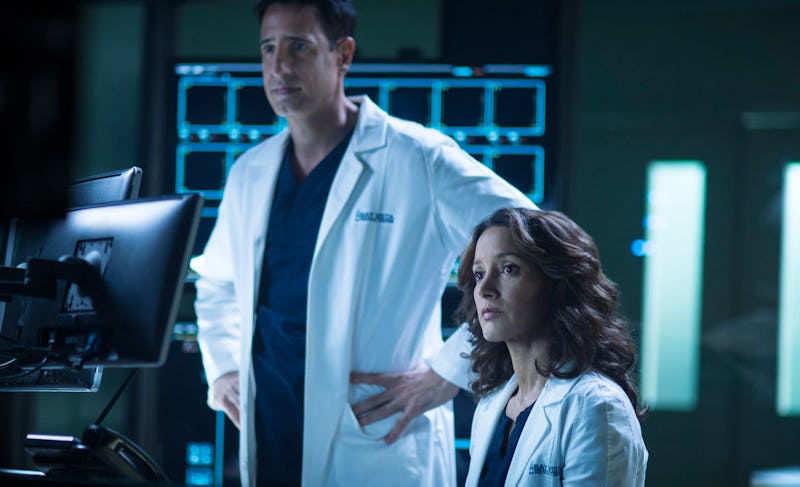 The search to find evidence for an afterlife is a tough one, as the protagonists on Proof can attest. The series follows surgeon Carolyn Tyler (Jennifer Beals) and dying techie billionaire Ivan Turing (Matthew Modine) as they investigate cases of out-of-body experiences, reincarnations, hauntings, and other supernatural goings-on to try and find definitive proof that there's something beyond this life. It sounds like a really hard job. You know what's just as tough? Trying to figure out if a show is going to have a life after its first season. So, will TNT renew Proof for a second season, or is it DOA after Season 1?
TNT has yet to make an official announcement about renewal or cancellation, but I'm betting that the show still has a pulse. Why? Its ratings are pretty good. They're not on par with TNT's biggest hitters—Rizzoli and Isles, Major Crimes, and the Last Ship—but, according to ShowBuzzDaily, it gets between 1.82 million and 2.66 million viewers each week. That means it does a lot better than Legends , which was renewed. The numbers look even better if you widen the scope. "Proof is reaching an average of 6.5 million viewers per episode across TNT's multiple platforms," TV By the Numbers reports.
That's all well and good, but what do we do while we're waiting on TNT to make an official announcement? Here are some other ways to get your supernatural/afterlife fix.
1. The X-Files
A skeptical doctor and a hopeful believer teaming up to investigate supernatural phenomenon? That premise sounds familiar. The X-Files will air new episodes in January — probably sooner than a second season of Proof, should it materialize — so now's a good time to catch up on some older episodes in the lives of Mulder and Scully. It kills two birds with one stone: You get to prepare for the new X-Files episodes and get your supernatural-investigation fix.
2. Ghost Hunters
Why settle for fiction? This reality show follows real-life ghostbusters—I mean, paranormal investigators—into supposedly haunted places, where they look for documentable evidence of hauntings. I watch this from time to time, and I do think they've lost some of their skepticism—it went from "I recorded this noise and can't account for what made it" to "I recorded this noise which is probably a ghost"—and I don't know if that's for ratings purposes, or if, as the show gains authority, more actually haunted places are reaching out to them. Either way, it's still pretty fun to watch.
3. Stitchers
Wouldn't investigating the afterlife be so much easier if we could just ask the dead? In Stitchers, agents are "stitched" into the minds of the recently deceased to find clues about unsolved crimes. They don't really get to ask questions — like what it's like to be dead — but the deceased sometimes get to help investigate their own murders, which is pretty cool.
4. Resurrection and The Returned
Sadly for Proof, the afterlife is having a tough time on television. A couple of different networks have tried a couple of different reincarnation series, only to cancel them pretty quickly. You can probably watch the entire runs of NBC's Resurrection (cancelled after two seasons) and A&E's The Returned (cancelled after one) before Proof comes back (if it comes back at all). Or, you can try watching Les Revenants, the French series The Returned was based on, which actually made it to Season 2 and is still going, giving it the possibility of outlasting them all.
5. The Lazarus Effect
Okay, this movie, about a group of young scientists trying to unlock the secrets of bringing the dead back to life (until something goes wrong dun dun dun), is largely terrible. But, the cast is so great! It stars Mark Duplass, Olivia Wilde, and Donald Glover, among others. It won't give you any insight into what happens after you die, but it can show you how good actors can bounce back from a movie that totally flatlines.
6. Supernatural
Come on — if you want people hunting down demons, ghosts, and the supernatural, there is no answer but Supernatural. Even if you've seen every episode already, you can always re-watch while you're waiting to her about a second season of Proof.
Image: Ed Araquel/TNT; Giphy (6)