9 Vampy Velvet Fashion Pieces For Fall 2015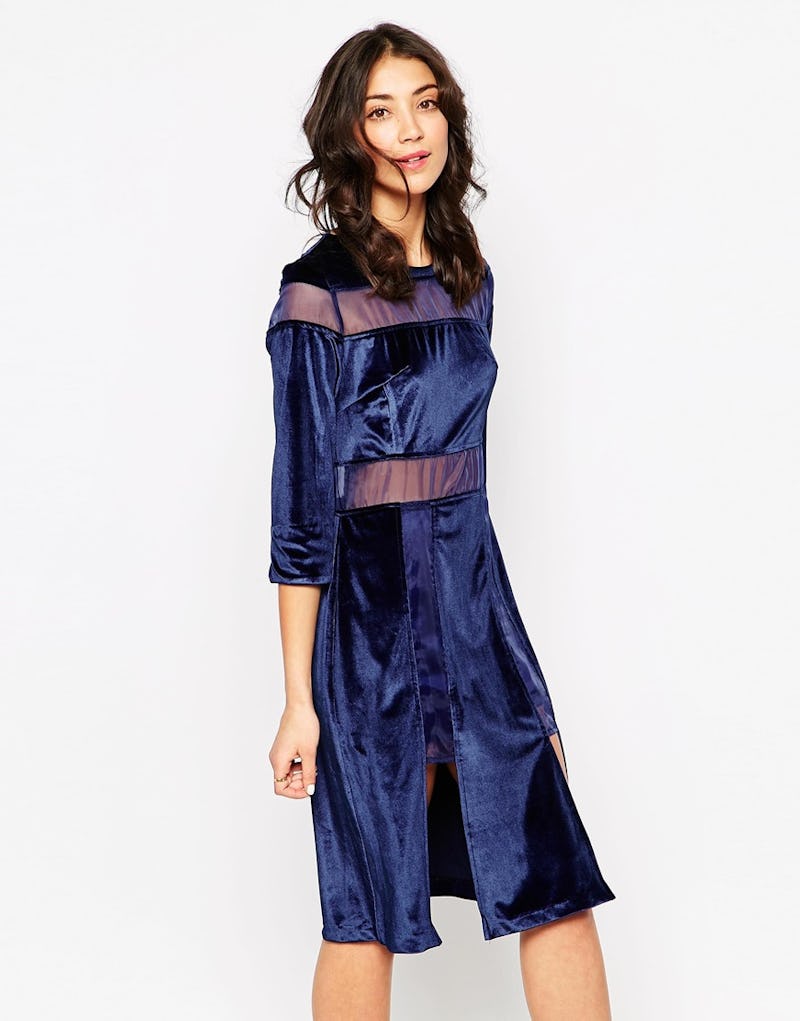 Velvet is a sumptuous, decadent fabric that I just adore. When I discovered it had yet again made its usual, annual debut for fall 2015, I felt like the cat who got the cream because there is just something so delicious about velvet fashion. Perhaps it is the texture that is so seductive. It is soft yet ever-so-slightly bristly, reminiscent of the plush toys of our childhoods. This lush material screams of luxury, grandeur, and history, as it has been used to furnish our homes and clothe our bodies for hundreds of years, apparently harking back to 2000 BC.
Historically, this sensual material was flaunted by royalty and the wealthy, but luckily for us, it is now available to the masses. The autumn/winter 2015 catwalks were flooded with velvet. Vogue reported on Emilio Pucci showing its gorgeous wide-legged trousers, Sonia Rykiel's belly button-skimming jumpsuits, and Maison Margiela's quirky, velvet suit. It's not just clothes that are having a velvet revamp, though: Velvet accessories are proving to be a big hit this season too, as an array of designers have utilized this stunning material for their fall accessories.
Join the velvet revolution this fall to make sure you're not left trailing behind the fashion brigade.
1. The Glitzy Velvet Dress
Club L Sequin Skater Dress With Velvet Skirt, $27, asos.com
Ramp up the glam with this red carpet worthy dress. With a glitzy, sequin top and a royal blue velvet skirt, this dress is doubly decadent.
2. The Autumnal Floral Top
Floral Print Velveteen Top, $8.99, forever21.com
This super pretty, plus size velveteen top is right on trend for fall with its rich, wine color and autumnal floral pattern. Take style notes from the model, who has paired it with what appears to be a faux leather skirt and a black choker; she's got pretty grunge down to a T.
3. The Black Velvet Choker
Black Velvet Choker With Tiny Bell, $6.63, etsy.com
I think I will always have a "thing" for chokers, although it helps that they are totally on trend right now. This simple yet stylish velvet choker is a great way to add a '90s grunge vibe to an outfit and the little bell is just the cutest. The addition of the bell elongates the wearability of this choker right through to Christmas, as it will add a little jingle bell cheer to your outfit.
4. The Midi Skirt
Burgundy Velvet Midi Skater Skirt, $32.99, cicihot.com
Mix up your workwear looks by adding a velvet midi skirt to your wardrobe to add a luxe spin on your weekday attire.
5. The Plus Size Coat With A Velvet Trim
Hell Bunny Mikaela Hooded Coat, $149.50, hottopic.com
Wrap yourself up in a stylish autumn/winter coat such as this plus size black Hell Bunny design with a fitted bodice and a faux fur and velvet trim.
6. The Velvet Chelsea Boots
Asos Risky And Frisky Chelsea Ankle Boots, $63, asos.com
You'll look totally dapper in these beautifully androgynous Chelsea boots. The Chelsea style is traditionally masculine yet the wedge heel adds a feminine feel to these boots. Dress them up with a pretty, emerald green mini dress to match, or play it casual by wearing them with your favorite band tee and a pair of black skinnies.
7. The Burgundy Blazer
Fine And Sandy Blazer In Burgundy Velvet, $74.99, modcloth.com
Invent a fancy alter ego name fit for a lady and pretend you're a member of the aristocracy in this super suave blazer, which is not dissimilar to a smoking jacket. It's available in sizes S to 4X so many of us can have fun imagining ourselves as members of high society.
8. The Cute Velvet Playsuit
Velvet Lilac Playsuit, $64, blackmilkclothing.com
If you're a fan of lighter shades, you may wish to invest in this delightful lilac playsuit. This playsuit would be perfect for parties or nights out as its scallop-edged shorts and sweet color give it such a fun and playful vibe.
9. The Sheer Panel Dress
Sister Jane Aquarius Velvet Dress With Sheer Inserts, $73, asos.com
If you're looking for something totally unique for an upcoming special occasion, then this is the dress for you. Not only is it a striking, midnight blue shade, but it features a unique and quirky design including thigh splits and sheer panels. I can't help but hear Lana Del Rey's haunting and hypnotic version of "Blue Velvet" in my head when I look at this dress and that is definitely not a bad thing.
So get a crush on velvet fashion this autumn/winter and give in to its seductive spell.
Images: Courtesy Brands