Why is Melissa McCarthy's Weight an Issue Now?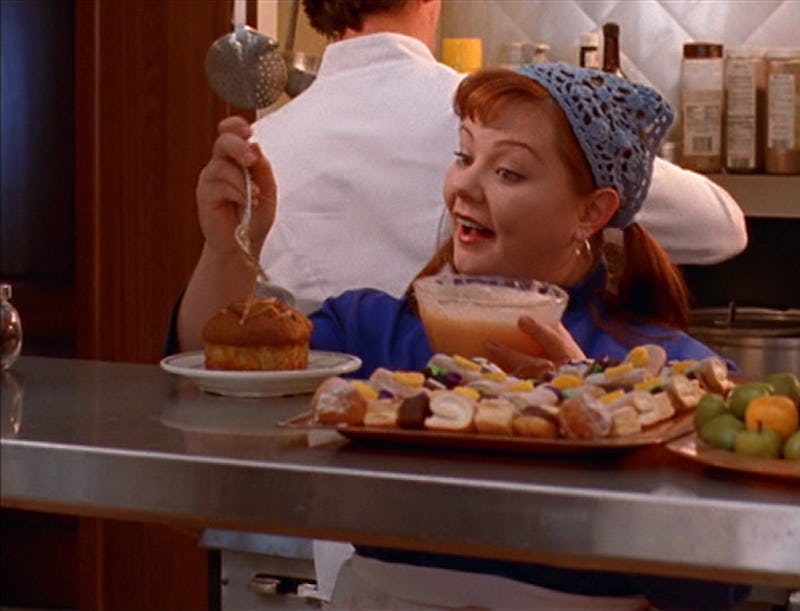 Since her scene-stealing role as Megan in 2011's Bridesmaids, Melissa McCarthy has been getting a lot of attention. It's well-deserved — she was great in Bridesmaids, does an Emmy-winning job on her CBS sitcom Mike & Molly, and showed off even more of her comedy skills during her two SNL hosting stints. But, unfortunately, much of this attention has shifted from her comedy prowess to her appearance, and, more specifically, her weight. We've already talked about why this isn't fair, but what's even sadder is that this is a new phenomenon for McCarthy.
Before she got food poisoning in a bridal boutique, McCarthy was hanging out in Stars Hollow on Gilmore Girls, and no one cared about her appearance. As Sookie St. James, the best friend and business partner of world's best mom Lorelai, McCarthy showed that she was talented long before meeting Kristen Wiig. Over the course of seven seasons, audiences watched Sookie go from a perfectionist chef to a business owner, and fall in love, get married and have two kids along the way. She was a well-rounded character and, most importantly, she was funny.
But there's a difference between the McCarthy seen in interviews and on the red carpet, and her characters in Bridesmaids, Identity Thief, and The Heat. In all of these films, McCarthy is costumed and made-up so she's almost unrecognizable — she's turned into someone much less glamorous than the beautiful, real-life McCarthy. On Gilmore Girls, though, McCarthy always looks, well, normal. When not in her chef's uniform, she's dressed well and she's allowed to be pretty. And she's still funny. But, as soon as McCarthy became a bona fide star, Hollywood thought she needed to be covered in garbage to get a laugh. That's not to say McCarthy wasn't able to show off her talents for physical comedy. Sookie was clumsy and some of her best moments were physical — but without being insulting or demeaning.
What accounts for the difference? Well, first off, television has always been more inclusive than film. Still, the medium has its problems: While you're more likely to see different kinds of women on TV, they aren't always treated as well as Sookie. After all, McCarthy's character on Mike & Molly is more similar to Sookie than Megan appearance-wise, yet the show still relies jokes about McCarthy's weight. (Not every overweight actress in Hollywood can be as lucky as Roseanne Barr, whose creative control over Roseanne allowed her to avoid being the subject of cheap shots.)
But the main reason McCarthy was treated so well on Gilmore Girls was because of her status as a supporting character. And the same principle carries over into film. McCarthy's appearance wasn't as scrutinized when she appeared in a supporting role in Bridesmaids, but her looks came under attack (thanks to the lovely Rex Reed) during her turn as Identity Thief's star. (And she's only continued to have to discuss her weight while promoting The Heat.) There's a very noticeable lack of plus-sized women in leading film roles, but many can be found in supporting parts. Look at Rebel Wilson, who also had a supporting role in Bridesmaids, as well as one in Bachelorette and Pitch Perfect. She's become popular enough to host the MTV Movie Awards, but hasn't landed a starring role in a movie yet (only TV's upcoming Super Fun Time, which, based on its trailer, focuses solely on Wilson's weight).
It's a problem women have been facing for many years in Hollywood. Rosie O'Donnell, for example, made a name for herself in the '90s with memorable, but supporting, roles in films like A League of Their Own, Sleepless in Seattle and Now and Then. Films carried by the future talk show host — like 1994's Exit to Eden — didn't pan out so well. Though Queen Latifah has been given the chance to headline in films like Just Wright and Last Holiday, she earns most attention for playing second fiddle in films like Barbershop 2 and Chicago. And America Ferrera, who broke out in 2002's Real Women Have Curves, was part of the ensemble cast in The Sisterhood of the Traveling Pants, but for a high-profile starring role, she was forced to turn TV for Ugly Betty. And even then, the show was called Ugly Betty, and Betty got noticeably conventionally prettier throughout the run of the show.
Usually, when we hear arguments about women in film, it's about the lack of women behind the scenes, and that's still a pressing issue. But this exclusion can still be found on screen too. Women who don't conform to Hollywood's idealized, unrealistic standard of beauty are being kept out of starring roles and when women like McCarthy are able to make that leap, they are still ridiculed.
Of course, Gilmore Girls had a secret weapon that could be the reason behind Sookie's lovely and lovable character: Amy Sherman-Palladino. The creator and showrunner of Gilmore Girls was a woman, whose own experiences may have helped color the show's female characters. Gilmore Girls was a huge success, and is still beloved by many. Much of that devotion comes from the show's realistic representation of female characters and relationships. Maybe if there were more female writers, producers and directors, we would see a more diverse range of women starring in films. And women like Melissa McCarthy could take the lead looking as beautiful as they are in everyday life. Until then, you can always watch Gilmore Girls.
Image: The CW