A Timeline Of James & Meg's Relationship On 'BB17'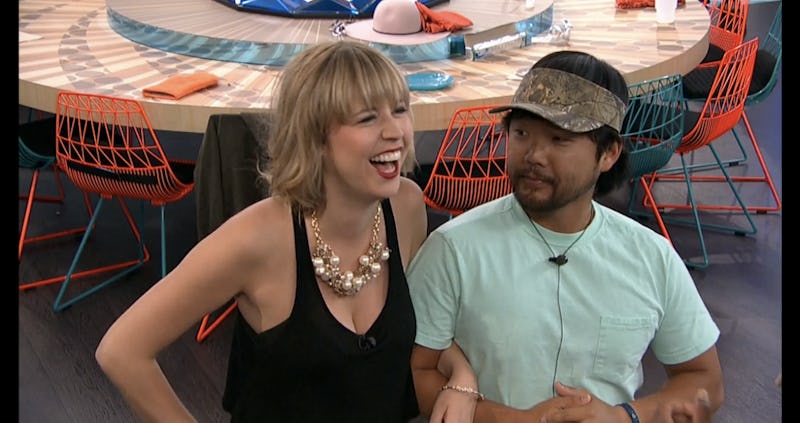 From the very first week of Big Brother 17, Shelli and Clay were clearly the showmance of the season. Austin and Liz (going by the couple name Liztin) have somehow taken over that spot now that Shay/Clelli is gone, but that's only if you ignore the cuter duo in the house: I'm talking about Meg and James. Basically, James has had a crush on Meg since the day they entered the house. And, a timeline of James and Meg's Big Brother 17 relationship shows that even though the two are not quite in a showmance, their relationship is adorable and genuine, which is a breath of fresh air in the BB house. Plus, now that they're the only remaining members of their alliance, they're closer than ever.
Meg and James are quickly rising in the fan favorite ranks — at least as a pair, if not as individual players. This has left some wondering what the deal is with them. Does Meg have feelings for James? Is James still crushing on Meg? How did James and Meg become the darling non-couple of the season? Here's how it all progressed in the Big Brother house, and where they're at now, 60 days in.
Day 1
James made his crush on Meg clear right from the start, even referring to Meg as Taylor Swift. Even before entering the BB house, Meg was all about the possibility of a showmance or flirtmance. I don't think James is the hottie Meg saw herself ending up with, but that's alright.
Day 15
James' crush on Meg continued to grow in the first couple of weeks, and he took it to the next level when he asked her to be his date for BB Prom Night.
Day 19
During one of Jeff & Austin's fake BB podcast "episodes," Meg came close to granting James' wish of getting a kiss. Even though he went in for a kiss on the lips, she was not at all about it and turned his head for a kiss on the cheek instead.
Day 28
We all know things move fast in the BB house, and the Meg and James flirtmance is no exception. Just nine days after being totally against a kiss on the lips, Meg and James kissed on the lips when Audrey dared them to.
Day 47
With Clay and Shelli on the block, a drunk Meg got super intimate with Clay in the bathroom. I'm not sure if James knows about this or what he might think of it, but I doubt he'd be thrilled. Even if it's innocent, his crush is still a crush.
Day 57
Jackie was evicted. Meg and James had nobody to turn to but each other now that their alliance was down to two. This might be bad for game play, but it has proven to be a step in the right direction as far as their relationship goes.
Days 57 - 62
With Jackie gone, Meg and James have been spending more time together alone and have really turned the dial up on their adorableness. They refer to each other by cute pet names now, and James announced their fake engagement on the live feeds.
It's anyone's guess what's in store for James and Meg, but it's nice to have something sweet and innocent to follow amidst all the mayhem.
And for more Big Brother, check out Bustle's podcast, The Diary Room.
Image: Giphy