There Are So Many Celebs In 'Digging For Fire'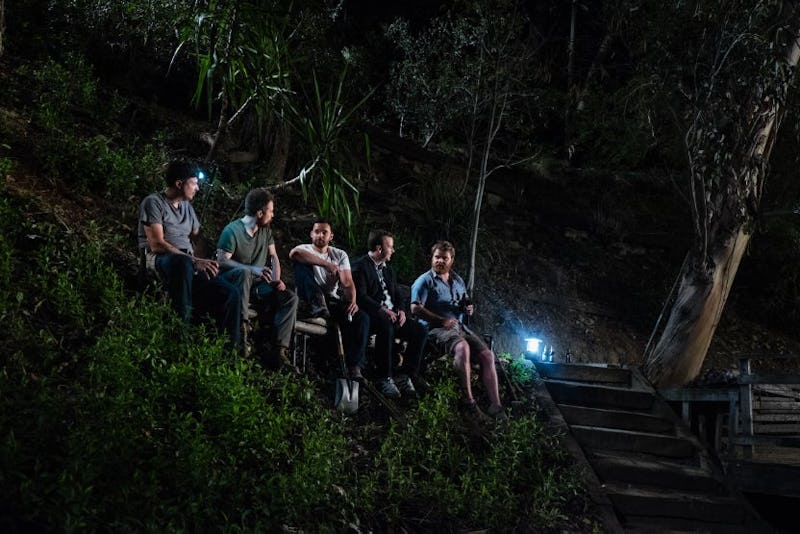 Joe Swanberg's latest film, Digging For Fire, has already withstood comparisons to Stanley Kubrick's final masterpiece, Eyes Wide Shut. Both films examine marital problems through the lens of a kind of vision-quest that pull the couple apart but ultimately bring it together, leading Indiewire to dub Digging For Fire the "more indie-oriented, small-scale Eyes Wide Shut ." But unlike that film, Fire gives its two protagonists equal play (Tom Cruise occupies far more of Kubrick's screen than Nicole Kidman). And unlike Eyes Wide Shut, the rotating cast of characters that surround the two leads are not masked — you can see every surprising guest-star that crosses the screen. So who are the celebrity cameos in Digging For Fire ?
For context, Digging For Fire's Rosemarie DeWitt and Jake Johnson play a young married couple named Lee and Tim who find the slog of the day-to-day is wearing them down. Case in point: A primary source of tension is the gun and bone that Tim finds in the backyard of a home they house-sit. Tim wants to continue digging for more evidence of a possible murder, while Lee cautions restraint at a home that's not really theirs. They decide to take a brief break, scurrying off to different sides of town to explore what it's like to live solo again. There, they encounter a whole range of unexpected faces including Jenny Slate and Mike Birbiglia, so I've compiled a reference guide to all of the celebrities who make appearances in Digging For Fire.
1. Anna Kendrick
The Pitch Perfect star plays a friend of Brie Larson (who has enough of a part to elevate her above cameo) who parties with Johnson's character one night.
2. Mike Birbiglia
Writer-director-star of Sleepwalk With Me, Birbiglia has a role in Digging For Fire that places him firmly in the backseat. Still, he makes an impression as Tim's uptight, tee-totaling friend Phil.
3. Sam Rockwell
Bearded and beanie'd, Rockwell is almost unrecognizable as Tim's kind of asinine friend Ray. The life of the party by night, flaky Ray overstays his welcome by day and catalyzes Tim's realization that he's far more suited to domestic life than he imagined.
4. Chris Messina
The Newsroom and Argo star plays another one of Tim's trouble-maker friends, named Billy T, alongside Larson, Kendrick, and Rockwell.
5. Jenny Slate
Slate — perhaps best known for her film Obvious Child — plays a client of Lee (DeWitt), a yoga instructor for the rich and famous.
6. Timothy Simons
Simons is one of those actors whose face you recognize, but don't necessarily know from what. To jog your memory, he's appeared in Inherent Vice, The Interview, and held a recurring role on Veep. In Digging For Fire, he plays Jenny Slate's yoga-going husband.
7. Melanie Lynskey
Lynskey got an early start playing Pauline in the 1994 film Heavenly Creatures. Since then, she's appeared in Up In The Air, Sweet Home Alabama, The Perks of Being A Wallflower, and They Came Together. In Digging For Fire, Rosemarie DeWitt's Lee meets up with Lynskey and her husband — played by Ron Livingston — for drinks and, hopefully, a night of revelry. Pleading exhaustion, and clearly confronting some marital trouble of their own, Lynskey and Livingston beg out of their plans, leaving Lee on her own (and setting her up for a brief fling with Orlando Bloom, so not the worst turn of events).
8. Ron Livingston
Livingston, Rosemarie DeWitt's real-life husband, plays Lynskey's husband and a friend of Lee in the film. He's probably best known for his performance in Band of Brothers, but he has also played parts in Boardwalk Empire, Sex and the City, and The Time Traveler's Wife.
9. Judith Light
The Ugly Betty matriarch plays Lee's mother and confidant in Digging For Fire. She has also more recently been cast in Transparent and in a Broadway role alongside Keira Knightley.
10. Sam Elliott
Elliott foregoes his trademark handlebar mustache for his role opposite Light as Lee's father. With his action-western appearance and husky voice, Elliott got his start in films like Butch Cassidy and the Sundance Kid — but he doesn't even appear in one of his most memorable roles, as the narrator of The Big Lebowski.
11. Tom Bower
Bower briefly appears as a creepy neighbor — conveniently "Tom the Neighbor" — who cautions Tim against digging up the buried secrets under the house. He's one of those actors who has been in a bit of everything — action, period piece, romance, horror, television — including, but not limited to Appaloosa, Die Hard II, and The Hills Have Eyes.
This list doesn't even cover actors like Brie Larson and Orlando Bloom, who have minor roles that surpass "cameo." Joe Swanberg and Jake Johnson have assembled an incredible cast that comprises something of a who's-who of Hollywood right now, from Slate to Kendrick to Birbiglia. It's only fitting that the film's plot and aesthetic are a nod to one of the great auteurs of 20th-century filmmaking, because in itself it's something of a microcosm of filmmaking now.
Image: The Orchard