'BB17' Houseguests Didn't Stick To Pre-Show Plans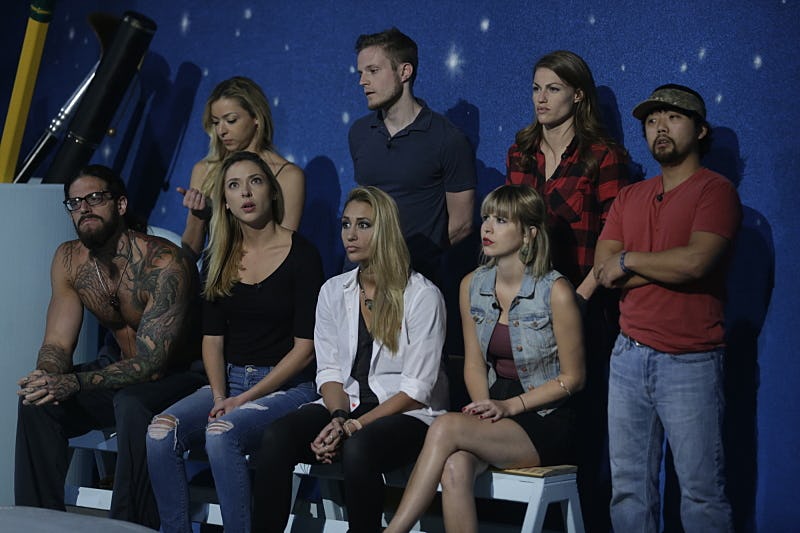 Filmed at the beginning of the newest season, the Big Brother 17 houseguest audition tapes and pre-show interviews show they entered the house with a plan of action and a set of expectations. However, a lot can happen in the Big Brother house, and, now that the contestants have spent over 60 days in the game, it's easy to go back and see how some of their expectations and strategies have paid off, and how some competitors have not stuck to their plans.
60 days may not feel like a lot when you're outside of the Big Brother house, but when those 60 days are spent with the same small group of people, expectations are changed drastically. Someone could enter the Big Brother house ready to play an aggressive game and just end up floating to the jury house, while others who wanted to avoid a showmance at all costs and lay low end up getting into a high-profile showmance and become a huge target. There is no way to fully prepare for what happens once playing the game, but let's see if the remaining houseguests stuck to their plans, and whether or not those plans are working out for them.
Austin
Austin came in claiming to look like a physical beast and wanted to avoid winning too many challenges. He's stuck to this, only winning a single comp during his time in the Big Brother house. He has not, however, stuck to his mantra against having a showmance. He said, "I really think that's where people go wrong, is they let that showmance cloud their judgment. The further I can stay from a showmance, the better." I'm sure Austin's likely ex-girlfriend would've agreed with him on that.
Becky
The quote that sticks out from Becky's pre-show interview is the statement of "I'm an interesting girl." Oh, Becky. Who would have thought that #BeckyUpdate would grow to celebrate how one person can be so seemingly basic, and yet so odd and interesting at the same time. As for actual strategy, Becky said she wanted to "stay quiet" which she has done well, only starting to really play hard after she won HoH. She also said she would be interested in a showmance, while she clearly is not or else she would accept Johnny Mac into her life because seriously that guy is the awkward, goofy dreamboat, best friend from every 80s high school movie, and how can you not want that in your life?
James
Who would've thought James would become such a powerhouse in the game? He laid his plan out from the very beginning, as well. He prides himself on being trustworthy and sticking to his word. He also talks about approaching situations on a one-by-one basis, which has worked well for his short-term game, but hasn't benefitted his long-term game (as he's lost most of his closest allies). After he's left Vanessa in the house for so long, it's sadly ironic to hear him say, "If you leave big people all the way to the end, it's normally gonna hurt you."
John
Way back when, John said that his biggest plan was to "Shut up and slow down." He's played a calm, steady game and only started getting aggressive in the past few weeks. He didn't want people to catch on that he was a lot smarter than he is, and he managed to follow through on that by playing the affable, likable dude that he is. He also said he was open to a showmance which is the only thing he has yet to follow-through on, so please let this happen. He's such a dork, can you imagine how amazing those DR sessions would be if he was in a showmance?
Liz
Liz's biggest fault in her pre-show goals was that she didn't "want to be a floater." Unfortunately, despite being very good at comps and ending up in the two closest partnerships in the house, Liz hasn't done very much in the house in terms of gameplay. She just followed what Vanessa and Shelli wanted her to do, and now follows what Austin wants her to do.
Meg
Meg wanted to be a "chill, drama-free" contestant and has lived up to that promise. She has never confronted anyone or played an aggressive game. She floated this far and has gone by almost entirely unnoticed, and she will even admit that she's not a strong competitor. She believes in just having one core partner in the game, which has been true when she worked with Jason, and later James. She also said early on that she was "not opposed to hot boys," even if hot boys are opposed to her.
Steve
Steve knows this game. He planned before the show to play into the "sweet, innocent, loyal kid" image and has gotten all of the houseguests to buy into it. He also planned to live by the mantra "don't talk; listen," which has been reflected on Big Brother by Steve talking more to the cameras than he talks to the other houseguests. He also wanted to find a core partner who was an outsider of the house to work with, which he seems to have found in John. If Steve is playing his predictions this well, he may still have some surprises up his sleeve.
Vanessa
No one plans to go into Big Brother and play the paranoid, emotional steamroller that Vanessa has become. Vanessa seemed to be an entirely rational player with a knack for knowing how to manipulate the social elements of a game. While she has proven to be manipulative, she certainly hasn't done so with any subtlety or in any kind of level-headed way. She spoke specifically on the idea of utilizing creativity in her strategy, but there doesn't seem to be anything creative about "Cry. Yell. Repeat." On a positive note, Vanessa was at able to stick to her pre-Big Brother relationship, and will have a loving girlfriend to go home to when the show has ended. That's a lot better than other houseguests have managed.
For more on this season of Big Brother, check out Bustle's podcast The Diary Room below.
Image: Sonja Flemming/CBS