Did Troian Just Drop A Major 'PLL' Hint?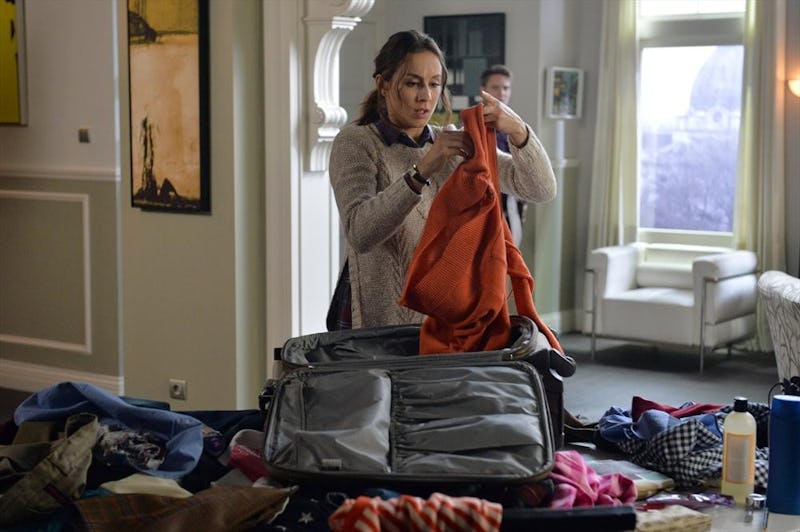 Our beloved liars are officially moving on. Pretty Little Liars finally revealed A's real identity, and with that jaw-dropping twist came another big change to the show: Pretty Little Liars is skipping over the girls' college years in favor of a five year time jump. In fact, the Season 6A finale even gave us a little slice of what we might be able to expect when Pretty Little Liars picks up again: the girls have apparently reunited in Rosewood to protect Ali from a new big bad. The five liars may be back in their hometown, but they spent five years exploring the world outside of Rosewood. Now, Troian Bellisario's new Instagram photo might be giving us a clue as to what Spencer has been up to in the past five years.
In the final scene before the time jump, we saw Spencer and the girls getting ready to go to college. Spencer's school of choice was Georgetown in Washington, D.C. — but, based off of Bellisario's new Instagram post, I'm wondering who's to say that she stayed there. The post certainly hints that, perhaps, she traveled a little bit further at some point during the time jump. Like, maybe across the pond, to London?
Check out Spencer's new home decor for yourself:
The London train schedule could just be a coincidence — after all, "Hastings" is on the poster, and who doesn't want some personalized stuff in their apartment? — but this isn't the first time that Spencer has had a London connection. In Season 5 she visited London to interview for Oxford, where she stayed at Melissa and Wren's flat — and hooked up with yet another British boy. (Remember Spencer's tryst with Wren in Season 1?) Now that A isn't chasing Spencer around Europe, she might be more likely to return to the city, either for a study abroad program or for more permanent post-grad life.
Of course, there is one possibility about Spencer's potential London life that may upset a few Spoby shippers out there. Remember how Spencer met that dashing London gentleman when she stayed at Melissa and Wren's flat? Well, if Spencer did say goodbye to Pennsylvania in favor of England, there's a chance that she also said goodbye to Toby. Perhaps Spencer's real reason for moving to London was to be with her Season 5 love interest Colin — after all, he had to have some purpose other than to take Spencer to see Hamlet, right?
We'll have to wait until Pretty Little Liars returns to get the full story, but I wouldn't be surprised if Spencer spent the better part of five years drinking tea and shmoozing with royalty in London. Her decor speaks for itself!
For more on Pretty Little Liars, check out Bustle's podcast Taking This One To The Grave below.
Images: Warner Bros. Television Distribution; ABC Family (2); Giphy