Catch Lifetime's 'Full House Story' & Have Mercy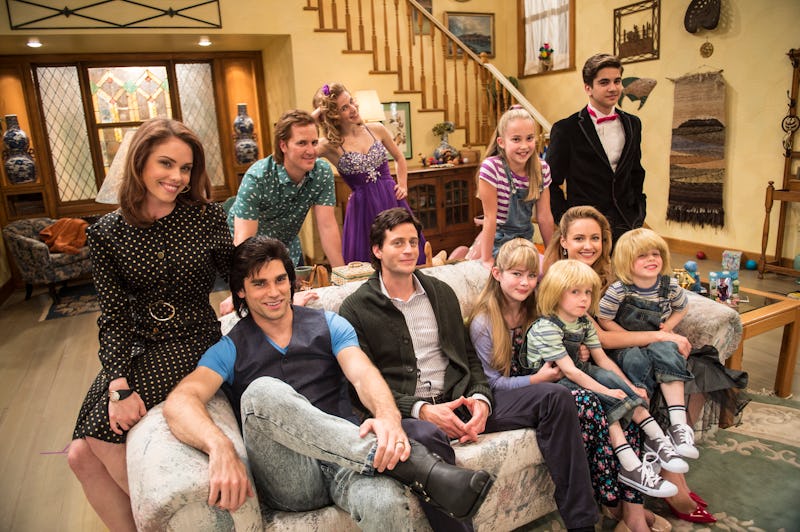 If, like me, you're already looking forward to Netflix's Full House spinoff series, Fuller House, you must be thrilled for the premiere of Lifetime's The Unauthorized Full House Story on Saturday. While the new series filled with returning cast doesn't have much in common with the "unauthorized" movie, they definitely share the still passionate Full House fan base. Of course, some of those fans may not be free on Saturday at 8 p.m. and they're in luck. There are a few different ways to watch The Unauthorized Full House Story.
And yes, Full House fans are definitely going to find a way to check it out. In the same vein as Lifetime's The Unauthorized Saved By The Bell Story, the movie is going to give us a peak at all the going-ons and drama behind-the-scenes. I'm excited to see just what that drama entails and how the cast moved past it, since most of the actors are still friends today. Many of them were also more than happy to jump right into Fuller House and work together again.
But before Fuller House, there was Full House, and here's where you can catch Lifetime's take on the beloved series.
Watch It Live
I highly recommend you first try to catch The Unauthorized Full House Story live on Aug. 22 at 8 p.m. Don't you want to Tweet along with it?
Catch A Rerun
Lifetime has already set its schedule for the next week, and it includes plenty of chances to catch the movie. After its 8 p.m. premiere, The Unauthorized Full House Story will play again at midnight. It will then air again on Aug. 23 at 8 p.m., as well as Aug. 24 at 10 p.m. You have to be available during at least one of those time-slots.
Tanner Family On Demand
Roughly 24 hours after its first showing on Lifetime, you'll find The Unauthorized Full House Story On Demand. That means you can watch it on your time, whenever you want, as many times as you want. Oh mylanta.
Hope It's In The Lifetime App
Lifetime has this really cool app that lets you watch its shows, however, not all of the network's movies are available. I've been periodically checking for A Deadly Adoption to hit the app, and still no luck. It doesn't hurt to check the app for The Unauthorized Full House Story, but I wouldn't count on watching it there.
Watch Full House Reruns
If for some reason none of these work for you, or you have to wait for a repeat showing after Aug. 24, you can always kill time with the original Full House we all know and love. I can guarantee you'll find an episode somewhere on TV whatever day you choose, and it can't hurt to refresh yourself on the source material before diving into The Unauthorized Full House Story.
Images: Sergei Bachlakov/Lifetime; Giphy (5)