'We Are Your Friends' College Is Actually Real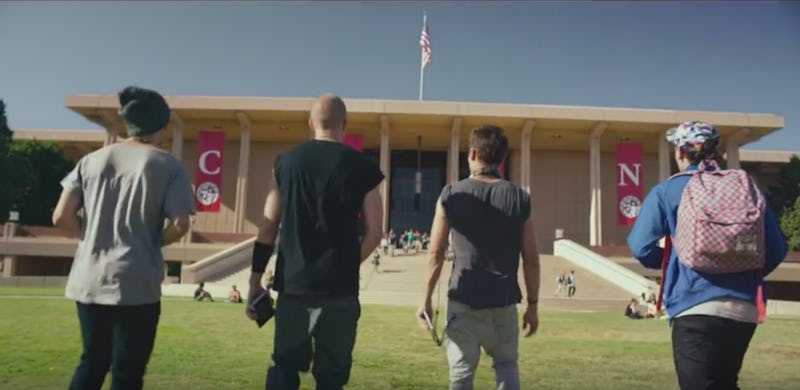 We Are Your Friends, starring Zac Efron as an aspiring DJ and party promoter named Cole, is one of the few films to actually film on a university campus. In most films set around a college, a campus is dressed to pass it off as another school on film. For example, for the production of Legally Blonde, USC doubled for Harvard Law School — it's true, even the sorority house played a pretty big role. But in Efron's new film, CSUN, a university, is introduced as a prime location for Cole and his friends to promote parties to hot girls and hip youths. And, get this, not only is We Are Your Friends' CSUN a real place, the movie actually filmed there, making CSUN one of the rare campuses that gets to represent themselves onscreen. So where is CSUN? Because if Zac Efron is there, believe me, people will be sending applications in droves.
CSUN, or California State University Northridge, is located near the San Fernando Valley in SoCal, not far from the Kardashians' hometown of Calabasas. If the CSUN campus looks familiar, that's because it is. The campus has frequently been used as a filming location for various projects, from magazine shoots to an NCAA Public Service Announcement. According to their official website, CSUN campus buildings can be seen in ABC Family's Greek, which frequently filmed on UCLA's campus, and 2012's college comedy 21 and Over — both projects took place at fictional universities.
In Sept. 2014, Efron, along with co-stars Alex Shaffer and Jonny Weston, hit the CSUN campus to film We Are Your Friends outside the Matador Bookstore and Oviatt Library, both of which can be seen in the original trailer for the film. Even more, films that arrange to shoot on CSUN's campus are encouraged to use student extras — as were used in We Are Your Friends — and even student Production Assistants.
We Are Your Friends isn't the only coming-of-age drama that chose to use a real college as a backdrop. This summer's Mistress America filmed a great deal on Barnard College's campus in New York City, where protagonist Tracy (Lola Kirke) is starting college. Mistress America's connections to Barnard are a bit more personal than CSUN's connection to We Are Your Friends. Mistress America co-star and co-writer Greta Gerwig is actually a Barnard alumna.
In contrast, We Are Your Friends co-writers Max Joseph (of MTV's Catfish ) and Meaghan Oppenheimer don't appear to have any personal connection to CSUN, not that it matters. When Zac Efron shows up on your campus, you don't question it. You welcome it with open arms.
Images: Warner Bros. Pictures; Giphy (2)